I wish it was as easy as popping a couple Rolaids or Tums. Just as unpleasant as unwanted gas can be ... I've been equally uneasy about having clients in bearish natural gas trades in recent weeks. Prices have advanced 75 cents, or nearly 25%, in just over 30 days. May natural gas pierced the $4 handle in intraday trading, making this the first time the round number has been breached since before Turkey Day. Clients who held through the heat are in April contracts. These go off the board next week, so positions should be unwound or rolled. Fresh entries should be made in either May or June contracts. I've adjusted our tactics this time around ... more on this below.
We've traded in overbought territory for 10 sessions, so I think we're due for a leg down.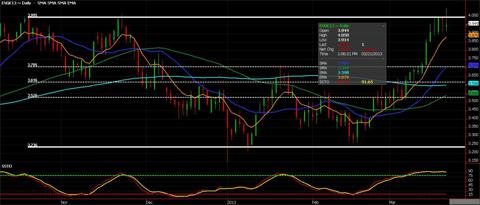 Click to enlarge
May futures failed to hold above $4.00 on two occasions last year… peaking in mid-October and putting in a lower high in late-November. Past performance is not indicative of futures results, but I'm watching this level closely. If we start to see prices roll over in the next few sessions we should see a quick trade back to the 38.2% Fibonacci level - dragging prices about 30-cents lower, to 3.70.
The lesson learned on our last natural gas trade: keep risk on a very short leash. Short futures positions should use a 10- to 15-cent stop. Even better, this time around I'm recommending an options hedge to a short futures position. The trade is short futures while simultaneously selling at-the-money puts 1:1. Assuming you implement this strategy, if May futures trade down to 3.70 you're looking at about $3,000 in profit, per futures contract, and a loss on the options hedge (short puts) in the ball park of $1,500. All told, I'm aiming for a net profit of $1,500 minus any fees. On the risk side, a 10- to 15-cent stop on futures equates to a loss between $700 and $900 on the entire trade (as the sold puts would cushion the loss in futures).
What's the weather doing? It's cold! As is typical this time of year we are seeing withdrawals vs. injections but this should change very soon. But I am speculating that the expected increase in demand has already been factored in. I received a picture from a family member that lives in New England just yesterday showing two feet of snow on the ground. Meanwhile, this time last year it was already 75 degrees. This is called the "futures" market for a reason ... it's no secret the Mid-west and New England have experienced a very cold winter.
Risk Disclaimer: The opinions contained herein are for general information only and not tailored to any specific investor's needs or investment goals. Any opinions expressed in this article are as of the date indicated. Trading futures, options, and Forex involves substantial risk of loss and is not suitable for all investors. Past performance is not necessarily indicative of future results.
Disclosure: I have no positions in any stocks mentioned, and no plans to initiate any positions within the next 72 hours. I wrote this article myself, and it expresses my own opinions. I am not receiving compensation for it. I have no business relationship with any company whose stock is mentioned in this article.