As part of the G20 Communiqué the leaders called on the IMF to sell gold to support developing countries. While spot gold was considerably weaker on this news, an examination of the statement illustrates the market's fears are unfounded. From the communiqué:
We have committed, consistent with the new income model, that additional
resources from agreed sales of IMF gold will be used, together with surplus
income, to provide $6 billion additional concessional and flexible finance
for the poorest countries over the next 2 to 3 years. We call on the IMF to
come forward with concrete proposals at the Spring Meetings;
The two keys to this statement are: (our emphasis)
1."…Additional resources from agreed sales of IMF gold…" There will not be additional gold sales, the IMF will direct proceeds from previously agreed upon sales to developing countries.
2."…To provide $6 billion…over the next 2 to 3 years…" These sales will likely be conducted through the London Bullion Market and will have little, if any, impact on the market. (Click to enlarge:)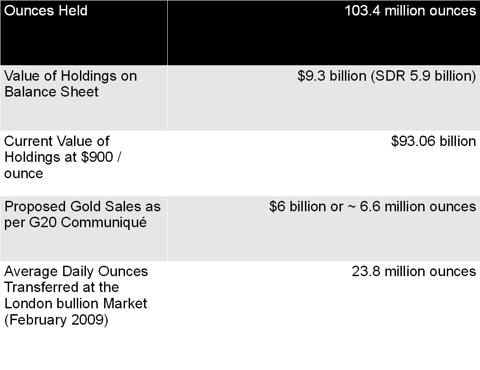 As this table shows, $6 billion dollars in gold sales will have virtually no impact on the gold market. If needed, the IMF could sell all $6 billion in one day and still only be 28% of the average daily volume. However, the G20 calls on the IMF to make these sales over the next 2 to 3 years; these sales are a drop in the bucket for the gold market. Furthermore, a disorderly sale of gold by the IMF is unlikely due to its principles on how it treats the gold holdings.
IMF's Governing Principles on Gold
•As an undervalued asset held by the IMF, gold provides fundamental strength to its balance sheet. Any mobilization of IMF gold should avoid weakening its overall financial position.
• The IMF should continue to hold a relatively large amount of gold among its assets, not only for prudential reasons, but also to meet unforeseen contingencies.
•The IMF has a systemic responsibility to avoid causing disruptions to the functioning of the gold market.
•Profits from any gold sales should be used whenever feasible to create an investment fund, of which only the income should be used.
Disclosure: I am long GLD and GDX