To be bullish on a commodity producer like Exxon Mobil (NYSE:XOM) a person really has to be bullish on the commodities that the company produces. And for me understanding future energy demand makes being bullish on oil pretty easy.
I always get a bit of a kick out of watching the talking heads on CNBC discuss the oil markets. Most of the coverage is focused on the weekly numbers that may or may not provide insight on the ultra short term supply and demand.
I often hear as an explanation for why oil prices have decreased on a given day that oil demand is plummeting. Does anyone really believe that?
I'll grant you that when the world was falling apart at the end of 2008 oil demand plummeted, but in virtually every other year oil demand is very predictable.
It is on a long creep higher.
Here is what oil and all energy demand/consumption has looked like over the past century: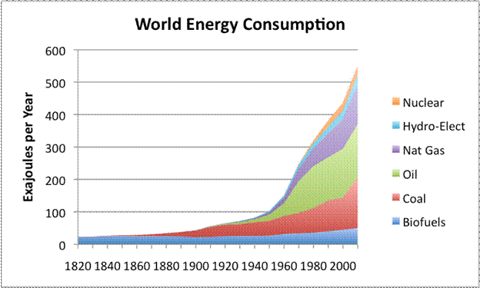 Click to enlarge
Are you able to spot a trend? Yes, I agree, I think it is increasing.
I have another graph that helps explain part of the reason why energy demand/consumption keeps rising. Here it is: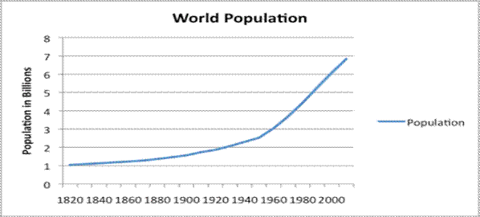 Click to enlarge
This graph of course captures the increase in global population over the same time period. It does make a lot of sense that two people would consume more energy than one. And we haven't doubled the number of people in the world over the last 100 years, we have increased the number of people seven times.
I would say then that it doesn't involve taking a giant leap then if I were to suggest that if the global population keeps increasing, so too will the amount of energy we consume.
A big part of future energy demand therefore involves understanding where the population of the world is headed.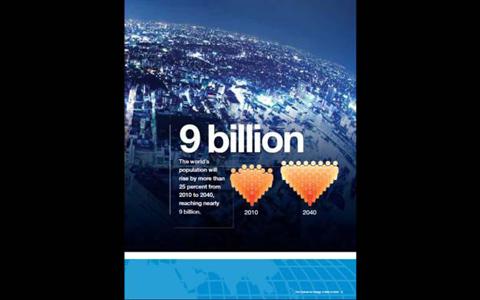 Click to enlarge
According to Exxon Mobil's (XOM) 2013 Energy Outlook we are going to add another 2 billion people to the planet between now and 2040. That should virtually guarantee that our energy needs are going to keep going up.
There is even more to the story that should make where our future energy demand levels are going even more obvious.
In North America, Europe and Japan we consume a lot of energy. In fact we consume on a per person basis multiples of the energy that the billions of people in India, China and the emerging world do.
Every day those people in the emerging world strive towards our lifestyle and their per capital energy consumption increases.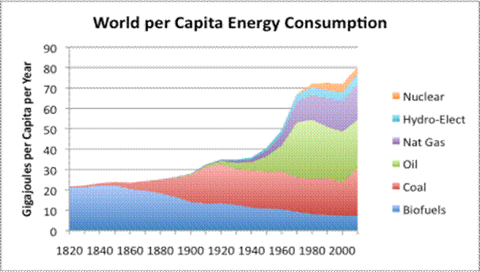 Click to enlarge
That creates two big drivers of energy demand:
- population growth
- per capita consumption growth
I'm a long term investor so I'm thrilled to jump on a long term trend and ride it for a long time. That seems much easier to me than worrying about where stock prices are going day to day.
Exxon Mobil - Returns More Cash To Shareholders Every Year
I've typically tried to find my energy investment ideas in smaller companies that I believe are significantly undervalued and poised to grow fairly rapidly.
I have to admit though, my desire for a secure and growing dividend is increasing as I get older. I was recently reviewing Exxon Mobil's 2013 investor day and was really struck by how much cash the company returns to shareholders.
Over the period of 2008 to 2012 Exxon returned an incredible $145 billion to shareholders either through dividends or share buybacks.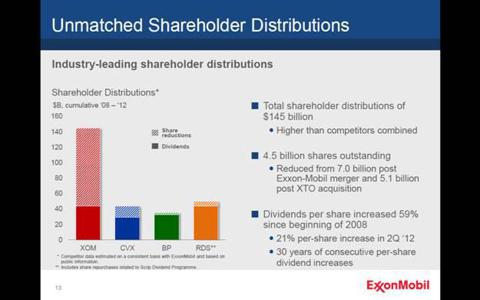 Click to enlarge
I'd prefer to see the company pick its spots a little more and only buy back shares when the market has priced them down, but I love the fact that this cash is being returned to shareholders.
For Exxon Mobil shareholders the recurring share buyback plan takes what is flat year on year production for the company as a whole and turns it into production growth on a per share basis.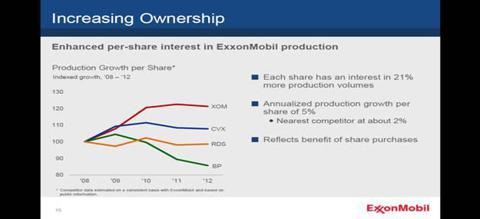 Click to enlarge
An Exxon Mobil shareholder today enjoys a 21% larger interest in Exxon's production than he or she did five years ago without having to buy any additional shares.
When we combine both the ongoing share repurchase plan (about $20 billion per year) with the annual dividends (about $10 billion per year) we see that on average Exxon has had a "Distribution Yield" of 7.2% ($30 billion paid on a $390 billion market cap) over the past five years.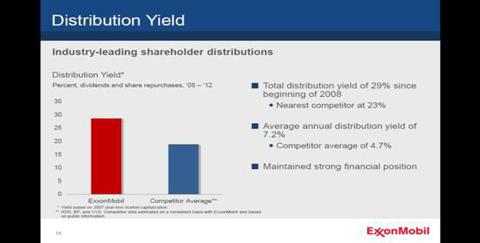 Click to enlarge
For a company with a Fort Knox balance sheet that kind of return seems very appealing in a low interest rate world. And with decades of increasing energy demand ahead of us, those share buybacks and dividends are only going to grow.
Exxon might be a pretty boring company to own, but over the long term I think it will be a rewarding one.
Disclosure: I have no positions in any stocks mentioned, and no plans to initiate any positions within the next 72 hours. I wrote this article myself, and it expresses my own opinions. I am not receiving compensation for it (other than from Seeking Alpha). I have no business relationship with any company whose stock is mentioned in this article.