KB Home (NYSE:KBH) reported strong revenue growth for its fiscal year first quarter, adding to Lennar's positive results released mid week.
For the quarter, revenue at KBH increased 59% to $405.2 million thanks to both higher home sales and higher average selling prices.
The company was able to deliver 29% more homes --some 1,485 of them-- than a year ago. Even better, the average price buyers paid for those homes moved up 24% to $271,300.
Of course, pricing power and sales growth only matter if management is keeping costs in check and KB Home gets high marks for wielding a sharp pencil this past year. The housing gross profit margin improved to 14.8%, up from 6.8% last year.
A good portion of the profit-friendly margin growth came from leveraging revenue against fixed management costs. As a percentage of sales, selling, general and administrative costs ("SG&A") dropped to 14.7%, down 5.7% from last year and the lowest rate since 2007.
KB Home also made more money on its financial services business. The financing arm generated net income of $2.7 million in the quarter, up from $2 million last year. The potential profit from financing should improve further this year thanks to its partnership with Nationstar Mortgage, LLC, which should being offering mortgage banking services later this year.
But, financing won't matter if homes aren't selling.
So far, there isn't evidence suggesting buyers appetites are shrinking. The company's backlog in dollars grew 53% to $703.9 million as the number of houses in the backlog increased 25% to 2,763. During the quarter, the value of net orders increased 83% to $506.8 million as 1,671 more houses were contracted, up from 1,197 last year. The strength was geographically widespread. However, the biggest jump occurred in the all-important "West Coast" region, where the value ordered grew 133%.
Management seems to believe the outlook hasn't softened either.
CEO Jeffrey Mezger had this to say in the company's press release, "results, in combination with our current strategic growth plans, the strengthening recovery of housing markets, low mortgage interest rates and firming consumer confidence, reinforce our optimism for the remainder of the year."
As a result, the company is investing heavily in new opportunities. The company raised $330 million from selling convertible senior notes and common stock and spent nearly $350 million on land and land development -- triple what it spent a year ago.
This backs up the improving numbers we got for the industry for February, including housing starts up 27.7% and building permits up 33.8% from a year ago.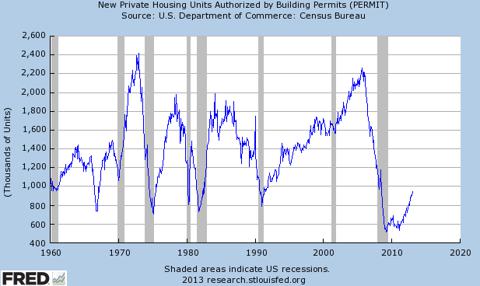 The higher activity appears to have carried over into February too.
Completions, which will show up in next quarter's earnings, grew 24.3% across the industry. As completions accelerate, demand across the entire housing food chain should improve, providing support for plays such as Home Depot (NYSE:HD), Lowe's (NYSE:LOW), Sherwin Williams (NYSE:SHW) and drywall maker U S G Corporation (NYSE:USG).
Investors may find this is a good time to consider adding these stocks portfolios. Particularly, given the industry historically enjoys tailwinds into spring. According to the Seasonal Investor, the S&P Homebuilder ETF (NYSEARCA:XHB) has climbed an average 3.89% in March and 6.89% in April.
Source: Seasonal Investor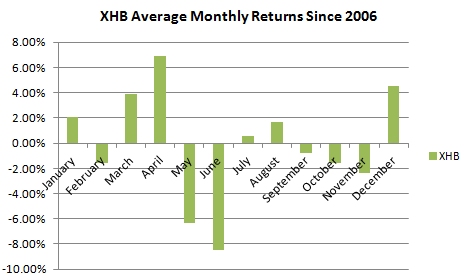 Disclosure: I am long KBH, USG. I wrote this article myself, and it expresses my own opinions. I am not receiving compensation for it (other than from Seeking Alpha). I have no business relationship with any company whose stock is mentioned in this article.