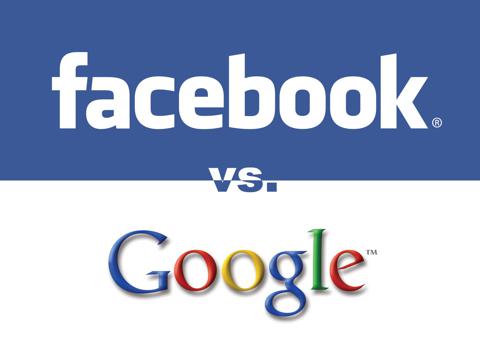 Make no mistake. Facebook Inc. (NASDAQ:FB) has been gunning for Google Inc. (NASDAQ:GOOG) for some time now. From becoming the "homepage" of the internet, to highly targeted ads, and now graph search and the recent acquisition of Microsoft Inc.'s (NASDAQ:MSFT) Atlas Advertising, Facebook and its shareholders are desperate to monetize the vast amount of data it has collected about its users…and this means war.
Some investors won't have anything to do with Facebook, complaining that it doesn't actually do/make anything. If the comparison to Google doesn't help, try thinking of them as a utility company; It provides a service that is becoming necessary in this increasingly digital world. Let me elaborate on that idea and give you my take on Facebook's raison d'être.
The Why of Facebook
Facebook started as a way to connect with friends, but soon morphed into significantly more. For many, it is now the "homepage" of the Internet, where their journey starts. As they click links curated ("liked" or posted) by their friends, they visit the Internet at large.
Also, whether you realize it or not, most people now have multiple personalities or versions of themselves: Our actual self, and the recently acquired, digital one. To fully explain the concept, think of it this way: Each day you make choices that affect the way people perceive you (the way you dress, your manners, personality, etc.) The same is true of your digital self: The information you share (pictures, links, status updates, etc.) combined with your privacy settings craft your digital self.
Facebook has played an important part in this cultural shift and has become the main place to maintain your digital personality. To facilitate that shift it had to become a sort of digital personal assistant and caretaker, if you will. It organizes our digital selves into timelines, interests, etc. Graph Search is a continuation of this, it helps you access your memories, and, as we will see, so much more.
A War on Multiple Fronts
Last year Facebook created Facebook Exchange, designed to challenge Google's dominance in the online ad space. One of the strengths of the service is that the ads "follow" users around the Internet. They are able to do this because of how often people check Facebook from their various work or personal devices. Here s an example of how it works:
A shopper has been checking out an MP3 player on Best Buy. When they come back to Facebook, they can show the user that exact MP3 player they were looking at buying. Since FBX is a dynamic platform, ad creative and bid pricing decisions are made in real-time.
Facebook has not officially commented the success of FBX, but there are reports that it is effective and growing rapidly.
Even more important in the advertising battle is Facebook's recently announced purchase of Atlas Advertising from Microsoft. This takes a page out of Google's playbook reminiscent of its purchase of DoubleClick. It ups the ante and makes them the two eight hundred pound gorillas in the space. Some have speculated that the acquisition opens the door for a privacy policy change for Facebook to begin sharing user data with advertisers, which could have an even bigger effect on revenue and the industry in general, which also includes Yahoo Inc. (NASDAQ:YHOO) and AOL Inc. (NYSE:AOL).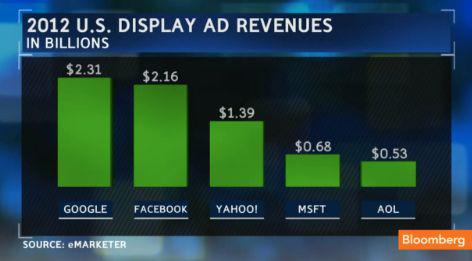 While the acquisition is a good investment for Facebook, it will take time and additional money to fully integrate with Facebook's current infrastructure and future plans.
Apps, Digital Content, and Currency:
Facebook's App Center competes with Apple Inc.'s (NASDAQ:AAPL) Apps Store and Google's Play through sales of apps and games. The problem they are having is that users play a lot of Facebook connected games/apps and may even access them from Facebook's platform, but they aren t buying them from Facebook, and that makes all the difference in revenue.
Purchases within Facebook are made possible through Facebook Payments, but last quarter, revenues were only $256 million. While this is an awful number compared to Apple and Google, who make roughly $15 million and $3.5 million a day, Facebook has a great opportunity for growth; this extends beyond just apps or gifts, which I will discuss below.
Recently, I wrote an article about Google Now, Google's new personal assistant that anticipates your needs.
[It] combs through your searches, calendar entries, emails, most visited locations, etc. and offers you notifications relating to local weather, delayed flights, traffic jams, your favorite sports scores, and even restaurant recommendations.
The conclusion of the article is that Google Now is the next generation of search. It is a personal assistant who indexes the user and then helps navigate the digital and the real by anticipating needs.
While not yet as advanced as Google Now in anticipating your needs, Facebook is a social-minded personal assistant of sorts. As I mentioned before, it is the caretaker of your digital self, helps organize your interests and memories and facilitates connection with friends. Additionally, Facebook has a calendar for events and birthdays that gives you notifications so you don't forget. It also recommends pages and articles based on your friends' interests.
Graph Search is an extension of the personal assistant. It will help you access your pictures and posts, while also allowing you to search based on the interests of friends or even favorite celebrities. I have to admit, that Graph Search, in its current iteration, with its uninspiring name, does not offer too much to get excited about, but if executed correctly, this is just the beginning.
Facebook's Roadmap for the Future
Facebook is luckier than most companies: All it has to do is follow in the footsteps of Google, learn from its (Google's) mistakes and makes plans to keep and better serve the needs of its vast, active user base.
Once Facebook gets its advertising business running and fully integrated, it can copy Google and use its high margin business to fund experiments for the future. Now, I am not recommending that Facebook get into augmented reality glasses, or self-driving cars. However, they have already followed Google into advertising, sales of digital content, and begun to dip their toe in search. The future I envision for them involves a combination and extension of their current services, still following in the footsteps of Google.
Personal Assistant/Next-Gen Search
I really think it is a "no brainer" that one of the next steps for Facebook includes buying Bing from Microsoft. Microsoft has been losing money on it for years and a purchase of Bing allows for complete integration with Graph Search (and hopefully a new name), an expansion of their burgeoning advertising empire and Facebook Payments. After all, users do not want to have to leave one app to open another and another; they want their primary app (Facebook) to service all their needs: search, apps, and purchases.
First let's talk about search: Depending on personal preference, a fully integrated Bing/Graph Search may be seen as an advantage over Google search. There is a whole industry designed around manipulating Google's results. I think engaged Facebook users, already proven to be social, will find more value in a search engine based on their friends' interests and recommendations instead of an unfriendly algorithm.
Here the search engine could become more of a next-gen personal assistant, competing with Google Now, by making purchase recommendations based on friend's purchases or reviews and collect additional revenue for preferential placement and sponsored search.
This fits nicely with an expanding role of Facebook Payments. Facebook users could search for items on Bing/GS and buy them, with Facebook facilitating the purchase in the way Google currently does. After all, users are already using their Facebook login to access a multitude of sites, having Facebook take care of transactions for you will seem quite easy. The move would also put them in more direct competition with Amazon.com, Inc. (NASDAQ:AMZN) and is something Amazon shareholders need to keep an eye on.
In addition, there are many other options for the future of Facebook from taking on Yelp (NYSE:YELP) in ultra local search and reviews; Groupon, Inc. (NASDAQ:GRPN) in coupons and offers; Match.com for romantic relationships; and as Facebook matures as a company and it's active users get older, it may want to offer a competitor to Linkedin (LINKD).
Is Facebook a Good Investment?
Some of the things that people look for in an investment are a "large moat" or high switching costs. Facebook has both. It is by far, the largest social network with the highest user-engagement. It also has, what I consider to be, high switching costs. Facebook does not make it easy for user to take their digital identity (posts, "likes," pictures, etc.) or friend's list with them and move it elsewhere.
I always used to feel that Facebook was only one step away from becoming MySpace, but despite their public relations and privacy blunders or how poorly the site works at times, they have managed to continue to grow. This inertia bodes well for the company and as I have mentioned, if they follow in the footsteps of Google, they can keep increasing profits for shareholders.
However, there is a big question whether they can execute, and maintain profitability while continuing to grow. Even if they are able to achieve that, other concerns have to be dealt with. Barron's and others have called into question Facebook's method of employee compensation through stock options. This has the potential to weigh heavily on the price even if the management continues to execute. There are also rumors circulating that COO Sheryl Sandberg, might be leaving the company. Sandberg is credited with helping turn "Facebook from a hot startup into an online ad giant," and losing her would hurt the company in the long run.
All things being equal, I would still initiate a small, speculative position in Facebook if it retests its all-time low during a general-market pullback.
Conclusion
To many, Facebook seems to be the cockroach of the tech industry: hard to kill and signs of its infestation are everywhere. Even though Facebook is not a particularly well-run company, their product has become a necessity for over a billion people, and that means they should be taken seriously. The path to success is laid out before them; all they have to do is follow in the footsteps of Google.
The other side of the story is that the battle will continue: Google knows its own history and pitfalls better than anyone and will be waiting, ready to pounce in an attempt to exterminate Facebook as they have done to numerous enemies before. Stay tuned.
(picture source: http://cdn.creativeguerrillamarketing.com/wp-content/uploads/2012/09/Facebook-Places-vs-Google-Places1.jpg)
Disclosure: I am long AAPL, GOOG. I wrote this article myself, and it expresses my own opinions. I am not receiving compensation for it (other than from Seeking Alpha). I have no business relationship with any company whose stock is mentioned in this article.