Introduction
Westinghouse Air Brake Technologies, also known as Wabtec (WAB), is one of the world's largest providers of value-added, technology-based products and services for the global rail industry. Their products are found on virtually all U.S. locomotives, freight cars and passenger transit vehicles, as well as in more than 100 countries throughout the world. Their products enhance safety, improve productivity and reduce maintenance costs for customers, and many of their core products and services are essential in the safe and efficient operation of freight rail and passenger transit vehicles. Many of the company's products are very unique, giving Wabtec a dominant market share in its industry. As companies begin to switch more of their shipments to a cheaper rail alternative, Wabtec is in a prime position to benefit.
Wabtec is also in an excellent position to benefit from the government implementation of Positive Train Control, which all Class I trains are required to have by the end of 2015. Positive train control (NASDAQ:PTC) is advanced technology specifically designed to automatically stop or slow a train before certain accidents occur. In particular, PTC is designed to prevent train-to-train collisions, derailments caused by excessive speed, unauthorized incursions by trains onto sections of track where repairs are being made and movement of a train through a track switch left in the wrong position. Wabtec is the primary supplier of this technology, and this year earned an additional $215 million in revenue from this new law.
Not only is the company growing from the increased switch to rail and implementation of PTC, but Wabtec is also growing through its large amount of domestic and international acquisitions. Last year the company spent $258 million on acquisitions, with over 50% of them being international. These excellent growth factors and the company's large amount of free cash flow, gave me a valuation of $117 for this rapidly growing company.
Business Overview
Wabtec produces a wide range of train-related components as you can see in the chart below: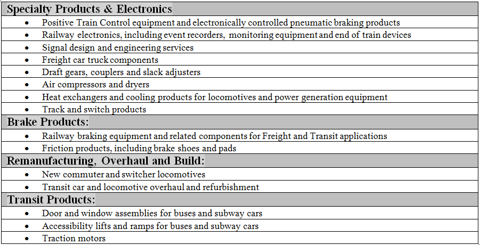 The majority of these products are quite unique, giving Wabtec a dominant 50% market share in North America. The company's core strategies include expanding globally into adjacent markets, increasing after-market sales, developing new products and technologies, and seeking value-added acquisitions. Thus far, they have been able to expand their international presence at a rate of 20% over the last five years; reaching $1.1 billion in 2012. In addition, their product offerings consist of a stable mix of original equipment market (OEM) and after-market parts. A total of 54% of revenues came from after-market products and services which have been proven to be less cyclical and have higher margins.

Wabtec has also improved their productivity through the implementation of the "Wabtec Performance System". The performance system includes 600 kaizen activities coupled with lean manufacturing processes and has led to increased margins by more than 2% in the past five years.

(Source: 2012 10-K)
Growth Catalysts
Wabtec's growth will continue to be fueled by three main catalysts: switches from trucking to rail, Positive Train Control mandates, and heavy acquisition expansion.
More Rail Shipments:
This year rising diesel gas prices have made the trucking industry less attractive (rising from about an average of $2 per gallon in 2009 to $4.14 on a national scale) and the railroad industry more attractive. It would cost shippers almost $70 billion more per year if all freight moved by rail were shifted to truck. This is because on average, railroads are four times more fuel efficient than trucks. In 2011, railroads moved a ton of freight an average of 469 miles per gallon on fuel. According to the Department of Transportation, the demand for rail freight transportation will increase approximately 88% by 2035. As the economy recovers, manufacturing production will pick up and consumers will begin to spend more, driving demand for industry transportation services. Furthermore, rising fuel costs will cause rail transportation to be comparatively cost-efficient for businesses that require bulk freight. On February 6th, 2013, the Association of American Railroads announced that the major freight railroads plan to invest an approximate $24.5 billion in 2013 to build, maintain, and upgrade America's rail network. As the leading supplier and servicer of various trail and rail components, Wabtec is in an excellent position to benefit from growth in the railroad industry.
(Source: Association of American Railroads)
Positive Train Control:
Wabtec is the industry supplier of Positive Train Control (PTC). PTC is a safety requirement for Class I Railroads (that carry passengers or toxic materials) mandated by The Rail Safety Improvement Act of 2008. Class 1 railroads account for 90% of the industry's revenues. As of now, this part must installed by December 31st, 2015. PTC should provide Wabtec with both short-term and long-term revenues (servicing of PTC can be seen as an annuity factor). Wabtec indicated its PTC-related revenue is forecast to grow 15% to 20% in 2013 (versus 2012's $215 million; 2011's $125 million; and 2010's $20 million). Wabtec estimates only around 4,000 to 4,500 locomotives (20%-25%) have been "equivalently-equipped"; with the onboard PTC computer out of the 18,000 to 20,000 that will need to be, not including US Transit Agencies. These are excellent opportunities for Wabtec to capitalize on their product offerings.
Acquisitions and Expansion:
Wabtec continuously seeks value-added acquisitions to expand their market penetration. In my opinion, this creates the potential for Wabtec to grow profitability, expand geographically, and diversify risks from the North American railroad industry. This year Wabtec spent $258 million on acquisitions and joint ventures, which was 8% of the company's revenue growth. Wabtec has a market presence in Brazil where there is a high demand to move commodities (leading to an increased demand in freight parts for Wabtec). International markets are also a long-term growth driver for Freight, as emerging economies such as China, India, South America and Russia need significant volumes of commodities, with freight rail a primary choice given its efficiency. The opening of a second lane of the Panama Canal in mid-2015, doubling its capacity, will increase the need for better rail links inland from the East Coast of North America. Here's a list of Wabtec's recent acquisitions: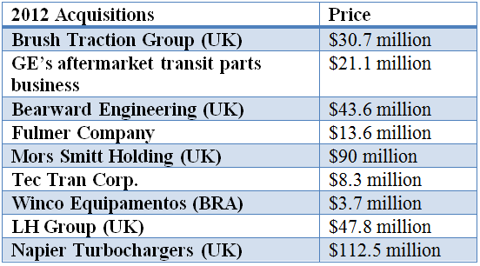 Risk Factors
General Risks: Wabtec is affected by general macroeconomic conditions both in the U.S. and internationally. According to the Association of American Railroads, carloadings decreased 2.7% and revenue ton-miles decreased 1.7% through mid-October 2012 (compared to the previous year). Reduction in freight traffic is due to decreased demand in coal (around 45% of freight revenue in 2011) which may reduce the demand for replacement parts. In addition, Wabtec operates in a highly competitive industry. Their top 5 customers accounted for 16% of total sales which creates a dependency risk. These customers include GE, Eversholt, CSX, CAT, and UNP. Wabtec faces collective bargaining risks due to the fact that 27% of employees are unionized. Wabtec is also subject to a variety of environmental laws and regulations.
Government Spending: Most government entities at all levels continue to face budget issues, which could have a negative effect on demand for the company's products and service (due to passenger railways' reliance on the government). However, $10.5 billion was supplied in June 2012 as the U.S. federal government passed a two-year transportation funding bill called MAP-21, which was a positive.
PTC Mandate Risks: In terms of their growth in PTC, mandate risks are present as the "highway bill" committee proposed extending the PTC deadline to December 31, 2020. This means that companies would be able to hold off on capital investments in PTC technology. With the 2015 deadline for the Class I implementation of PTC approaching and only 20% of existing locomotives upgraded, a major concern has been the railroad's ability to defer the PTC implementation indefinitely. Even if the deadline slips, currently being the only provider of PTC technology gives them the advantage in realizing what looks to be from a $250 million to a $500 million in PTC installations. Aftermarket sales for the PTC implementation are about 10% of original PTC sales annually. PTC is not being viewed as a government mandate by Wabtec but an opportunity for the Class I's to invest in technology that would drive efficiencies.
International Risks: Wabtec is a global company so international risk resides in currency exchange rate fluctuations, trade restrictions, intellectual property rights, and instability (political, economic, and social).
Acquisition Risks: Despite their recent acquisitions, there is a risk that value may not be added. This could be due to difficulties in achieving operational synergies, management differences, assumptions of unknown liabilities, and changes in business or economic factors affecting the acquisition.
Valuation
I derived an equity value of $5.6 billion for Wabtec, or $117 per share, after subtracting debt and adding back cash. I used a DCF model to calculate my value, by discounting predicted free cash flows at a conservative WACC of 10%. I used a two-stage growth model by calculating a 10-year growth rate, followed by a terminal growth rate. I came up with a 10 year growth rate of 12.4%, and a terminal growth rate of 3.5%, which will be explained below. My valuation spreadsheet can be seen here: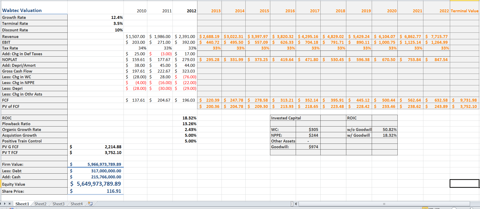 My ten year growth rate is broken up into three parts: organic growth, PTC growth, and acquisition growth.
Organic Growth: I started off by first calculating the company's organic growth. This was achieved by multiplying return on invested capital with goodwill (since WAB is quite dependent on acquisitions) by the company's reinvestment rate. I calculated my reinvestment rate by simply dividing amortization & change in NPPE by the company's NOPLAT. Ultimately, my organic growth rate came out to be 2.43%.
PTC Growth: According to the company, only 4,000 to 4,500 of the industry's 18,000 to 20,000 trains have been serviced for PTC, not including US Transit Agencies. Since it costs Wabtec about $20,000 to update each train, these un-serviced locomotives could bring in an additional $320 million in upfront revenues. Additionally, Wabtec will earn the majority of its future PTC profits through the continuous servicing of these trains. I believe that Positive Train Control gives Wabtec the perfect opportunity to capture additional, consistent future cash flows. Wabtec's prime positioning for Positive Train Control convinced me to add an additional 5.00% to the growth rate. This should sufficiently cover future revenue growth from PTC.
Acquisition Growth: Acquisitions have fueled Wabtec's growth over the past few years. These acquisitions have contributed to 9%-10% of Wabtec's revenue growth. I believe these acquisitions and joint ventures will continue to fuel the company's future growth in international markets. Increasing demand to ship commodities to emerging markets, and the opening of a second lane in the Panama Canal are just a few reasons I'm are confident Wabtec will continue its rapid growth. Therefore, I added an additional 5.00% to the growth rate in order to compensate for Wabtec's future acquisition growth.
Terminal Growth: Over time, I believe Wabtec will grow slightly faster than inflation. Trains are constantly looking for new ways to become efficient, and Wabtec is always trying to develop these technologies. As Wabtec grows and develops new technologies, the company will continue to earn revenues from installation, and service for years to come.
Conclusion
Wabtec is an excellent investment in a market that continues to increase. It's relatively low price provides investors with an extra margin of safety in case the markets go south. Its excellent growth prospects, free cash flow, strong balance sheet (low debt, cash balance, etc.), and defensive business model (mix of aftermarket and international sales) make Wabtec a safe investment, with a ton of potential.
Disclosure: I have no positions in any stocks mentioned, but may initiate a long position in WAB over the next 72 hours. I wrote this article myself, and it expresses my own opinions. I am not receiving compensation for it (other than from Seeking Alpha). I have no business relationship with any company whose stock is mentioned in this article.