Understanding the price appreciation in Netflix (NASDAQ:NFLX) is tricky for some, myself included. The situation is not new; it had a high valuation before its fall in late summer 2011. It is considered a "growth story." Again. Even understanding the concept and value of owning content, pioneering device usage, capitalizing on cloud computing, and expanding globally doesn't fundamentally support any price over $150. Yet, Netflix shares have sold for $146 to $196 since January 24th. Understanding that Netflix is subsidizing international growth with its domestic earnings helps to clear the haze.
Netflix is the largest subscription service on the Internet for entertainment content. Its business model started with the distribution of DVDs via the mail. It transitioned to streaming TV shows and movies to televisions. It expanded to include computers and mobile devices. In 2010, Netflix began offering its streaming service internationally. Presently, Netflix operates in three segments: domestic DVD-by-mail, domestic streaming and international streaming.
In July, 2011, Netflix was one of Wall Street's hottest stocks weighing in at $295 a share. In September 2011, Netflix instituted a price hike by separating and rebranding by-mail service and streaming service. Subscribers threatened to bail and new subscriptions suffered. When Netflix updated its third quarter guidance in mid-September, the stock dropped almost 19% in one day. Netflix reasoned the change was necessary because acquiring and licensing streaming content was so much more expensive. However, customers won out and Netflix retracted the rebranding attempt. In less than one year, by summer 2012, the Netflix share price had fallen all the way to $52.81.
In its 2011 annual report, Netflix communicated:
The number of subscriptions to our DVD-by-mail offering declined significantly following our price change. We anticipate that this decline will continue. We believe, however, that the domestic DVD business will continue to generate significant contribution profit for our business. In addition, we believe that DVD will be a valuable consumer proposition and studio profit center for the next several years, even as DVD sales decline. The contribution profit generated by our domestic DVD business will help provide capital resources to fund losses arising from our growth internationally
The status of the international business was described as follows in the same report:
In September 2010, we began international operations by offering our streaming service in Canada. In September 2011, we expanded our streaming service to Latin America and the Caribbean. In January 2012, we launched our streaming service in the UK and Ireland. We anticipate significant contribution losses in the International streaming segment in 2012. Until we reach our goal of global profitability, we do not intend to launch additional international markets.
By year-end 2012, Netflix had incurred $504 million in losses in its international business to date. As planned, the domestic DVD-by-mail service offset the losses in the international segment. Netflix began tracking DVD subscriptions separately in the fourth quarter of 2011. From that point through 2012, the DVD service generated $1.5 billion. At year-end 2012, paid international subscribers totaled 4.89 million.
Every market is uniquely different for Netflix. International business does not correlate directly to domestic business. Further, each international market is disparate from the other. When questioned about breakeven and profitability internationally during the fourth quarter earnings conference call, the Netflix CEO, Reed Hastings, answered:
It will depend by market. In some markets, we'll get there relatively quickly, others will take longer. And there's no precise level of penetration. It depends, for example in Latin America, we'll end up at breakeven at lower overall household penetrations because the Internet is at lower penetrations. So I would think each market is unique in this way.
During the bruising Netflix endured in 2011, management projected a three-year time frame for recovery. It is puzzling there are not models extrapolating how long the domestic DVD-by-mail service will be capable of subsidizing the international business. Even in regard to guidance for 2013 in terms of profitability and margins, the response was:
We'll probably have 7 million reasons not to give full year guidance right here. So we'll avoid doing that this year.
History may or may not be the best predictor of the future. Only time will tell. But, obtaining a high-level grasp of the Netflix history is not a waste. From year-end 2009 to year-end 2012, domestic paid subscribers have increased from 12.3 million to 33.5 million. From the launch in September 2010 to year-end 2012, international paid subscribers reached 4.89 million. From the second half of 2011 to year-end 2012, paid subscribers for DVD-by-mail service decreased from 11.17 million to 8.05 million.
On the revenue front, international losses per paid subscriber decreased markedly throughout 2012 from $42 to $21. The first quarter projection for 2013 estimated another notable decrease. Contrasted to that is the steady profit production of the DVD-by-mail service.
Trending the data may provide reasonable guidelines for a cautious investor. The following assumptions were made based on either historical data or information provided by the company:
The number of DVD-by-mail subscribers will decrease 4.43% quarterly. The percentages of the third and fourth quarter decreases in 2012 were 2.24% and 2.29% respectively and were less than company projections. The projection for first quarter 2013 is 4.97%.
Quarterly profit per paid subscriber for the DVD-by-mail subscriber is $14. The average per quarter in 2012 was over $15.
International paid subscribers will grow at a steadily decreasing rate per quarter. The 2013 first quarter projection is 24.74%. The second quarter rate is set at 22% and decreases 1% subsequently. Growth in 2012 ranged from 22% to 66% and averaged 36%.
International losses per paid subscriber will continue to decrease substantially each quarter. The improvement will average 15% per quarter. In 2012, the losses ranged from $42 to $21. The 2013 first quarter projection is less than $15. However, because of the established trend line, $17 was used progressing to less than $15 in the second quarter.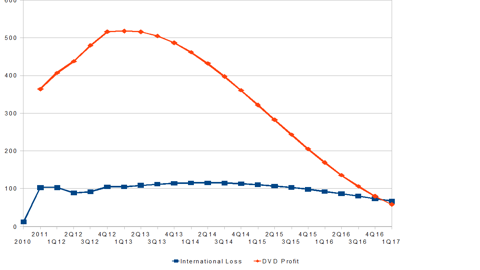 Based on the above assumptions and projections, the DVD-by-mail service can subsidize international growth through the fourth quarter of 2016. After that point, the international market losses would begin to cut into domestic streaming profits. Several factors could change this projection:
If paid DVD subscribers decrease at a slower rate than an average 4.43% per quarter, the subsidy will last longer.

If profit margins for DVD-by-mail service are greater and equate to more than $14 per paid subscriber, the subsidy will last longer.

If paid international subscribers grow slower than the projection of 22% decreasing to 8%, the subsidy will last longer.

If the loss per paid international subscriber per quarter does not decrease at least 15% per quarter, the subsidy will not last as long. Just a drop of 1% changes the end date by a full year. If the loss per quarter decreases more than the projected 15%, the subsidy will last longer.
The status at year-end 2016 would be 3.88 million DVD-by-mail paid subscribers and 49.11 million international paid subscribers. The loss for international service would have decreased to $1.28 per paid subscriber. Of course if Netflix achieves profitability internationally, the DVD-by-mail service, whatever is left of it, will be solely profit.
There are certainly other factors with the ability to impact the overall profitability of Netflix. Domestic growth in the streaming segment will rely on such attributes as the consumer's satisfaction with content offerings, the continued adoption of internet-connected devices, and the development of intelligent, interactive, customizable interfaces. International streaming growth factors are substantially the same with an even greater emphasis on content and a stronger dependence on marketing efforts. The growth opportunities certainly appear legitimate establishing Netflix as not only a viable, but likely dominant, global player in the Internet content streaming business.
The above projection, in lieu of a company-provided model, is relatively uncomplicated, straightforward and easy enough to utilize as a measuring stick. Absent the investment in its international business, Netflix would have increased earnings handsomely in 2012. It could have even warranted, from a generous value investor, a share price in the $135 to $145 range. Monitoring the international losses and adjusting for them will assist the cautious investor who wants to establish a position in determining a fair value.
Netflix is choosing to sacrifice now for future profits. The legitimate questions are just how long should the process take, how long can it take?
Disclosure: I have no positions in any stocks mentioned, and no plans to initiate any positions within the next 72 hours. I wrote this article myself, and it expresses my own opinions. I am not receiving compensation for it (other than from Seeking Alpha). I have no business relationship with any company whose stock is mentioned in this article.