Flamel Technologies (NASDAQ:FLML) is a French drug delivery company (click here for pdf of investor presentation) with pending FDA and clinical trial catalysts outlined below that also receives royalties from GlaxoSmithKline (NYSE:GSK) for an approved drug, Coreg CR (a once-daily formulation of a beta blocker cardiovascular drug).
While Coreg CR is not a big seller (i.e. royalties from Glaxo were $1.7M during 4Q12, which decreased from $2.2M in the year-ago period), the product validates the Company's drug delivery technology platform and a recent acquisition provides Flamel with an approved product and multiple late-stage pipeline compounds including a near-term PDUFA date and recently filed NDA.
SUMMARY OF UPCOMING FDA & CLINICAL TRIAL CATALYSTS:
During Q4 2012, Flamel received a PDUFA decision goal date of 5/31/13 under a standard 10-month review seeking approval for an undisclosed (for competitive reasons) hospital-based product w/ projected sales potential of $25-35M based on company estimates.
In addition, during Q1 2013 the Company filed a second New Drug Application (NDA) for another undisclosed product with an expected FDA reply during Q2 2013 to accept the filing and issue a PDUFA date (update and guidance provided on Q4 2012 conference call, click here for the Seeking Alpha transcript).
Last June, Flamel completed enrollment of 84 patients in an ongoing Phase II (COAT-IFN) clinical trial (ClinicalTrials.gov ID NCT01010646 with expected completion of the study mid-2013) for IFN-alpha-2b XL (a novel longer acting formulation of interferon alpha-2b) with preliminary results indicating no safety concerns and similar efficacy to standard formulation.
FINANCIAL STATISTICS FOR FLAMEL:
As of year-end 2012, Flamel reported $9.2 million (M) in cash and subsequently received $14.5M in net cash proceeds from a debt financing agreement (4-year term, 12.5% interest rate, initial payment due in 18 months, 1.75% royalty rate on products successfully commercialized from former Eclat Pharma) with the Company's largest shareholder, Deerfield Management (owns approx. 4.3M shares of common stock or 17% of all shares), to fund planned research & development (R&D) initiatives without any dilution to shareholders-at the time CEO, Mike Anderson, stated that dilution to shareholders at current stock prices is unacceptable.
In March 2012, Flamel acquired Eclat Pharma which was formerly an affiliate of Deerfield Capital and has one approved product HYCET (hydrocodone acetaminophen oral solution-a liquid formulation of the active ingredients in the widely used pain drug VICODIN) along with a pipeline of niche brand products including the pending FDA catalyst and recently filed NDA by Flamel.
The Eclat deal included the formation of a new US subsidiary by $FLML, which issued a $12 million senior secured note to Eclat Holdings that is payable over six years based on achieving regulatory approvals and sales milestones. The notes have an annual interest rate of 7.5% and $FLML will pay Eclat an earn-out payment equal to 20% of gross profit generated by products acquired from Eclat. In addition the former CEO of Eclat, Mike Anderson, became the CEO of Flamel.
As of year-end 2012, Flamel reported 25.3M shares of common stock on a fully diluted basis along with total debt (long-term) of $49.4M that includes the Deerfield agreement and French government financing for R&D initiatives that is only repayable upon technical or commercial success.
Flamel reported total revenue of $26.1M in 2012 vs. $32.6M in 2011 with a ($3.5M) operating loss during 2012 vs. ($9.6M) in 2011.
TRADE OVERVIEW:
Flamel is an under the radar FDA catalyst trade with a near-term PDUFA date of 5/31/13 in addition to a recently filed NDA for which the Company expects a FDA reply during Q2 2013 to accept the filing and issue a PDUFA date. The stock tends to trade with low volumes (average daily trading volume of less than 50,000 shares) due to a relatively small float and approximately 40% institutional/fund ownership so strict limit orders should be used when trading the stock.
My run-up target for Flamel is in the upper $4-lower $5 range back toward the upper end of the range on the one-year stock chart below with a recently concluded debt financing with the Company's largest shareholder, Deerfield, reducing the risk of any dilution in the near term. In addition, the Company's CEO moved into the position as part of an acquisition with a Deerfield subsidiary, Eclat Pharma, so the management team has a shareholder-friendly focus with no plans for dilution at current prices.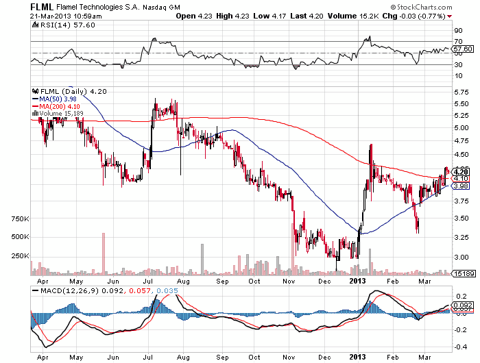 Click to enlarge
With a proven drug delivery technology and several FDA catalysts expected this year; shares of Flamel should become more popular with traders, resulting in a higher share price and increased trading volumes especially if FDA approval is received for the near-term pending NDA. While the products represent niche market opportunities and not blockbuster type of drugs; the Company has a focused strategy and multiple products in development along with multiple drug delivery technologies that can be used to improve marketed drugs and biological agents that should propel the Company into sustained, growing profitability over time (current analyst estimates call for revenue to more than double from $33M this year to $77M next year at which time Flamel may begin generating profits).
While it is difficult to fully assess the chances of FDA approval given the undisclosed nature of the product; given that both Flamel and Eclat have validation in the form of approved products and/or use of drug delivery technology in approved products; I estimate a good chance for approval (i.e. 70%) with a mid-upper $5 target on approval vs. sub-$3 target on a rejection.
Disclosure: I am long FLML. I wrote this article myself, and it expresses my own opinions. I am not receiving compensation for it (other than from Seeking Alpha). I have no business relationship with any company whose stock is mentioned in this article.