Alaska's Senate late Wednesday night approved legislation to cut taxes on oil production. The bill still must be passed by the Republican controlled Alaska House of Representatives. Governor Sean Parnell, who introduced the bill, said "Today, the Senate took bold action to increase production and fill the pipeline."
If approved by the House, the new bill would establish a simple 35% tax rate, with $5 per barrel exempted for all produced oil. This would replace the "Alaska's Clear and Equitable Share" (or "ACES") system that was considered the main accomplishment of Parnell's predecessor, Sarah Palin. Under the current ACES system, producers pay a base rate of 25% for every $30 per barrel of net profits, but there is an escalator that raises taxes as oil prices rise. The escalator rises 0.4 percentage points for every $1 per barrel above $30.
Oil companies have blamed high oil taxes and a lack of access for falling oil production in Alaska. Alaska has dropped to fourth place in daily oil production behind Texas, North Dakota, and California. Oklahoma is fifth.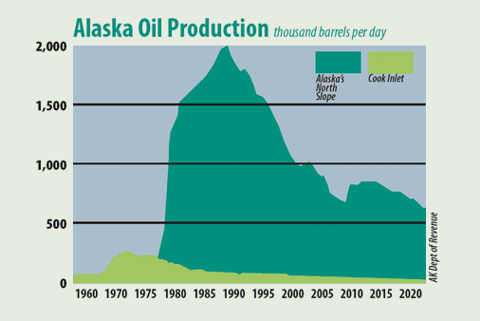 The trans-Alaska pipeline system ("TAPS") carried more than 2 million bpd during the peak production days of the late 1980s. In 2012, the flow rate averaged 548.000 bpd. The slower and colder the oil, the more complicated the technical challenges for Alyeska Pipeline Service Company, the pipeline's operator. Low flows have put the pipeline's operation at risk. Tom Barret, president of the Alyeska Pipeline Service Company says:
If I could ask for one thing, it is to figure out how to get more oil into this pipe.
Lower oil taxes is a step in the right direction toward fixing the pipeline problems.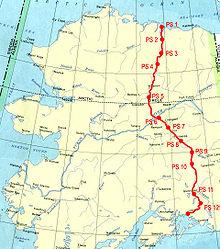 The Alyeska Pipeline
Low flowrates require that the oil move more slowly through the line, meaning that its temperature drops more than in high-flow situations. A freeze in the line would block a pig (an automated cleaning device) in the line, which would force a shutdown and repairs. A 2011 engineering report by Alyeska said heaters would need to be installed at several pump stations to avoid freezing. The report said these improvements could enable flows as low as 350,000 bbd. Other studies have suggested Alyeska could also replace the 48" pipeline from Prudhoe Bay to Fairbanks with a 20" pipeline and use rail the rest of the way, which would allow as little as 45,000 bbd.
Prudhoe Bay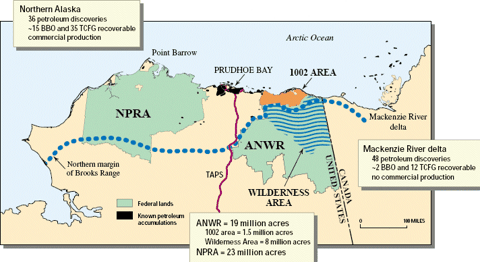 The Prudhoe Bay field was discovered on March 12, 1968, by ARCO (later acquired by BP (NYSE:BP), and Exxon (NYSE:XOM). It is one of the largest oil fields in the world. More than 10 billion barrels have already been produced. BP is the operator of the field and has a 26% interest. Exxon and Conoco Phillips (NYSE:COP) each have a 36% stake.
ConocoPhillips - Alaska's Largest O&G Producer
ConocoPhillips is Alaska's largest oil and gas producer. In 2012, the company's production averaged 213,000 boe/day, which included 188,000 barrels of crude oil per day. Earnings from its Alaska operations were $570 million in Q4 2012. Average realized prices for Alaskan crude oil in 2012 were $109.62/barrel.
COP has significant ownership interests in two of the largest oil fields located on Alaska's North Slope - Kuparuk, which ConocoPhillips Alaska operates, and Prudhoe Bay. The company also has significant operating interests in the Alpine field on the Western North Slope and Alpine satellite fields. In Southcentral Alaska, COP operates the Kenai liquefied natural gas (NYSEMKT:LNG) facility.
COP owns 36% of the Prudhoe Bay Unit. It also is a 28.3 percent owner in the TransAlaska Pipeline System that transports oil from the North Slope to the ice-free port of Valdez.
In its 2011-2012 "Update to Alaskans" report, COP said it paid more than $4.1 billion dollars in taxes and royalties to Alaska in 2011 alone.
Alaska is obviously a very important component of Conoco Phillips.
COP has said it would be willing to invest more capital in Alaska with appropriate oil tax reform. If the Alaskan House passes this new bill, Conoco and Exxon would be the biggest beneficiaries. At the same time, Alaskans themselves would benefit by increased capital investment and production. Faced with growing shale production in the lower-48, this was a smart move by Alaska's elected officials. If passed, the new tax law will help make Alaska much more relevant in today's rapidly changing oil market. And it would be an unexpected and positive catalyst for COP, XOM, and BP.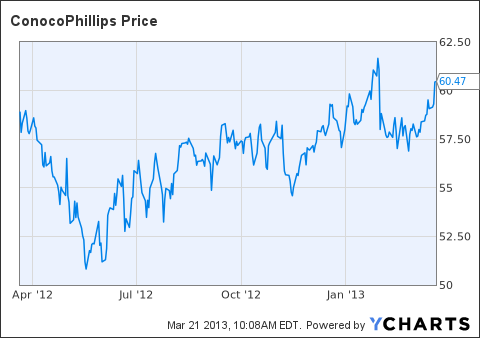 Of the three Prudhoe Bay partners, COP is my favorite stock. It's P/E=9 and the dividend is $2.64/share for a yield of 4.50%. In my January article "ConocoPhillips: Bullish Catalysts for 2013", I listed three catalysts that would push COP shares higher in 2013: asset sales, a return to full production in Bohai Bay, and growing production in the prolific and very profitable Eagle Ford shale. These catalysts are on track and good progress has been reported on all three. However, just in the last few days we can now add two more positive catalysts for COP: the bullish results of the Shenandoah WR51-2 discovery and the possibility of a new, and lower, Alaskan oil tax. I rate COP a strong buy.
Disclosure: I am long COP, XOM. I wrote this article myself, and it expresses my own opinions. I am not receiving compensation for it (other than from Seeking Alpha). I have no business relationship with any company whose stock is mentioned in this article.
Additional disclosure: I am an engineer, not a CFA. Please do your own research and contact your investment adviser. I am not responsible for investment decisions you make. Thanks for reading and good luck!