Reserve reports are now out for many E&P companies for December 31, 2012. Proved reserves are an important factor in evaluating E&P companies, as they provide a structured approach to evaluating the value of a company's assets, and allow for apples-to-apples comparisons between companies.
Proved reserves in the Mississippian have been a subject of much discussion recently, as Sandridge (NYSE:SD) recently wrote down the value of reserves for its Mississippian Trust (NYSE:SDT) and Mississippian Trust 2 (NYSE:SDR). Were it not for the recent corporate activism at Sandridge, this would have been even bigger news.
In light of the recent updates on Mississippian reserves, it its timely to evaluate the reserves of three Mississippian focused E&P companies: Sandridge, Red Fork (OTCPK:RDFEY) and Austex (OTCQX:ATXDY), and to compare their proved reserve values to their market caps and enterprise values.
Starting with Sandridge: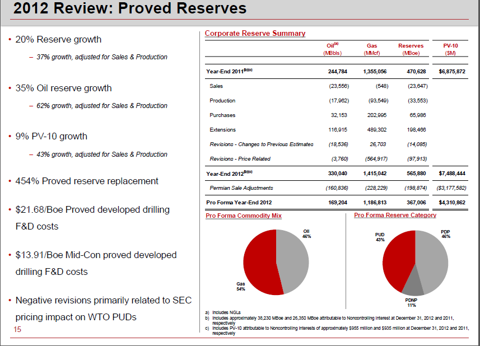 Sandridge has $4.3 billion in pv-10 proved reserve value. Its reserves grew by 20% in size and by 9% in value. It grew at a $21.68/BOE F&D cost (the cost to find new producing reserves), and in the Mississippian in particular it grew at $13.91/BOE F&D for proved producing reserves. Sandridge has a $2.7 billion market cap and roughly $2 billion in net debt (pro-forma for an asset sale), so essentially a $4.7 billion enterprise value. Thus it is trading for a slight premium to its proved reserve value of $4.3 billion.
Red Fork: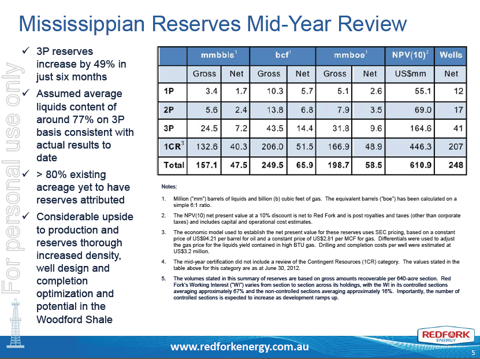 Red Fork increased its 3P reserves by 49% in a 6 month period, after a period of rapid development and drilling. Its F&D metrics are less attractive than Sandridge's, but it has still shown significant production and reserve growth. Red Fork has a current market cap of $270 million, and an enterprise value of approximately $250 million. This compares to a proved reserve value of $55 million. This is a very high premium compared to Sandridge - if Red Fork traded at Sandridge's PV-10 value to Enterprise value ratio, it would be at roughly 1/5 of its current share price.
Austex: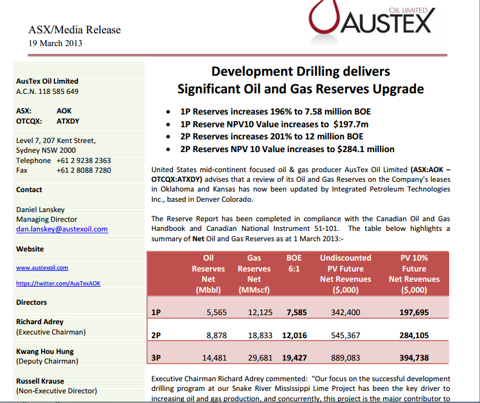 Austex grew its PV-10 proved reserve value by over 100% to $198 million in the previous 6 months. It increased its 1P and 2P reserves by ~200% each, and it delineated a 3P value of almost $400 million. And it did so cost efficiently, as it has very attractive returns on invested capital. This compares to a market cap of $65 million (Austex has $10 million in cash and $7.5 million in debt, so its enterprise value is close to its market cap). If Austex traded at its proved reserve value like Sandridge does, it would trade at over 3x its current stock price. And if Austex traded at 5x its proved reserve value like Red Fork does, it would trade at 15x its current price.
Osage Exploration (OEDV.OB) is another oil and gas company focused on the Mississippian, and I would have included their reserves here but they have not yet provided their year-end 2012 proved reserves, at least not in SEC filings or other similar public disclosures that I am aware of.
Obviously reserve values are not the only metric on which to evaluate public E&P companies. However, they are an important metric, and they do allow for a certain degree of objective analysis and comparison, as there are standards set by the SEC and by the various Australian and Canadian securities regulators that mandate how such reserves are calculated. This high level reserve analysis compared to enterprise value seems to indicate that, relatively speaking, Sandridge is appropriately valued, Red Fork may be overvalued, and Austex may be undervalued.
Disclosure: I am long OTCQX:ATXDY. I wrote this article myself, and it expresses my own opinions. I am not receiving compensation for it (other than from Seeking Alpha). I have no business relationship with any company whose stock is mentioned in this article.