With the ongoing Euro Financial Crisis it is no wonder why many investors have abandoned European stocks. However this abandonment has created opportunities for long term investors. Telefonica (NYSE:TEF) is one such opportunity that I believe will pay off over time which is why I am bullish on this stock, as I outlined in my previous article in February. Telefonica eliminated its dividend in May 2012 in order to pay down its debt and has cash for future infrastructure development. The European financial crisis along with no dividend led investors to sell resulting in Telefonica trading as low as $10.06 on July 25th 2012. Telefonica has run up about 32% since this low, but I believe there is more room for it to run another 30% with a price target of $19.00 USD. Telecom companies on average trade at a price to earnings ratio of 20, Telefonica trades at a price to earnings ratio of 13. Telefonica reported 2012 earnings of $1.13 USD per share (0.87 EURO). Telefonica has a market value of $65 billion USD (84 billion EURO), a price to book of 2.4, and free cash flow of $9,000 million USD (6,951 million EURO).
The Euro financial crisis may not be resolved anytime soon but waiting to invest in a profitable business that is undervalued is a mistake in my opinion, especially if it has rapidly growing parts. Telefonica has a strong position in a key emerging market (Latin America). Telefonica derives over 50% of its revenues from Latin America, which is important because this is one of fastest growing regions in the world for mobile telecommunications. Revenue for 2012 was 62,356 million Euros ($81,125 million USD) down (-0.8%) year-over-year. The revenues in the Latin America operations were 30,520 million Euros ($39,706 million USD), which was up 5.5% year-over-year, revenues from the European operations were 29,995 million Euros ($39,023 million USD) which was down (-6.5%) year-over-year. Operating income in 2012 from Latin American operations was 6,045 million Euros ($7,864 million USD) while operating income from European operations was 5,233 million Euros ($6,808 million USD). In 2012 OBIDA margin grew year-over-year by 5.1% to 21,231 million Euros ($27,492 million USD) standing at 34.0%. (Source Telefonica January-December 2012 Results)
The 2012 financial results show that in Latin America it managed 212 million accesses, up 6% y-o-y. Of the 212 million accesses 176.6 million were mobile access. Currently in the world the top two mobile operating systems are Google Android (NASDAQ:GOOG) and Apple IOS (NASDAQ:AAPL), respectively having 70.1% and 21.0% of the market (Source IDC). Recently at the Mobile World Congress in Barcelona Gary Kovacs, CEO of Mozilla, introduced a new Firefox open mobile operating system. Now clearly this market is dominated by Android, but over time I believe more competition will give consumers more choices resulting in the decline in price for smartphones. Now everybody would like to drive a brand new Porsche but the fact of the matter is the majority of people do not. For price sensitive consumers the Firefox smart phone will give them a reason to upgrade for not a lot of money as the Firefox smartphone will cost about $100.00 USD. Telefonica will be adding this product to their lineup and if the mobile smartphone trend continues, which I am positive it will, then the company will benefit from increased revenues because of higher priced mobile smart phone data plans. Telefonica mobile data revenues rose 12.8% year-over-year accounting for 34% of total mobile service revenues and according to its CEO Cesar Alierta Izuel "Latam is delivering quality growth amid enhanced profitability." (Source Telefonica January-December 2012 Results Conference Call Transcript page 3)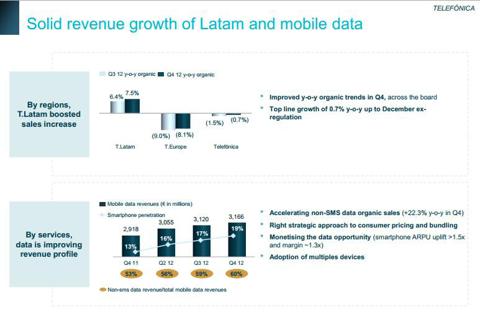 (Source Telefonica January-December 2012 Results Investor Presentation page 10)
Now a lot of investors sold out of Telefonica because of the Euro Crisis and the elimination of the dividend, but following the cash we are able to see that it has free cash flow of 6,951 million Euros ($9,043 million USD). This cash will allow it to pay the upcoming dividend commitment of 0.75 Euros per share ($0.98 USD), and I believe once the dividend is reinstated more investors will become a buyer of its stock leading to further appreciation.
Telefonica reduced its debt in the 4th quarter by 4,747 million Euros ($6,175 million USD) and now total debt stands at 51,259 million Euros ($66,687 million USD). Management maintains that it will continue to pay down debt and by the end of 2013 total debt should be less than 47,000 million Euros ($61,147 million USD). Paying down debt will be beneficial to the capital structure. (Source Telefonica January-December 2012 Results)
Competition is fierce in the Telecom industry. However Telefonica is well positioned in emerging markets (Latin America) to take advantage of future growing mobile customers. A recent report from Strategy Analytics stated mobile "subscriptions in developing countries will grow at a compound annual rate of 7.5 percent, substantially faster than the 2.9 percent growth that will be seen in developed countries." In addition Telefonica has also been able to grow OIBDA and expand OIBDA Margin in Europe with bundle pricing and leaner operations. I believe Telefonica will continue to focus on improving revenues from growing Latin American operations and continue to reduce costs from their developed European operations which will increase free cash flow allowing it to be aggressive in paying down debt. Improving its balance sheet will increase shareholder value and allow them the flexibility to improve infrastructure in their fastest growing markets. What is happening in mobile smart phones today is similar to the PC Revolution in the sense that when PCs came out not everybody could afford one, but slowly over time the cost to buy a PC went down while technology continued to improve. Smartphone adoption over time will increase and Telefonica is well positioned to reap the benefits. With the overall stock market being at its current levels, I recommend buying Telefonica on any dips.
Disclosure: I am long TEF. I wrote this article myself, and it expresses my own opinions. I am not receiving compensation for it (other than from Seeking Alpha). I have no business relationship with any company whose stock is mentioned in this article.