Introduction
In an earlier article, I discussed one of the most important metrics to analyze the silver industry, the actual cost of mining an ounce of silver, which can help an investor figure out whether it is time to buy SLV and/or the silver miners. In that analysis, we used the 3Q 2012 financials to calculate the combined results of a number of publicly traded silver companies and come up with the average cost it takes to mine each ounce of silver. Once the 4Q FY12 reports from all gold and silver miners are out, I will be posting the consolidated true production cost calculations for both gold and silver, so investors who are interested can follow me and you will receive that report.
In this analysis we will calculate the real costs of production of Coeur d'Alene Mines (NYSE:CDE). This primary silver miner has operations spanning three continents (North America, South America, and Australia) and is one of the largest silver miners in the world producing around 30 million ounces of silver equivalent per year.
Calculating the True Mining Cost of Silver - Our Methodology
In a previous article about Goldcorp's (NYSE:GG) cost of gold production, I gave a thorough picture of the current way mining companies report their costs of production and why it is inaccurate and significantly underestimates costs. Then we presented a more accurate methodology for investors to use to calculate the true costs of mining gold or silver. Please refer to that article for the details explaining this methodology, and I would encourage all precious metals investors to understand this important concept. It is important for investors interested in miners or those who focus on gold and silver as a commodity investment, because the true costs of production will show where a possible floor exists for a commodity (the production cost) which is important to silver (SLV investors) and is also an obvious way to differentiate miners.
Real Costs of Production for CDE - 4Q 2012 and FY2012
Let us now use this methodology to take a look at CDE's results and come up with their average cost figures. When applying the methodology for the most recent quarter and FY2012, we standardized the equivalent ounce conversion to use the average LBMA price for Q4FY12. This results in a gold ratio of around 53:1. We like to be precise, but minor changes in these ratios have little impact on the total average price - investors can use whatever ratios they feel most appropriately represent the by-product conversion.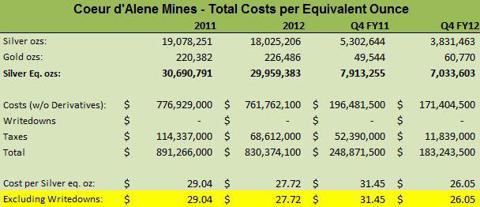 Observations for CDE Investors
The first thing that investors should note from the table is the clear drop in silver production from 2011 to 2012, which amounted to around 1 million ounces of silver. Ordinarily this would be of some concern, but CDE management anticipates that 2013 production should be in the range of 18-19.5 million ounces, which means they are confident it should rise close to 2011 levels. Investors should not read too much into this drop, though they should monitor Q1FY13 production closely to make sure it is ramping up to levels that would allow CDE to achieve their targeted 2013 production.
It looks like production costs for CDE are on the higher end of primary silver miners, averaging $27.72 for 2012 - which actually dropped from 2011 costs of $29.04. This is higher than most of its competitors, with Pan American Silver (NASDAQ:PAAS), First Majestic (NYSE:AG), Hecla Mining (NYSE:HL), and Silver Standard Resources (NASDAQ:SSRI) all reporting lower costs. PAAS had an annual cost of $20.81,AG had an annual cost of $18.44, HL had an annual costs of $24.62, and SSRI had an annual cost of $24.72. We are not sure of the reasons why CDE's costs are higher than their competitors, it may be related to having such a diverse, geographically spread set of operations - either way this is something that CDE management should address to help increase profitability.
At costs of $27.72 an ounce, CDE has a very limited profit margin with silver in the sub-$30 range and current silver prices mean that the company is barely breaking even on a per ounce basis. Investors should be very wary in this low silver price environment unless management can keep on lowering costs to the lower $20s to make CDE more comparable to its competitors. The one positive that investors can note in the annual production costs, is that CDE did lower costs by about 5% on a year-over-year basis, which is a positive trend but investors should pay attention to future reports to make sure this trend is not just a temporary drop.
Since CDE has about $300 million in cash and inventory on its balance sheet, it can fight through a low silver price environment for quite a bit of time, so it does not seem like investors should be worried too much about the solvency of the company. Though if silver prices drop to sub-$20 levels and costs don't decline, this may be something that would be of worry to investors. But we do believe that this is a very unlikely scenario, since silver would be well below production costs of almost all silver miners in the industry and it would be snapped up by investors and silver industrial users.
Another thing for investors to note is that even though CDE is a primary silver miner, it produces quite a bit of gold. In 2012 gold production accounted for about 12 million silver equivalent ounces, or a little more than 40% of total silver equivalents. This is neither a positive or negative for investors, it all depends on how the gold price performs relative to silver, but is something CDE investors should note.
Finally, a possible positive for CDE investors (and all low margin silver producers) is that low margins mean that EPS would grow significantly with any small rise in the silver price. We explained this in detail with HL's analysis, but basically, if a silver miner has a margin of $2.00, then a $2.00 rise in the silver price would lead to a doubling in EPS if all other things are held equal. Taxes would bite into that, but the concept remains the same - low-margin producers see significant rises in their EPS with rising silver prices.
Conclusion
For a silver miner, CDE's production costs were much higher than most of its competitors and are just below current silver price levels. But CDE's cash position is pretty sound and this allows the company to be able to persevere through this current silver environment and investors should not worry too much in terms of the liquidity of the company unless silver prices drop significantly further. Finally, CDE's low margins provides a possible investment for investors looking to leverage rises in the silver price to companies which would experience the largest EPS increases.
For those who invest in silver as a commodity, it is important to note that CDE is a very large silver producer which is experiencing relatively high costs of production to produce each ounce of silver - which bodes well for the silver price. This may be evidence that the silver price will not go much further down without producers being at negative real production costs, which will lead to cut-backs in production and a drop in supply. We have been advising those who hold silver as a commodity (SLV, SIVR, and PSLV investors) to hold their silver positions because costs are rising and the true silver production cost is not much further below current silver price levels.
Disclosure: I am long HL, AG, PSLV, SIVR, PAAS. I wrote this article myself, and it expresses my own opinions. I am not receiving compensation for it (other than from Seeking Alpha). I have no business relationship with any company whose stock is mentioned in this article.