Hedging against Government Confiscation
As I see the images of protests in the streets and lines of people outside Cypriot banks, I recall similar images in Greece, Spain, and Iceland. The theme is the same - angry citizens have lost (or perceive they are about to lose) purchasing power and they view the banks and government as the source of their dilemma. They demand that they are made whole in nominal terms.
The Cypriot government cannot control the amount of Euros (its functional currency) it can print to offset the liberal spending and entitlements it had promised its citizens. Monetary policy is governed by the members of the European Union (EU). Therefore, the only way to satisfy creditors, the EU and International Monetary Fund (IMF), was to steal the money outright from its citizens through a bank levy.
This could not happen in the USA because the purchasing power of the US Dollar has already been stolen from the US citizen. First Franklin Roosevelt temporarily removed the gold standard in the US when he confiscated all gold in 1933 and then readjusted the price of gold from $20 to $35 an ounce in 1934. This price remained until 1971 when Richard Nixon removed the gold standard entirely. It should be noted that stocks of mining companies were not seized in either instance.
There were no riots in the streets when we came off the gold standard because the resulting effects of inflation were hidden in the short run through government statistics and later blamed on greedy speculators, capitalists or oil cartels. In addition, central bank propaganda now convinces citizens that inflation is needed to spur growth and without it the economy would stagnate. Exporters lobby their governments that without a weaker currency, they find it difficult to compete in the international markets. The threat of unemployment is a greater fear among citizens than a weaker currency.
The Cypriots may lose 10% of the purchasing power of their Euro through a bank levy, but according to Shadowstats, the US Dollar has lost that much in the past year alone.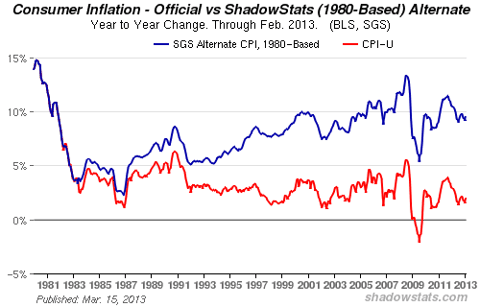 To protect ourselves we should first not be concerned about the nominal amount of money we have, but about its real purchasing power. The following chart from Measuringworth.com depicts the purchasing power of the US Dollar since the creation of the Federal Reserve in 1913.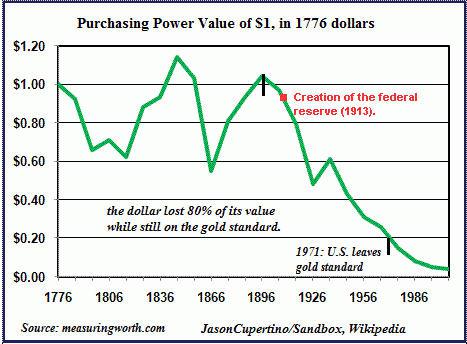 The case for investing in stocks
Investors in stocks perceive a greater return can be obtained in comparison to other investment types such as commodities, real estate, bonds, or bank CDs. The perfect stock should provide the wealth preservation attributes of gold while also providing steady and increasing income streams through regular dividends.
In contrast, gold does not generate income. It is simply a store of value to hedge against real or perceived inflation. Buyers of gold have to be wary of sellers who either try to peddle overpriced numismatic coins, charge high markups, and disparagement from the mainstream media as "gold bugs." Physical gold can also be debased by using base metals as fillers.
Gold could also be subject to seizure by governments like it was in the Great Depression. And the government knows if it is in a safe deposit box at a bank, purchased from a commodity dealer, or stored in an offshore mint as all these have some audit trail attached or are subject to seizure if warranted. And forget about getting it back. Germany will have to wait 7 years to get its gold back from the US Federal Reserve.
Finally, when interest rates rise to the point that real interest rates exceed the real rate of inflation, gold would lose favor and prices would fall.
The Best of Both Worlds - Mining Stocks
Owning a mining stock provides a hedge against inflation while also offering the opportunity for growth and income. There are various opportunities in commodity stocks but I focus on two mining stocks that appear to be good buys at their current price levels.
I qualified these stocks by their low current and future P/E, their dividend payout %, the diversification of their assets, as well as other positive attributes:
Newmont Mining (NYSE:NEM) - second largest gold producer with diversified assets (33% in USA, 29% in Australia / New Zealand, 22% in Peru, and the remaining 24% in Indonesia, Ghana, and Mexico). Sales diversification closely correlates to asset location. Sales by commodity are 92% gold and 8% copper.
Newmont's current price of $40.38 is close to its 52-week low of 38.50 with a current P/E of 11.13, a forward P/E of 8.12 and a dividend yield of 4.30%. The dividend was recently increased to $0.425 from $0.35.
A unique attribute of Newmont is they implemented an enhanced dividend policy in 2011 that correlated payouts to the price of gold. This appears to be unique in the industry. Here is their payout table:
Average Realized

Quarterly Dividend

Annualized Dividend

Gold Price

Prior

Enhanced

Prior

Enhanced

$1,100

$0.10

$0.10

$0.40

$0.40

$1,200

$0.15

$0.15

$0.60

$0.60

$1,300

$0.20

$0.20

$0.80

$0.80

$1,400

$0.25

$0.25

$1.00

$1.00

$1,500

$0.30

$0.30

$1.20

$1.20

$1,600

$0.35

$0.35

$1.40

$1.40

$1,700

$0.40

$0.43

$1.60

$1.70

$1,800

$0.45

$0.50

$1.80

$2.00

$1,900

$0.50

$0.58

$2.00

$2.30

$2,000

$0.55

$0.68

$2.20

$2.70

$2,100

$0.60

$0.78

$2.40

$3.10

$2,200

$0.65

$0.88

$2.60

$3.50

$2,300

$0.70

$0.98

$2.80

$3.90

$2,400

$0.75

$1.08

$3.00

$4.30

$2,500

$0.80

$1.18

$3.20

$4.70
This provides investors with a real return on their money if gold increases in value.
The main risk to Newmont is the exposure of some assets to the possibility of nationalization by the Indonesian government.
Freeport-McMoRan Copper & Gold Inc. (NYSE:FCX) - second largest copper producer with diversified copper assets (33% in North America, 33% in South America, 27% in Indonesia, and 7% in Africa). Gold assets were mostly located in Indonesia (95%) with the remainder in South America. Sales outside the USA accounted for 65% of sales in 2012. Sales by commodity are 79% copper, 10% gold, 7% molybdenum and 4% other.
Freeport's current price of $33.24 is close to its 52-week low of 30.54 with a current P/E of 10.42, a forward P/E of 6.97 and a dividend yield of 3.70%.
Freeport also has two unique characteristics:
1 - Management has a history of returning value to shareholders. The company issued special dividends in addition to their regular dividend in 2010 and 2011 and the shares split 2 for 1 in 2011 as well.
2 - The company recently diversified into oil and gas with the purchase of Plains Exploration and McMoRan Exploration. While the stock sank on these acquisitions, the acquisition appears to complement their current holdings by increasing diversification from both a commodity and geographic perspective. Per FCX's latest quarterly presentation, sales outside the USA would fall to 52% (from 65%) and 26% of their pro forma revenues would be earned from oil and gas.
The main risk with Freeport is that the Indonesian government will impose greater control of the Grasberg mine through either higher taxes or forced sale of a stake in their local subsidiary (PT Indonesia). In addition, while the labor unrest that was disruptive to operations last year has subsided, there is no guarantee that these issues will not resurface.
Investment Strategy
An investor could diversify their holdings through equal dollar purchases in these two stocks. This investment would potentially have a dividend yield of > 4% along with opportunities for dividend increases. In addition, there are opportunities for stock appreciation through the increase in value of each company's underlying reserves as inflation raises the price of all assets.
I am not dismissing the holding of physical precious metals by any means, but holding a large amount could be both impractical and dangerous. These two holdings would provide diversification as well as an opportunity to hold the metal indirectly while receiving income through dividends.
Disclosure: I am long FCX. I wrote this article myself, and it expresses my own opinions. I am not receiving compensation for it (other than from Seeking Alpha). I have no business relationship with any company whose stock is mentioned in this article.