At the close of the markets on Thursday, March 21, 2013, Dynavax Technologies Corporation (NASDAQ:DVAX) announced (here and here) that David Novack will be joining the Company as its Senior Vice President, Operations and Quality, effective March 25, 2013. According to the company, "Mr. Novack brings nearly 25 years of industry experience in manufacturing and supply chain operations, implementing multi-national commercial manufacturing and supply chain strategies for both global industry leaders and emerging companies in vaccines, diagnostics, and biopharmaceuticals. Mr. Novack will be joining Dynavax from Novartis (NYSE:NVS) Vaccines & Diagnostics where he served most recently as the Global Head of Technical Operations and Supply Chain for Diagnostics, and previously as the Global Head of Vaccine Manufacturing Strategy."
Anyone familiar with Dynavax will immediately understand the importance of this appointment. As announced in August, 2012, the European Medicines Agency (NYSEMKT:EMA) accepted the company's filing of the marketing authorization application (NYSE:MAA) for Heplisav, pursuing an indication for immunization of hepatitis B virus in adults 18 through 70 years of age and in patients with chronic kidney disease (CKD). Acceptance of the MAA confirms the submission is sufficiently complete to permit a substantive review by the EMA. The company currently is working through the review process with its designated rapporteur from Sweden and co-rapporteur from Belgium.
Clearly, having a man of Mr. Novack's caliber on the Dynavax management team…a man who "…successfully developed and executed manufacturing capacity plans to meet commercial requirements, designed and executed remediation programs to be compliant with current quality standards, and was responsible for cost-effective supply chain solutions across multiple product lines" will significantly enhance ongoing discussions with the European community (as well as with the FDA, to be sure).
Why focus primarily on Europe in the paragraphs above? Because, in reading Dynavax's release on their hiring of Mr. Novack, my memory triggered on another event earlier this year involving Novartis. In January, the company announced that the European Commission had approved Bexsero (Meningococcal Group B vaccine) for use in individuals from 2 months of age and older. Bexsero is a product of Novartis's Vaccines and Diagnostics Division. So, it wouldn't be a stretch to believe that prior to his departure, Mr. Novack was intimately involved in many aspects pertaining to the manufacturing and distribution of this vaccine in Europe.
Now, Novartis desperately needs profits from vaccines to help offset its reliance on prescription drugs ahead of a wave of patent expirations. To this end, the company laid down the gauntlet late last year, stating it would challenge GlaxoSmithKline (NYSE:GSK) and others in the global vaccine market. Importantly, GlaxoSmithKline produces and markets one of two hepatitis B vaccines currently on the market - Energix-B - the drug Dynavax used in its pivotal Phase 3 trial for Heplisav and against which Heplisav demonstrated great superiority in all categories. Clearly, Mr. Novack's experience at Novartis competing with GlaxoSmithKline worldwide will be of invaluable help to Dynavax as the latter gears up to bring its Heplisav to market.
As we know, on Monday, February 25, 2012, Dynavax announced that the FDA sent them a Complete Response letter. The stock was sent tumbling to below $2, though it has recovered and now, sits just above that level.
According to the company, "In the CRL, the FDA specified that the indication in adults 18-70 years of age cannot be approved without further evaluation of safety in this broad age group. The FDA also continues to express concern that novel adjuvants may cause rare autoimmune events. However, the Agency indicated its willingness to continue discussions regarding a more restricted use of Heplisav. Dynavax plans to discuss the CRL with the FDA to identify the most expeditious path to approval for Heplisav, particularly in adults who may receive the greatest benefit from Heplisav."
Some observers believe one path to initial approval within the US may lie in an age-restricted label together with approval for the CKD indication. Note that unlike their submission to the EU, Dynavax did not submit CKD data with their initial BLA. This omission was intentional. It was based on an agreement with the FDA that such data would be submitted following approval of Heplisav for the Hep B indication. The company, however, may already have the CKD data ready for submission (or at least in the final stages of analysis). As such, it should be able, with the FDA's concurrence (invitation?), be in a position to submit an amended BLA (aBLA) that would add CKD for the agency's consideration. Certainly, there is a need for an improved vaccine in this population. As seen below, in Trial HBV-17, Heplisav provided 90% seroprotection (NYSE:SPR) levels with 3 doses while even with 8 doses, GSK's Engerix-B only achieved 82% seroprotection.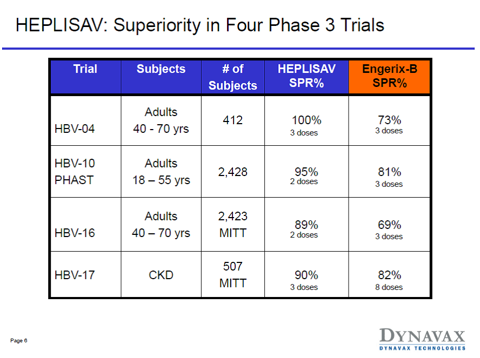 You can read the comments made by management regarding the Complete Response letter here. In essence, there are two factors to be addressed: (1) those pertaining to Heplisav, specifically, and (2) to an FDA request for additional data from Dynavax's process validation program and clarifying information on the manufacturing controls and facilities related to the assurance of the quality of the commercial product. The company believes it can provide these data and information without any problem. I won't dwell on these matters.
The meeting with the FDA most likely will occur in April or May, 2013.
Technical Analysis
The Daily chart, courtesy StockChart.com, shows the stock just above $2. Clearly, there is a large gap to fill. The stock is recovering from an oversold condition. The MACD is positive.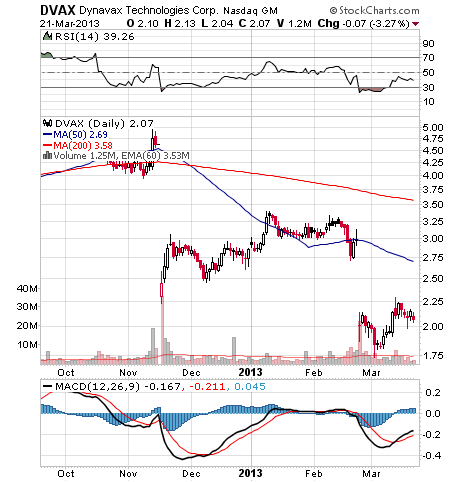 On the Weekly chart, the stock broke support at the 200-week moving average and is in 'uncharted' territory. The stock is oversold. The MACD is still negative.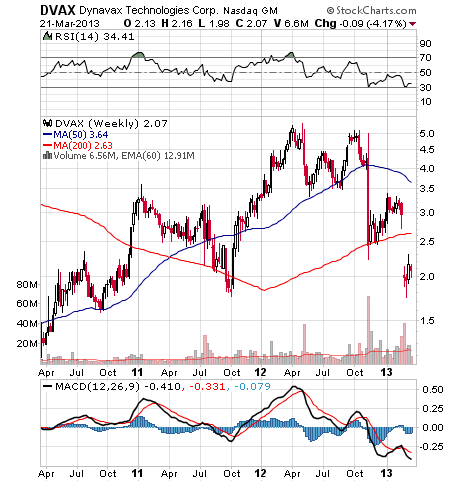 Disclosure: I am long DVAX. I wrote this article myself, and it expresses my own opinions. I am not receiving compensation for it (other than from Seeking Alpha). I have no business relationship with any company whose stock is mentioned in this article.
Additional disclosure: I am long DVAX. I am not a registered investment advisor and do not provide specific investment advice. The information contained herein is for informational purposes only. Nothing in this article should be taken as a solicitation to purchase or sell securities. Before buying or selling any stock you should do your own research and reach your own conclusion. It is up to investors to make the correct decision after necessary research. Investing includes risks, including loss of principal.