Visa - What is going on here?
In all cases, including Visa, Inc. (NYSE:V), it is important to note when big money steps out of a stock. I have found that there is always a good reason. From June 2011 through today, Visa has been on an amazing bull run. I believe we may be overdue for a pullback. The big money has been lowering their positions or exiting entirely, and could have a couple of motives behind their actions. One could be they believe the stock is overbought, they don't see a bright future, or they are taking well earned profits for year-end 2012 at the lower tax rate. I believe these funds are recognizing that we are heading into overbought territory and are taking some risk off the table. I will explain my reasoning for why that might be. Please note not all funds have been exiting Visa, but the ratio of those leaving compared to those adding is nothing to ignore.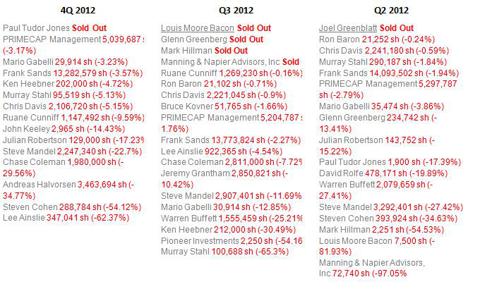 ~Data copied from www.gurufocus.com/stock/V
In The News
Visa may have to buy Europe System
Here are the takeaways…
1.) The European banks that own Visa Europe payment systems are looking to exercise the option to require Visa Inc. to buy all their shares.
2.) This deal could cost Visa $3-$11 Billion, based on analysts' best estimates.
3.) Visa Europe's 2012 spending barometer signaled reduced levels of EU household expenditure for the third successive quarter in Q4 2012. (Things might be getting better, but Europe remains weak.)
"2012 proved to be a subdued year for household spending across the EU with year-on-year contractions recorded in three of the four quarters. However, the year ended with spending heading in a positive direction and almost on a par with spending levels from 2011. A return to consumer spending growth for many of the largest economies in the EU is a welcome sign and as drivers of growth, it is a trend we hope to see continuing into 2013." ~ CFO Visa Europe, Philip Symes
I see a few issues with this forced acquisition: 1. Visa is going to have to use billions of dollars of liquidity to buy back the shares. 2. European Banks would not have tried to exercise this option unless they felt the business of consumer transaction is not a good business to be in. 3. Europe is in trouble, and the European banks need all the cash they can get.
The largest threat to Visa is when people do not use their credit cards, but instead use cash. Since Europe is not in the best of financial conditions, unemployment remains very high. One can draw the natural conclusion that there is little to no credit to spare. Furthermore, unemployed Europeans might be more likely to use cash, or other forms of currency/trade to support themselves.
Standard & Poor's sees a high risk that Spain, Italy, Portugal and France will not be able to carry through necessary reforms as the unemployed become less willing to put up with austerity, S&P's Germany head Torsten Hinrichs told a newspaper.

"The high unemployment in Spain, Italy and France is socially explosive," Hinrichs was quoted as saying in Monday's Neue Osnabrücker Zeitung.

"There has to be a social consensus for saving measures. High unemployment ... does not help."
This headline suggests to me that the credit card business in Europe does not have a bright future in the near term.
Insider Sales

Another noteworthy issue is that insiders within Visa have not purchased their own company's stock in the last 4 years. In fact, they have only sold their shares. This is most likely because even the insiders know that the company is overvalued. So, if insiders think the company is too pricey, shouldn't you?
Technical View
Wednesday (3/20/13), we saw very interesting P.A.V. (price, action, volume) given the current state of the overall market, and considering the European Bank news, Cyprus news, Bernanke news, etc. This bounce was most likely the result of the Barclays Emerging Payments Conference. We started the morning with a gap up from the lows of the last session, and continued to move $3+ to the upside reaching a high of $159.97 have moved up (3%+) on 3.5M shares.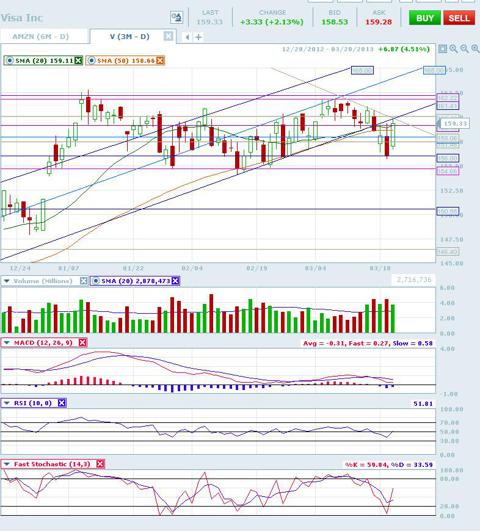 It is important to note that the day before (3/19/13) the P.A.V. was strong to the downside, we opened at $158 and closed at $156 on 4.4M shares. We broke the 20day and the 50day avg. on heavy volume. I was surprised to see the action Wednesday, and feel like we may give it up sooner rather than breaking higher. We have seen 3 days of distribution this week, and broke the 9 month channel on volume.
Conclusion
Whether for tax reasons or otherwise the big money seems to have lowered its holdings in Visa. The number of insider sales during the last 4 years is telling us that the stock might be overpriced, and due for a correction. The price, action, and volume might also suggest that we are due for a correction soon, mainly because we broke the 9 month channel on heavy volume, and sit below the 20 day moving average and 50 day moving average. For these three reasons, I think that we may see lower prices ahead. Plan accordingly.
Disclosure: I am short V. I wrote this article myself, and it expresses my own opinions. I am not receiving compensation for it (other than from Seeking Alpha). I have no business relationship with any company whose stock is mentioned in this article.
Additional disclosure: I believe that this stock is a good short opportunity, and I am looking for a 5-10% correction. I have put options in this stock, and fully expect it to head lower in the coming weeks.