One of my favorite trading stocks made quite a strong move Friday. InterContinental Exchange, Inc. (NYSE:ICE) was up sharply after Goldman Sachs added the company to its conviction list. This exceptional endorsement comes on the heels of monthly futures data which were released on Thursday. The data shows that ICE is not only surviving this economic downturn, but actually gaining new business and operating from a position of strength.
ICE approaches trading and clearing a bit differently from its competitors. The company is primarily focused on OTC (Over the Counter) contracts specifically geared toward the energy trading markets. While ICE has worked hard to diversify its product offerings, the company still benefits from strength (or even from volatility) in the oil and natural gas markets. Since these markets have been more active in recent weeks, ICE is seeing trading volumes pick up and profitability increase.
One of the issues that plagues competitors like CME Group Inc. (NASDAQ:CME) and NYSE Euronext (NYSE:NYX) is pricing. As more trading firms try to gain market share, the inevitable price war can bring profit margins down quickly. But Goldman reported that it sees pricing holding up relatively well for the contracts traded by ICE. This is largely a benefit of the company choosing a niche and executing well in a specialized market.
Looking towards the future, it appears ICE has several important opportunities that could continue to drive growth. As Credit Default Swaps (CDS) contracts begin to trade again, and banks look to unload or reorganize these toxic assets, ICE could be a major participant in clearing these trades. There is also a good chance that the new proposed Emissions Cap and Trade system will be a strong catalyst for growth.
ICE is certainly not as cheap of an investment now that the stock has rallied from the low 50's to the high 80's. But at this point, it looks like much of the risk investors were fearing is now in the rear view mirror, and potential to increase profit lies ahead. Analysts are expecting the company to earn $4.20 this year and $4.96 in 2010. That means the stock is trading at a multiple of roughly 20.
Normally I would begin to be concerned at this level. But if one or two of these new markets begins to add marginal profits to the company's strong base, the earnings picture could rapidly change and the high multiple would quickly become conservative.
On a technical basis, the stock appears to be breaking out of a long-term base and as volume picks up it becomes clear that institutional buying is coming in. I would recommend purchasing ICE over competitors at this time although I like the entire industry and believe the next few quarters should show strength in these markets.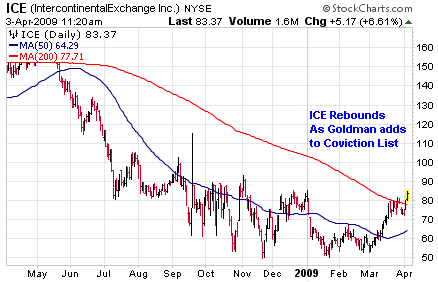 Disclosure: Author has a long position personally and in the ZachStocks Growth Model.