This article covers a stock from the Energy section of our High Dividend Stocks By Sector Tables. As with last week's article, which also featured an energy-related dividend stock, we feel that this stock is still undervalued for the long term, on a PEG basis. This stock also stands to benefit from future export growth of U.S.-based petroleum products.
TransMontaigne Partners L.P., (NYSE:TLP), is a terminaling and transportation company based in Denver, Colorado with operations along the Gulf Coast, in the Midwest, in Brownsville, Texas, along the Mississippi and Ohio Rivers, and in the Southeastern United States. TLP provides integrated terminaling, storage, transportation and related services for companies engaged in the distribution and marketing of light refined petroleum products, heavy refined petroleum products, crude oil, chemicals, fertilizers and other liquid products. TLP's revenue is fee-based, as it doesn't purchase or market products that it handles or transports. (Source: TLP website)
TLP has had quite a run in 2013 and over the past year, thanks to heavy support from institutional buyers. its current market cap is $683 million:

These buyers are probably looking ahead, to TLP's strong growth projections for 2014, up over 37%, which make it look undervalued on a PEG basis, in spite of its big price gains. TLP also has a Price/Tangible Book of 1.98, vs. a 6.93 industry average:

Where's the growth going to come from? In December, 2012, TLP acquired a 42.5% interest in Battleground Oil Specialty Terminal Company, or BOSTCO, from Kinder Morgan, for approximately $79 million. BOSTCO is a new black oil terminal under construction on the Houston Ship Channel designed for the handling of residual fuel, feedstocks, distillates and other black oils.
The initial phase of the BOSTCO project involves construction of 50 storage tanks with approximately 6.1 million barrels of storage capacity at an estimated cost of $425 million. The BOSTCO facility's docks will benefit from one of the deepest vessel drafts and nearest access points in the Houston Ship Channel and will be well positioned to capitalize on increasing exports of petroleum related products. The BOSTCO facility is scheduled to begin commercial operation in the fourth quarter of 2013. Completion of the full 6.1 million barrels of storage capacity and related infrastructure is scheduled for the first half of 2014. (Source: TLP website)
Dividends: TLP has a 5-year dividend growth rate of 23%, and increased its Distributable Cash Flow by 9.42% for year ending 2012 vs. 2011:

Options: TLP does have options, but its option yields for Covered Calls aren't very compelling at present, vs. the other stocks in our Covered Calls Table.
TLP's Cash Secured Puts are more interesting. This June $45.00 put currently has a large spread between its bid of $1.20 and its ask of $2.05, so you may be able to sell for it for more than $1.20, and increase your yield. You can find more info on this and over 30 other put-selling trades, in our free Cash Secured Puts Table.

Financials: TLP's financial ratios stack up well vs. industry averages, and it also carries much less debt.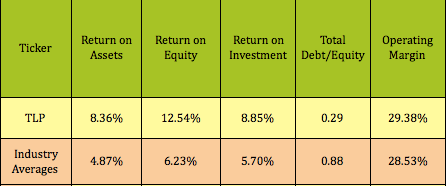 Disclaimer: This article was written for informational purposes only and is not intended as investment advice.
Disclosure: The author owned no TLP shares at the time of this writing.
Disclosure: I have no positions in any stocks mentioned, and no plans to initiate any positions within the next 72 hours. I wrote this article myself, and it expresses my own opinions. I am not receiving compensation for it (other than from Seeking Alpha). I have no business relationship with any company whose stock is mentioned in this article.