Generally mergers and acquisitions usually are not my thing. Recently Yahoo (NASDAQ:YHOO) just recently announced a buyout of a small company called jibe. Small acquisitions like these that have a strategic impact on the business are the right strategy for Yahoo.
According to Alexei Oreskovic from Reuters:
Since Marissa Mayer became Yahoo chief executive in July, she has made several small, so-called acqui-hires, similar to the Jybe deal that have brought small teams of software engineers focused on mobile products to Yahoo. Wednesday's deal comes amid media reports that Yahoo is also in talks to acquire a controlling stake in video website Dailymotion from France Telecom-Orange, which would represent Mayer's biggest deal to date.
Yahoo has a fairly successful track record of buying small start-ups. Examples of this include Alibaba, del.icio.us, and Right Media. Not every business unit that Yahoo has purchased to date can be seen as a successful M&A, but on the bright side, the company is at least making a reasonable attempt to use the cash pile sitting on the balance sheet ($2.6B).
Jybe will add to Yahoo's pre-existing business because of Jybe's unique data algorithms that predict the types of things users would like based on their preferences. The app is similar to yelp. I am assuming, the most useful implementation of this application would be if the user preference settings were implemented into Yahoo's search algorithm or if advertisements through the media network would better implement user preferences based on what the user likes. Seems more and more like web 3.0, but only certain companies like Yahoo have the technological know-how and where withal to make the web a more personalized experience.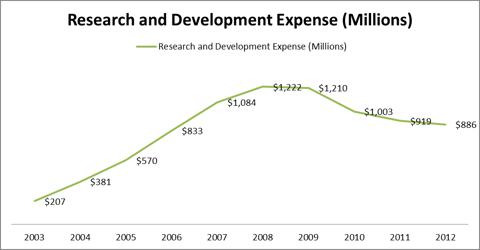 Based on the figure above, research and development expenditures have declined from $1.2B to $886M. Instead, Yahoo may be reallocating the budget spent on R&D for M&A's. It's certainly easier to identify unique technology opportunities than it is to build them from the ground up in-house. There are also rumors that Yahoo is in talks to buy the Daily Motion video streaming website which could be another welcomed addition to Yahoo's large and growing business portfolio.
There are accounting advantages of acquisitions over research and development. With research and development, companies have to record the money spent as an expense which lowers the EPS figures. M&A's do not show up as an expense for the immediate quarter, but if the value of the business declines relative to when they purchased it, the assets show up as an impairment expense. Most corporate executives prefer to deal with the consequences of a lower EPS figure at the back-end in order to further their own tenure at the company. Most M&A's already generate a profit, meaning that the company that is purchased would generate a positive effect on the EPS figure of the parent company.
Yahoo is becoming more effective with the use of its cash from an accounting and business standpoint. Rather than blowing up money in its own labs, it's buying out smaller start-ups that may have a unique product idea. In the grand scheme of things, it is nice to know that large technology companies have the right incentives to buy out smaller players in the space. Furthermore, angel investors and venture capitalists who invest into small start-ups rely on large technology companies like Yahoo to buyout smaller tech start-ups. It benefits companies like Yahoo who want to keep the spending of cash on research and development hidden from shareholders. It also benefits the start-ups who need an exit-strategy.
Ultimately I believe that Yahoo will continue to acquire smaller companies going forward rather than outlaying cash on research and development. Determining whether or not this strategy will be successful is somewhat subjective, but from an accounting standpoint it certainly makes sense. From a product strategy perspective, Yahoo could potentially integrate new and better ideas from these M&A's.
The recent business developments are keeping me optimistic on the company's growth prospects. I maintain my price target of $25.20 for 2013. The current stock price is $22.85 implying even further upside for the rest of 2013.
Rest assured Yahoo shareholders, it seems Marissa Mayer knows what she's doing.
Disclosure: I have no positions in any stocks mentioned, and no plans to initiate any positions within the next 72 hours. I wrote this article myself, and it expresses my own opinions. I am not receiving compensation for it (other than from Seeking Alpha). I have no business relationship with any company whose stock is mentioned in this article.