As you can see in the below chart and are no doubt aware, Cliffs Natural Resources' (NYSE:CLF) share price has gone through a wild ride the last couple of years. This has been the case with nearly every iron ore miner with large assets in the U.S. Iron Range. The reason is simple, U.S. iron deposits are too expensive to compete in the global market.

Click to enlarge
Take a look at the below global iron ore cost curve. I maintain a list of all iron ore mines in which I analyze their total cash costs of production per dry metric ton. These may not be 100% correct but they're in the ballpark. I've highlighted in red all of Cliffs' North American iron ore operations and ID'ed the primary country areas of the curve (although those parts of the curve are not exclusive to those countries). With iron ore hitting a two-and-a-half month low last week at $132.90 - Cliffs' U.S. mines are dangerously close to being unprofitable. We saw what happened in Q4 of 2012 when the prices had dipped below $90/Mt; the stock price plummeted and the dividend was slashed.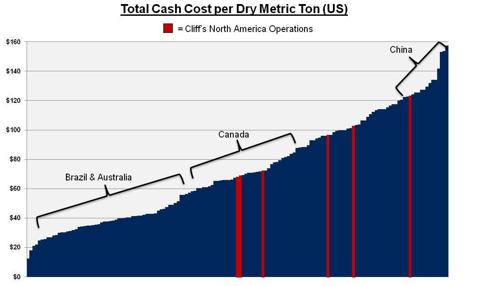 Click to enlarge
Now consider some of the recent forecasts for iron ore that we've been seeing. Goldman Sachs recently updated their iron ore price forecast to an average of $139/tonne in 2013 (down from a previous estimate of $144), $115/tonne in 2014, and then falling all the way to $80/tonne in 2015. The Australian Bureau of Resource & Energy Economics also recently updated their forecast, dropping the 2015 average to $90/tonne. The primary driver behind these forecasts are the sheer number of iron ore projects and expansions expected to begin production in the next year or two. At those kinds of prices, all U.S. mines will find it difficult to compete. This includes operations owned by U.S. Steel (NYSE:X) and ArcelorMittal (NYSE:MT); although Cliffs is, by far, the most exposed.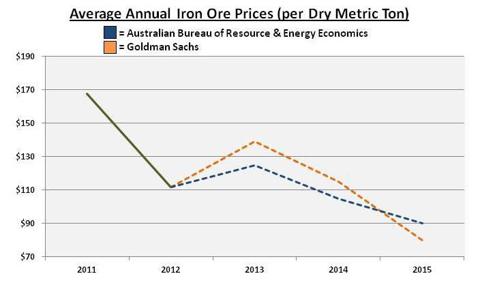 Click to enlarge
There are numerous strategies to profit or hedge against this kind of risk but if you're looking for a long-term iron ore play, consider the lower cost miners such as BHP Billiton (NYSE:BHP), Rio Tinto (NYSE:RIO), or Vale (NYSE:VALE). I plan to complete a full analysis of the North American iron ore market next month. (It will be available on my blog: see sidebar.) But the fundamentals are simple, a company can't be profitable if the price is lower than the cost of production. Of course, this doesn't take into account Cliffs other assets - but it's enough to keep me away.
Disclosure: I have no positions in any stocks mentioned, and no plans to initiate any positions within the next 72 hours. I wrote this article myself, and it expresses my own opinions. I am not receiving compensation for it (other than from Seeking Alpha). I have no business relationship with any company whose stock is mentioned in this article.
Additional disclosure: I recently closed a short position in CLF