This is a follow-up to Part 1, which you can view by clicking here.
Google Fiber
This experimental cable replacement was launched in 2012 exclusively in Kansas City. Since then consumer adoption has been slightly below expectations, and thus the rollout to other parts of the country has seemingly been delayed.
Google (NASDAQ:GOOG) Fiber is an excellent concept, and the culmination of years of particular acquisitions by Google. Fiber is a plan for Google to set a new standard in terms of internet speed, and transition consumers from cable to the internet for their media entertainment.
The price of Google's service is slightly higher than traditional cable or dish alternatives, but the quality is a significant improvement. Google's target for the service is to achieve download speeds of 1Gb per second, which it claims is 100x faster than the average American's internet.
Google Fiber is important because if successful it will transition a lot of the public to consuming content solely via the internet. This means more ad revenue for Google to start, and then by proxy more potential revenue from YouTube. By giving users the ability to access YouTube form their living rooms, Google is opening new doors for the potential of YouTube's new streaming and subscription services (mentioned in Part 1).
Financial Impact
Pricing plans for Fiber range from $70-$120 per month, so let's use an ASP of $100 for now. Although the service is limited in Kansas City to 10K-50K clients, Google could release Fiber to several more cities by year end.
With 5 cities using Fiber, and 5,000 accounts per city, Google will generate $30M in revenue. Nothing to laugh at, but to make a material impact on Google's overall financials, Fiber will have to reach a much bigger level of adoption. Further down the road (3-5 years), Fiber may become a standard in every American's home (like Comcast (NASDAQ:CMCSA) or Dish Network (NASDAQ:DISH) is today), this is where it gets exciting. With Fiber, Google is essentially making services like Comcast and Dish Network totally irrelevant, by offering more content at faster speeds for a comparable price. If Fiber were to reach the scale of one of these competitors (10M+ subscribers) then it could potentially net Google $10-$12B per year.
The Cloud
This is another booming Google subsidiary in stealth mode. Google has been quality building a suite of enterprise cloud computing products for several years, and is finally seeing some of the results.
Thus far Google has rapidly grown its cloud business through acquisitions. This strategy will most likely continue given Google's privileged financial position, and is probably a good thing. Google has proven to be a talented acquirer with an eye for shifting competitive landscapes, this will continue to bring value to the company's cloud services.
Financial Impact
TBR estimates that Google did ~$300M in cloud based revenue in 2012. For 2013 TBR is expecting that number to triple to over $1B. Google's cloud services may be in their early growth phases, but that isn't stopping them from generating serious cash. This torrid growth will most likely slow to more normalized rates a couple years out, but for now Google's cloud revenue has room to run.
Driverless Cars
Self driving cars have been a topic of some debate recently, but they are still several years from being commercially viable. Google has been testing out self driving cars for several years and recently has made tremendous progress. Google already has a fleet of 12 self driving vehicles and is continuing to test and develop the technology.
This will an interesting story to follow as Google adapts to outdated laws and regulations which prohibit the use of driverless cars. If big name automakers were to license the software for their own vehicles, then that's where Google could hit a home run.
Financial Impact
In the short term the answer is $0. But Forbes has already decided that this technology could eventually be worth "Trillions." Depending on how the auto industry unfolds over the next decade there are several different scenario's surrounding how this could turn out. The bottom line is Google has already this developed revolutionary technology, implementation and monetization are all that await.
Technicals
Below is an annotated 1 year chart of Google.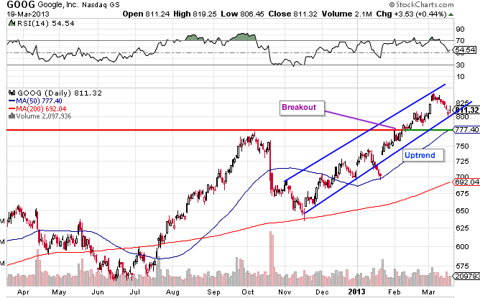 Google broke out above its previous high of $775 in early February of this year and has had incredible momentum ever since. A consistent uptrend has been in place since November and appears to be carrying the stock forward. This has resulted in a very bullish technicals for Google shares in both the short and long term.
Valuation
Google is trading at 17.7x 2013 projected EPS. This is slightly more expensive than the average security, but the premium appears to be warranted because of strong top-line growth (revenue is set to grow 40% in 2013).
Google has $41B in net cash on its balance sheet, which when accounted for drops its P/E to 15x. Google trades at a very reasonable multiple given its growth and financial stability (tons of cash almost no debt and AAA debt rating).
Growth will continue for Google for years to come thanks to the initiatives that I've outlined above. For this reason Google shares warrant a significant premium to both the average S&P company and the majority of its tech peers.
Conclusion
With a very reasonable valuation, and tons of positive PR coming its way (thanks to Project Glass) Google is poised to make an enormous splash in 2013.
In this article I outlined 6 different growth strategies Google will be pursuing this year. At least 3 of those initiatives (Android, Cloud Services and YouTube) will generate above $1B in revenue. The other 3 initiatives are close behind and all on the brink of monetization.
With years of hard innovation bearing fruit in 2013, Google could be the tech stock to own in the coming year.
Disclosure: I have no positions in any stocks mentioned, and no plans to initiate any positions within the next 72 hours. I wrote this article myself, and it expresses my own opinions. I am not receiving compensation for it (other than from Seeking Alpha). I have no business relationship with any company whose stock is mentioned in this article.