Overview
On March 20, General Electric (NYSE:GE) CEO Jeff Immelt suggested that GE might be open to spinning off GE Capital at some point in the future. While he was very clear that a spinoff is by no means imminent, the fact that he's acknowledging that it may happen is interesting. Considering that GE Capital has nothing to do with GE's original business model of being a manufacturing and services powerhouse, a spinoff of GE Capital could serve to unlock value for shareholders. GE Capital is a noose around the neck of the industrial business as echoes of the financial crisis are still fresh in investors' minds. The purpose of this article is to assign a value to the bank and the industrial business separately in the event of a spinoff to see what such a scenario might be worth to investors and to see if a spinoff would create value or not.
Metrics
In order to obtain a valuation for the businesses separately, we'll take a look at some metrics that can help us assign a value to them. All graphs were created by me solely for the purpose of this article after pulling financials from the SEC website.
First, we'll take a look at total revenue.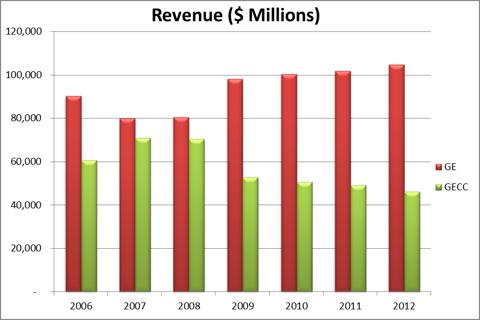 This graph shows that GE's industrial business has been steadily, if somewhat slowly, growing revenues since the depths of the financial crisis. Last year, GE's industrial revenues were $105 billion; contrast that with GE Capital's declining revenues, which last year fell to $46 billion. GE Capital produced revenues of over $70 billion annually prior to the financial crisis but ever since then, GE Capital has been winding down and lowering risk, which reduces revenues and profits. This graph is ugly for GE Capital and only management know where the bottom is for GE Capital revenues.
Next, this graph shows the same revenue data but shows GE's industrial business and GE Capital as percentages of the consolidated company's total revenue.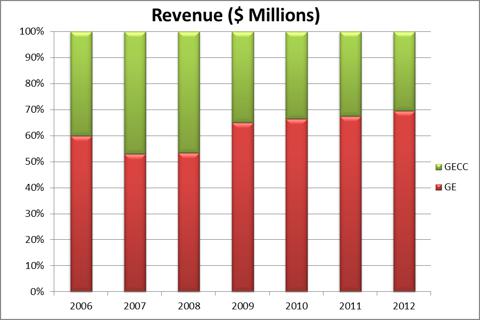 As we can see, the consolidated company was split nearly 50-50 in terms of revenue before the financial crisis, but since then, GE Capital's declining business has made the ratio more like 70-30 in favor of the industrial business.
Next, we'll look at net income.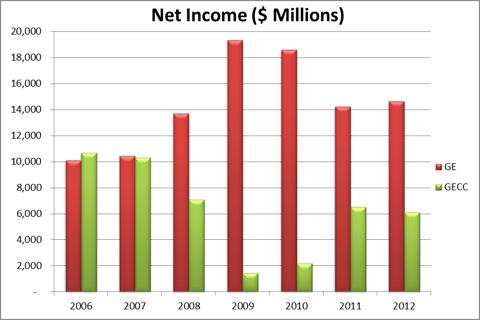 Here we see that net income was very evenly split between the industrial business and the bank in 2006 and 2007, at $10 to $11 billion each annually. However, we then see a sharp divergence in the two values, with the industrial business bringing in nearly $14 billion in 2008 and the bank's net income dropping by about $3 billion. During the financial crisis, we see the bank's net income nearly disappear as the industrial business thrived. The bank's net income has since rebounded to about $6 billion in 2012 while the industrial business made nearly two and a half times that amount.
As a share of total net income for the consolidated company, we see the bank having diminished significantly in terms of importance to shareholders.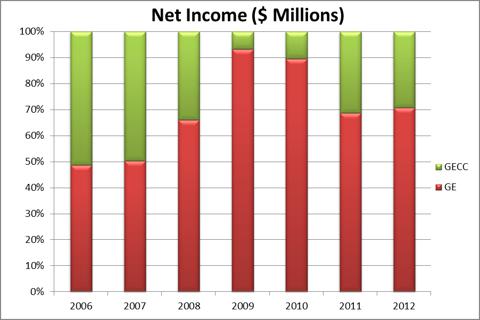 The bank contributed nearly half of the consolidated company's profits prior to the financial crisis, but it is now more like 30% of total net income. With the industrial business booming, I doubt we will see this ratio moderate back towards 50-50 anytime soon.
One thing GE Capital has done pretty well is add to book value each year.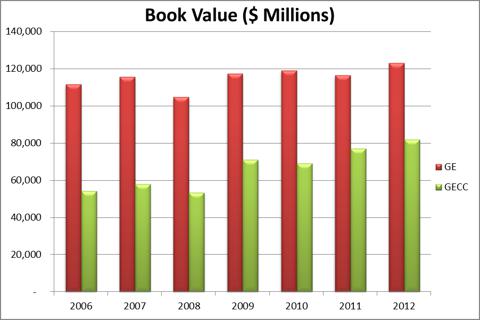 We can see that the rate of increase in GE Capital's book value is much greater than that of the industrial business. Book value for the bank has increased by a whopping 54% since 2008, with last year's value clocking in at about $82 billion. The industrial business has been adding shareholders' equity as well, just not at the rate of increase that the bank has. Last year's shareholders' equity attributable to the industrial business was $123 billion, up from $105 billion in 2008.
Finally, we'll take a look at operating cash flows for each business line.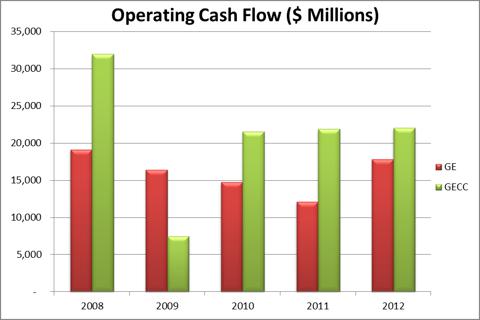 This is of particular interest as this measure shows how much cash the operating assets of a business can actually produce. Keep in mind this does not include the outflows to acquire or finance assets; it is simply a measure of how productive the company's assets are at generating cash.
We can see that the bank has been producing significantly more cash from operations than the industrial business in the past five years with the exception of 2009. Still, it is interesting to note the outperformance of operating cash flows for the bank over the industrial business, and by quite a wide margin. In each of the past three years, the bank has produced more than $20 billion in operating cash flows while the industrial business has seen markedly lower numbers.
In viewing this data in contribution terms, we see a similar story.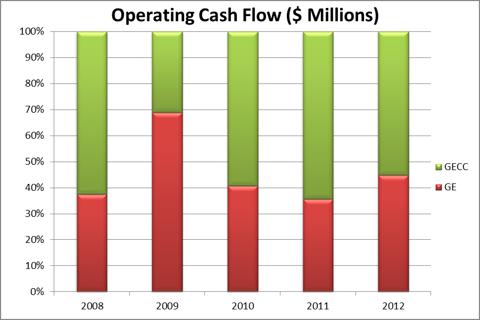 With the exception of 2009, the bank has provided roughly 60% of the operating cash flows for the consolidated company in the past five years. This is significant in terms of the value the bank contributes to the consolidated company.
Valuation
Given all of this information, we need to establish a peer group for each company in order to attempt assigning a value. Note: all competitor data was obtained from Yahoo! Finance.
For the industrial business, I feel the closest two competitors are United Technologies (NYSE:UTX) and Siemens (SI); their respective PEs are 16.45 and 17.71.
For the bank, competitors are a bit harder to come by since GE Capital is no ordinary bank. However, I will use JPMorgan (NYSE:JPM), Discover Financial (NYSE:DFS) and Capital One (NYSE:COF); their respective PEs are 9.43, 10.01 and 8.76.
Below is the complete table of numbers for GE's competitors and the subsequent projected values of the individual businesses.
| | | | |
| --- | --- | --- | --- |
| | PE | P/S | P/B |
| JPM | 9.46 | 2.04 | 0.96 |
| DFS | 10.01 | 3.29 | 2.43 |
| COF | 8.76 | 1.90 | 0.77 |
| UTX | 16.44 | 1.48 | 3.31 |
| SI | 17.68 | 0.93 | 2.44 |
| GE-Proj | $249,929 | $126,291 | $353,700 |
| GECC-Proj | $57,326 | $110,954 | $113,554 |
| Total-Proj | $307,255 | $237,245 | $467,254 |
In order to compute the values in this table, I took the averages of price to earnings, price to sales and price to book metrics for the peer group discussed above. I then multiplied the average times last year's numbers for each business.
The results are very interesting. First, if we look at GE's industrial business, in comparing it to its peers' metrics, it would be worth between $126B and $353B by itself. Of course, $353B is far too high as GE's industrial business couldn't reasonably be valued at that. However, it does mean that GE's industrial business could have some room to appreciate relative to book value if it were to be separated from the bank. If the industrial business were to be separated from the bank, there is no reason why it shouldn't trade at least at competitor multiples. If this were to happen, significant value could be unlocked.
Turning to the bank, its projected values range from $57B to $114B. I actually think the high end is probably a reasonable expectation for GE Capital to trade at eventually. The bank has been suffering since the financial crisis but appears to be on the mend, making over $6 billion in each of the past two years. Indeed, if GE Capital were to achieve the P/B and P/S multiples of the peer group I've identified, it could probably double in value. This would be a long way off and the point of this article is to figure out what the business is worth right now; I'm certainly not suggesting GE Capital is worth twice what it is currently valued at.
Since the point of all of this is to find out what a spun-off GE Capital is worth, we should attempt to value the businesses in their current, consolidated state. Given what we've seen it looks to me that GE Capital is worth roughly $50 billion out of the current consolidated market cap of $243 billion. I came to that conclusion because a bank with stagnant earnings is probably assigned about an 8 or 9 PE multiple. Since GE Capital has made about $6 billion in each of the past two years, that gives a value of about $50 billion. Of course, GE Capital's reported book value is much higher than that, at over $80 billion, but it is not uncommon for banks to trade at discounts to book value. Indeed, JPMorgan, arguably the best banking franchise on the market, trades right at book value.
If we assume a $50 billion current valuation for GE Capital, that leaves $193 billion for the industrial business. That would mean that the industrial line has a PE of about 13.3, with last year's net income coming in at just over $14 billion. If we look at UTX and SI, their trailing PEs are 16 and 17, respectively, which means GE's industrial business' value is probably being hampered by the bank it is attached to.
Now that we've established that GE's value is probably being held back by the bank, we can attempt to assign a post-spinoff value to each business. I actually don't think there is a lot of value that can be unlocked for GE Capital. I think the market knows it is a bank that isn't growing but that is still profitable. As such, I think no more than a 10 PE is warranted. Given that, we could reasonably expect a value of roughly $60 billion on the high side for a standalone GE Capital. However, there is upside risk to this and if GE Capital were to begin growing earnings, the multiple could creep up to 12 or more, unlocking significantly more value.
The industrial business is another story entirely, however, since I believe significant value could potentially be unlocked if GE were to spin it off. We have seen that I believe the industrial business is currently being assigned about a 13 PE and if it were to be separated from the bank, a PE of 16 or 17 could be warranted based on GE's industrial competitors. This would mean GE's industrial business could potentially have a valuation of roughly $245 billion by itself. Since this is just higher than the consolidated company's current market cap, a spinoff would essentially give shareholders GE Capital "for free" in the sense that the industrial business would be worth so much more without the bank.
Conclusion
In short, I believe investors should demand a spinoff of GE Capital as it is currently holding the consolidated company's valuation down. GE's industrial business deserves a much higher multiple than it is currently receiving and GE Capital is probably undervalued by 15% to 20% by itself. GE's industrial business as a standalone entity could be worth the same amount as the consolidated company is today, implying roughly 45% upside to where it trades today. Of course, the standalone multiple may come in lower, but we could still easily see 25% gains from a spinoff. All of these gains could be possible simply by splitting the companies up and letting GE's industrial business enjoy a proper valuation, instead of being valued like a stagnant bank.
Disclosure: I have no positions in any stocks mentioned, and no plans to initiate any positions within the next 72 hours. I wrote this article myself, and it expresses my own opinions. I am not receiving compensation for it (other than from Seeking Alpha). I have no business relationship with any company whose stock is mentioned in this article.