On March 21, Oracle (NASDAQ:ORCL) reported earnings that disappointed many investors and the stock plunged by nearly 10%. Oracle's miss, coupled with concerns about the banking crisis in Cyprus and the ongoing problems in Europe, created a market selloff that resulted in a 90 point drop in the Dow Index. Certain tech stocks declined significantly and this created a better buying opportunity in a couple top tech stocks like Cisco Systems (NASDAQ:CSCO), but for now, let's look at Oracle:
Oracle announced (fiscal) third quarter earnings of roughly $2.5 billion, or 52 cents a share. Excluding certain charges, earnings were 65 cents per share and revenues came in at $8.97 billion which was below the $9.06 billion in revenues for the same period last year. Analysts estimates were at $9.38 billion in revenues and 66 cents per share in earnings (excluding charges), so the company missed on both counts. The decline in revenues was blamed on poor sales execution from recently hired salespeople. If orders saw delayed closings, it could lead to better sales numbers next quarter although some analysts and investors are concerned that a weak economy in Europe and U.S. Government spending cuts could keep pressure on future results.
By taking a look at the chart below, you can see that Oracle shares have been in a solid uptrend, until the recent post-earnings selloff. However, at current levels, it might be time to start accumulating some shares. As shown by the light brown line (which represents the 200-day moving average), the stock is trading near a major support level at around $32. This could mean that additional downside risk is limited, although the stock could move lower if the market sees a correction. That's why it makes sense to accumulate shares over the next few days or even weeks.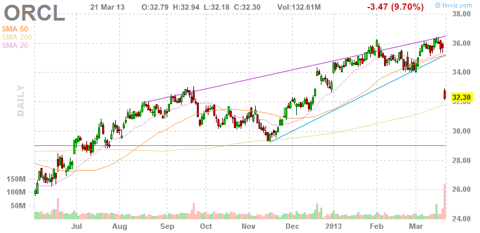 Oracle could be impacted by drastic government spending cuts or a
deteriorating economic environment in Europe. However, this leading maker of enterprise software is likely to remain a top choice for tech stock investors, especially since it has a great management team with Larry Ellison and Mark Hurd. Earnings estimates for 2013 are at $2.71 per share. This puts the price to earnings ratio at just about 12 times. In a market where the average stock in the S&P 500 Index (NYSEARCA:SPY) is trading for nearly 15 times earning, the current PE ratio for Oracle seems to validate the idea that the recent plunge is a buying opportunity.
Here are some key points for ORCL:
Current share price: $32.30
The 52 week range is $25.33 to $36.43
Earnings estimates for 2013: $2.71 per share
Earnings estimates for 2014: $2.96 per share
Annual dividend: 24 cents per share which is equivalent to a yield of .7%
Data is sourced from Yahoo Finance. No guarantees or representations are made. Hawkinvest is not a registered investment advisor and does not provide specific investment advice. The information is for informational purposes only. You should always consult a financial advisor.
Disclosure: I have no positions in any stocks mentioned, and no plans to initiate any positions within the next 72 hours. I wrote this article myself, and it expresses my own opinions. I am not receiving compensation for it (other than from Seeking Alpha). I have no business relationship with any company whose stock is mentioned in this article.