It sure looked like Russia was going to be able to tighten its stranglehold on the European gas markets with a possible deal with Cyprus, but alas it was not to be. We are reading now that Cyprus has left Russian deal makers with no deal in hand and are now in the process of turning over to Greece the Greek subsidiaries of their banks. That is a surprise, but what we want to see is a smart move by Germany and France whereby they front the money for this bailout (5 billion Euros) in exchange for a certain amount of the natural gas reserves found off of Cyprus which would be quite beneficial to the EU economy as a whole as all parties would benefit both short-term and long-term. It makes too much sense, and it is Europe, so one can forget about any sensible compromise such as this being reached here.
Chart of the Day:
We like the trend here still and the new highs to new lows ratio is as healthy as ever.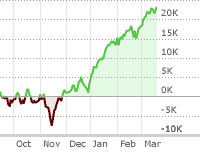 We have no economic news due out today.
Asian markets finished mixed today:
All Ordinaries - up 0.08%
Shanghai Composite - up 0.17%
Nikkei 225 - down 2.35%
NZSE 50 - up 0.01%
Seoul Composite - down 0.11%
In Europe markets are trading mixed this morning:
CAC 40 - down 0.08%
DAX - down 0.07%
FTSE 100 - up 0.07%
OSE - up 0.11%
Technology
Yesterday the big news in technology was of course Oracle (NASDAQ:ORCL) and this was caused by their weak sales figures which was attributed to execution. That seems to be a trend developing in the tech world, whereby one simply blames execution for not meeting the numbers rather than pointing out any one or two specific reasons why figures were not met. The miss caused numerous analysts to cut their rating on the stock and for those who kept their rating they were forced to drop their price target. We love Larry Ellison and how he has been able to defy the doubters for so long, and if he can do that once again and get the company "executing" once more, then long-term this is an attractive entry point. That could be a big 'if' though.
We received some emails asking about our thoughts on 3D Systems (NYSE:DDD) and how the whole 3D printing sector fits into the big picture. There is no doubt in our mind that it has a future, but right now these stocks are mainly trading vehicles. Yes long-term one or two of the companies which are around now may be around in the future (talking both private and publicly traded) but the probability of this happening and those entities being the 800 pound gorilla in the industry still is pretty low. At least it looks like we may have some support for the stock here and could be setting up for another trade, however this does require a risk-on attitude in the market and that is lacking right now.
Setting up for another run?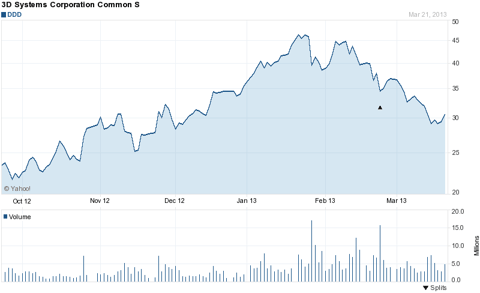 Chart courtesy of Yahoo Finance.
With the recent news about the CEO of ARM Holdings (NASDAQ:ARMH) deciding to leave the company to retire this summer we want to move our opinion of the company to neutral for the time being. Yes they are on track to do some great things and by all accounts it seems that they shall continue to report strong results and healthy margins and market share, but the transitional phases at tech companies tend to be pretty big events and there always seems to be a bunch of moving around of key personnel. We want to wait and let the dust settle before making anymore big calls on this one, and most importantly make sure that the management team and top technology people are still in place at that time.
Biotechnology
Acadia Pharmaceuticals (NASDAQ:ACAD) announced Phase III trial results for their drug pimavanserin and it appears that patients with Parkinson's may soon have a drug to assist with psychosis, a common ailment among those affected by the disease. The results were quite impressive and confirmed the results from prior studies which caused investors to push the shares higher by $1.59 (23.92%) to close at $8.24/share. Worldwide it is believed that up to 6 million people suffer from psychosis and nearly 60% of all Parkinson's patients are affected by it as well. This is of interest to us moving forward.
It has been a successful year for the company, and maybe even more so for shareholders over that same period...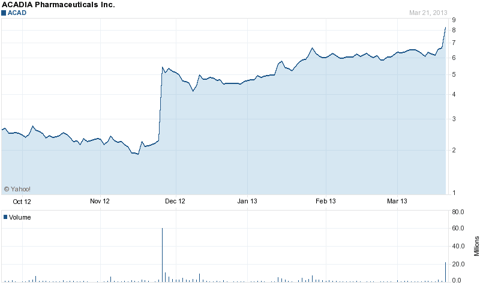 Chart courtesy of Yahoo Finance.
Chemicals
As many readers know our specialty lies in the commodity space. That is where we got our start and where many of our life lessons in the business came from. When commodity prices are low and the cost to producers of such things as chemicals and fertilizers falls their margins increase. It is always wise to rotate out of the commodities before the collapse and latch on to the other trades in order to benefit from the inverse reactions. With that said, we have been bullish of Eastman Chemical (NYSE:EMN) for a while now and have watched it march higher. We are long-term believers in their business strategy and really like the management team in place. Readers wanting to add to positions or start new ones might want to take a look at these levels and on any other pullbacks we might see in the future.
Be buyers on pullbacks...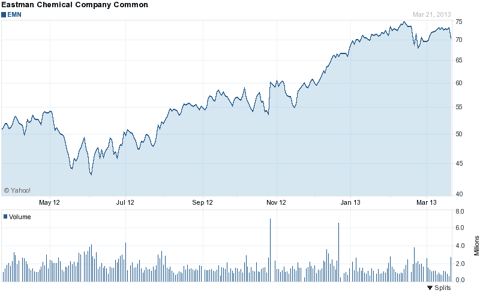 Chart courtesy of Yahoo Finance.
Disclosure: I have no positions in any stocks mentioned, and no plans to initiate any positions within the next 72 hours. I wrote this article myself, and it expresses my own opinions. I am not receiving compensation for it (other than from Seeking Alpha). I have no business relationship with any company whose stock is mentioned in this article.