By Paul Carton
Andy Golub co-wrote this article.
ChangeWave's March survey of U.S. consumers points to a continued tough spending environment, with restaurants remaining one of the weakest spending areas. But in a hopeful sign, the rate of decline has leveled off compared to our previous survey.
During the weeks of Feb 17-23 and Mar 3-10, we surveyed consumers on their dining habits to determine – among other things – whether there are any dining categories and restaurant chains showing signs of improvement.
Continued Hard Times
After a 16-month downward spiral the rate of restaurant spending decline is leveling off. Half of respondents (50%) still say they'll spend less money at restaurants going forward; however, that's 2-pts better than the February measure.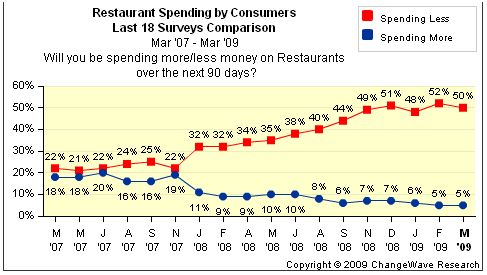 Just 5% say they'll be spending more at restaurants – unchanged from our all-time low.
Other key findings:
One-in-three consumers (33%) say they'll dine at

Less Expensive

restaurants going forward compared to just 1% who say they'll dine at

More Expensive

ones.
34% of respondents expect to dine out Less Frequently over the next 90 days, compared to just 6% who say they'll dine out More Frequently. We do note, however, that this is a net 6-pt improvement from the last time we asked this question in November 2008.
Looking at the past 90 days, 44% say they've been Eating More Meals at Home, although that's 4-pts less than previously. Another 34% say they've been Using Coupons/ Discounts More Frequently – and that's a 2-pt increase since November.
Top Reasons for Dining Out Less
For the second consecutive survey, Reduced Income (38%; up 5-pts) has risen as a key concern and is one of the top reasons why consumers expect to dine out less frequently. Job Security Concerns (14%; up 2-pts) has also moved up as a key reason.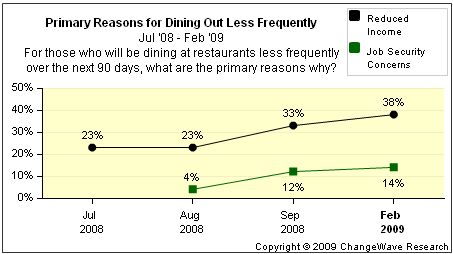 Hardest Hit Restaurants
Dining Frequency is still slowing in every restaurant category, but it's worth noting that our category results aren't as bad as in our November survey.
Upscale/Fine Dining Restaurants continue to take the biggest hit, with only 3% of respondents saying they'll dine at them " More Often" over the next 90 days, while 37% say "Less Often" (Net Difference Score = -34). Nonetheless, these results are a 6-pt improvement over the previous survey.
High End Casual Restaurants are also still suffering (-29), but have managed to register a 4-pt improvement. Quick Casual/ Family Restaurants (-2) and Fast Food Restaurants (-2) have both posted a 1-pt improvement.
Individual Restaurant Chains
We also asked respondents which individual restaurant chains they'll be spending more money and less money at over the next 90 days. We then compared the current results with the findings from our previous survey.
While it's tough to show improvement in a weak market, we've identified a handful of chains that have experienced a slight uptick in the percentage of consumers who say they'll spend more vs. less money there over the next 90 days.
Best Positioned. In the Moderate Casual Dining category, Olive Garden (DRI) (+2) shows some signs of improvement going forward.
Among Quick Casual Restaurants, Denny's (DENN) (+2) shows an uptick, while among Fast Food Restaurants Subway (+2) shows slight signs of improvement.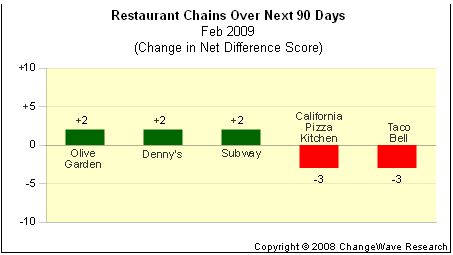 Worst Positioned. On the down side, California Pizza Kitchen (CPKI) (-3) and Taco Bell (YUM) (-3) are registering the two biggest declines going forward of any of the chains looked at in the survey.
All in all, we are in a very challenging spending environment, but while restaurant spending remains one of the weakest of all sectors, the good news is the rate of decline is leveling off from record low levels.
On a note of optimism about the future, 38% of respondents say they'll go back to spending more each month on restaurants and eating out when the economy improves, compared to just 10% who say they'll continue to spend less each month.