In my experience as an equity trader and investor, the Dow Jones Transportation Average is one of the least followed averages and indicators out there, and I would be lying if I said it wasn't one of my favorites to follow. The Transportation Average usually directs the Industrial Average at critical times and is an awesome leading indicator in its own right. Together both the Transportation and Industrial Averages compose the basis of Dow Theory - one of the most powerful economic indicators ever devised. Formerly devised as a way to track the old-school Rails, the average today comprises modern logistic and transportation companies, and still includes some railroads. Rather than a relic of the past as some might have you believe, the Transportation Average is as relevant today as it ever has been. In this article I'll examine the Transportation Average and explain why it is more likely than not to reach 8,500 to as high as 10,000 in the future, and how you can use the iShares Transportation ETF (NYSEARCA:IYT) to profit from this move. For the record, the average currently rests at 6,117.20, and 8,500 represents a nearly 40% price increase from where it is today - and this is the minimum target I am projecting based on the principles of Technical Analysis.
The Transportation Average (and IYT) is composed primarily of airlines, shippers, railroad companies, and truckers. The idea behind the Transportation Average being a leading indicator revolves around the notion that companies that need to expand business first do so by shipping or importing more material and goods, and this volume translates to into profit for companies that facilitate the movement of said goods, which rise with the general business trend. It is simply that these companies see the growth first since they are on the front lines of the economic frontier, while business-to-business or business-to-consumer companies must wait for their product cycles to be completed in order to book revenue and thus, profit. It is no surprise then that the Transportation Average typically leads the market higher out of bear markets, and dives first into bear markets (when companies are scaling back).
Two Years of Waiting and Watching
With much patience I watched the Transportation Average and IYT all throughout the Spring and Summer and into the Fall of 2012. They did not do much except consolidate and move feebly upwards as though they were completely unmotivated to choose a direction. The Transportation average was marginally positive (9.7%) for the two years from 2011 to the end of 2012 as it based in a consolidation pattern that lagged the S&P. After two years of general consolidation I briefly thought it would remain moving sideways forever. Then, all of a sudden in December 2012 and January 2013 it broke out of its range with conviction. Since then it has gone on a huge tear greater than 16% since January 1, which is 6% better than the Industrial Average return of roughly 10% in that same time. This is some serious out-performance, but why?
The Transportation Average Chugs Ahead
The reasons behind the Transportation Average's significant out-performance and rally are not entirely understood. It is possible it has to do with the fact that the present market environment is not characterized by turmoil every month from some crises as it was in 2011 and 2012, and there is now some semblance of stability. It is possible it has to do with the continued low interest rates of the bond market and likely future reversal in that market that will lead to a renewed equities price rise. It is possible that the implications are not fully understood and addressed. Since the technicals often paint a clearer picture, that is what I will turn to. According to Dow Theory, the Primary trend is inviolate, meaning, it cannot be manipulated for any considerable length of time - it must be pure.
The Technical Takeaway
Examining the monthly chart of the Transports, one will find a completed Inverted Head and Shoulders continuation price pattern. Most investors know the Head and Shoulders pattern as a top, and some as a bottom, but a little known fact is that the pattern can also be a very significant continuation pattern (a confirmation of a trend). This is not only one of the most reliable patterns, but is unique because it provides investors a very real price objective. The out-performance above and beyond the S&P for completed H&S patterns is historically 19% for bottoms and 25% for tops. The failure rate (failure to reach 10% in direction of breakout) of a completed H&S bottom is historically 10%. This means 90% of the time in the past, a Head and Shoulders Bottom pattern achieved at least a 10% gain in the direction of its breakout. These statistics are given according to the pioneer of probability pattern analysis, Charles Bulkowski in his book(s). The price targets of Head and Shoulders patterns are some of the most reliable and accurate targets, because Head and Shoulders are very significant patterns, when they are completed. Below is a chart of the fully completed (triggered) Inverted Head and Shoulders continuation pattern in the DJTA.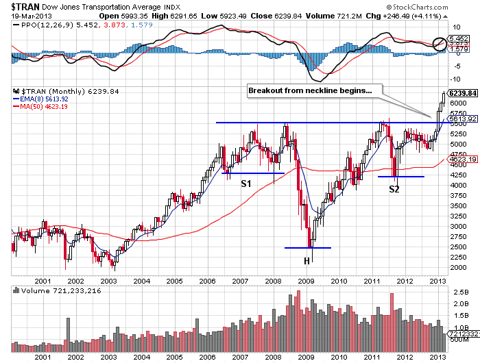 The previous Inverted Head and Shoulders pattern gives a minimum price target of 8,500 based on standard and well-established rules of Technical Analysis. This is a 39% rise in the current price of the Transports, and would translate into Dow of roughly 17,500 given the current recent year to date out-performance of the Transports relative to the Industrials (16% vs. 10%). At the high end, the Transports could reach as high as 10,000 given this very same pattern by stretching the limits of its implications, which calls for twice the minimum measurement. In Technical Analysis, price targets are always given as minimums and maximums. For IYT, the equivalent targets are given as $150 (8,500 equivalent) to $180 (10,000 equivalent).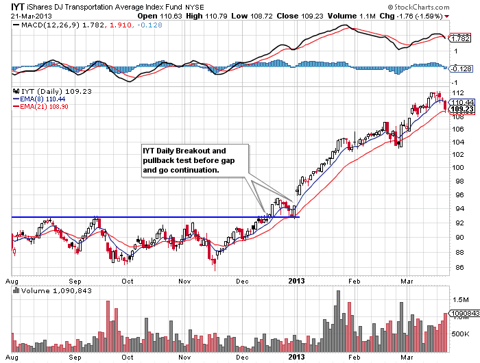 The daily chart of IYT is displayed above, and depicts the breakout in December. The IYT tracks the Transportation Average in lockstep, so if you invest in the ETF you are investing in the companies that compose the Transportation Average. The list of those companies can be found here. This is similar to the way the SPY and DIA ETFs invest in their tracked averages, the S&P 500 and Dow Jones Industrial Average, respectively.
Why You Should Care
Why should you care about the Transportation Average? Because it is a leading indicator. It has outperformed the Industrial average by 31% over the last 10 years. Even better, it can be invested directly in through the Dow Transportation iShares ETF - IYT. There is no reason why any long-term diversified investor should not have at least a small exposure to the transportation sector as part of a balanced portfolio. Along with the Dow Jones Industrial Average, it completes Dow Theory. Taken together, these Averages have historically identified bull and bear markets more often than not and their performance has chugged through the majority of hedge funds handily. You can also view the Transports as an indicator in and of itself to help time your investments, even if you chose not to invest in IYT or you have a shorter-term swing and trading approach. And lastly, it is cool. It pays homage to Wall Street history, to the days of the robber barons and the true frontiers of growth into the Wild West, not that far different in concept from the changing technological frontiers we are experiencing today.
Disclosure: I am long LSTR, JBLU. I wrote this article myself, and it expresses my own opinions. I am not receiving compensation for it (other than from Seeking Alpha). I have no business relationship with any company whose stock is mentioned in this article.
Additional disclosure: I am long Dow Transportation components LSTR and JBLU, and have no plans to transact any further buys or sells in these names within the next 72 hours. Information has been provided for educational purposes only.