Hold your nose. I'm about to discuss favorably a company you likely have never heard of, one that currently is undergoing a government investigation and trades in place investors fear: Egypt. But that is one of a number of reasons contrarians should consider the investment.
The company in question is Orascom Construction Industries ("Orascom") (OTCPK:ORSCY). If you haven't read Clemens Scholl's readable, lucid and compelling article with respect to Orascom's value proposition, I suggest you take a look here. Many of his arguments still hold true some 14 months later, particularly with respect to the breakup of the business.
One catalyst for Orascom is that a portion of its shares won't trade in Egypt any longer. Orascom intends to move some of its share listing to the ecumenical nation of the Netherlands, to the Dutch Exchange in Amsterdam, allowing Orascom access to more liquid capital markets. The transaction in question is being consummated by Cascade Investment LLC (Bill Gates investment vehicle), Southeastern Asset Management and Davis Selected Advisors, whereby the consortium of investors are acquiring all the Global Depository Receipts (GDRs) and 25% of the local shares trading in Cairo, and moving them to Amsterdam. The deal attracted $2 billion in capital commitment.
The delisting of Orascom shares in Cairo is the alleged cause of the government investigating the controlling shareholder family (owning 55% of the float), the Sawiri's, regarding its 2007 sale of its cement business (Orascom Building Materials Holding or "OBMH") to Lafarge for 8.8 billion euros, for potential tax evasion penalties. The government is throwing its weight around for good reason: Orascom Construction Industries is the largest listed company on the Cairo Exchange. However, as the company indicated in its response to the inquiry (PDF), "in accordance with paragraph 8 of article no. 50 of law no. 91 of 2005, all capital gains resulting from the sale of shares listed on the Egyptian Stock Exchange (EGX) are tax exempt; consequently the sale of OBMH to Lafarge SA in 2007 is exempt of any capital gains tax." If you want to read the Egyptian tax code, click here (PDF).
If, or rather, when, Orascom delists a portion of its shares from the Cairo Exchange, it will represent a significant outflow of capital market liquidity. No wonder the government is doing what it can to coerce Orascom to stay put.
Another catalyst is that Orascom Construction Industries is breaking up its business to alleviate the conglomerate (and political) discount ascribed to its equity, unlocking shareholder value in the process of distributing to its shareholders its pro rata share of two growing and profitable businesses: a fertilizer business and a construction business.
Considering both those businesses should benefit from global tailwinds, it makes Orascom even more of a compelling value.
Price:
With a current market capitalization of about $6.5 billion, Orascom represents a compelling value and a special situation investment. That is, a low-risk, high-reward opportunity with a healthy 'margin of safety.'
The Special Situation:
I frequently invest in special situations, where the market isn't fully valuing a business for some transitory reason. Many times it's because the business is headquartered in a certain domicile that is out of favor (Spain, anyone?), but generates a substantial and growing portion of its revenues and profits in healthy, robust and emerging foreign markets.
Orascom represents three special situations, all of which could move the share price higher, including: (1) the breakup of the fertilizer and construction businesses, whereby I expect investors to apply higher multiples to each 'pure play' business; (2) resolution of the government's tax inquiry and the subsequent move of the equity listing from Cairo to the Netherlands, whereby I expect investors will eliminate or reduce any political risk discount applied to the current valuation; and (3) the realization that Orascom is attracting sophisticated investors like Cascade Investment LLC.
The Businesses:
Fertilizer Business:
Orascom is a leading producer and distributor of nitrogen phosphates, having entered the business in 2008. Since then, it grew sales from $644 million to $2.4 billion in 2011 and operating profits from $496 million to $930 million over the same period. And it continues to grow the business at a fast pace. Last fall, it announced plans to invest $1.4 billion in Iowa to build a fertilizer plant. Over the last few quarters, the fertilizer business made up 70% (Q1 2012), 72% (Q2 2012) and 80% (Q3 2012) of Orascom's total operating profits, masking the substantial growth of this business. With strong farm economics, demand for fertilizer should continue to be robust. In addition, natural gas, one of the main costs to produce fertilizer, continues to be priced low due to new supply coming online. Therefore, the economics for the fertilizer business play out favorably over the next several years. When the market is able to apply a pure play multiple to the growing fertilizer business, I expect current shareholders to be rewarded.
Comps:
Two 'pure play' competitors for Orascom's fertilizer business include The Mosaic Company (NYSE:MOS) and Potash Corporation (NYSE:POT), trading at 8x and 10x enterprise value to EBITDA, respectively. For a market-based valuation, applying an 8x multiple to Orascom Fertilizer last twelve months operating profits of $732 million (based on 4,762 Egyptian pounds at $6.5 USD exchange rate) yields a valuation of $5.86 billion, covering nearly the entire current market capitalization of Orascom. There is some static in the last twelve months numbers, considering Orascom's sale of its 17% stake in Gavilon Group, LLC to Marubeni Corporation in May 2012 for $605 million. It also doesn't reflect the future growth attributable to the Iowa fertilizer plant coming online in 2015. With a solid growth profile, I'm comfortable buying the future earnings of Orascom at current prices, considering Orascom also has a large construction business and associated assets.
Construction Business:
Orascom Construction is a leading engineering, procurement and construction contractor active in emerging markets across Europe, the Middle East and North Africa (source: 2011 Annual Report). The construction business is made up of three segments: (1) Construction (including Orascom Construction (100% owned) Contrack (100% owned), Besix Group (50% owned)); (2) Construction Materials, including steel fabrication, piping, chemical, and other building material investments; and (3) Property Management.
At the end of Q3 2012, the construction group reported an operating margin of 9% for the quarter, and 10.4% for the year. Backlog stood at $5.64 billion, including $361.5 million in new awards. In addition, the construction group generated 74% of its revenue outside of Egypt.
The Construction Group's geographic and customer base is quite diverse, as seen in the graphical representation from its Q3 2012 summary: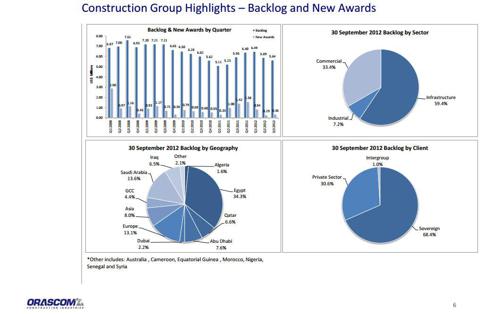 Click to enlarge
Orascom's construction business is levered to growing markets in the Middle East and Northern Africa, across the commercial, industrial and infrastructure sectors, and the private and public customer groups. With a significant amount of rebuilding occurring in the Middle East and Northern Africa, in countries possessing significant oil deposits and, therefore, a means to pay, Orascom will likely benefit from the build out of new and repair of old/destroyed infrastructure assets. It's also investing strategically in existing construction businesses, having announced it acquired Weitz Company based in Des Moines, Iowa, to assist in building out certain Orascom projects, including probably the build out of the fertilizer plant in Iowa through 2015.
Comparable companies to Orascom's global contracting business might include Jacobs Engineering Group (NYSE:JEC) and Fluor Corporation (NYSE:FLR). They trade at enterprise values to EBITDA multiples of 8x to 9x, respectively. Orascom's construction group may trade at a discount to those multiples due to the political uncertainty ascribed to the countries in which it operates. The construction group contains significant value, nonetheless.
Finally, one more catalyst:
Orascom paid $2.10 in dividends in 2011, representing a yield of 6.2% at current prices. However, management put its dividend policy on hold in 2012 (and so far in 2013) while it is undergoing the breakup, potentially causing forced selling for institutional funds mandated to hold dividend yielding stocks. I expect management will unveil a new, sustainable dividend policy for each underlying business after the distribution, providing another indication value in the shares. With growing free cash flows, I expect management will likely be able to pay out more than $2.10/share in the future.
Conclusion:
For those investors willing to scour the globe for value, Orascom represents a unique special situation investment with considerable upside at current levels, although investors may need to stomach some volatility as the company undergoes its transformation and tax probe by the Egyptian government. Investors should ascribe a modest discount due to the control the Sawiri's exercise over the business. However, the Sawiri's have significant "skin in the game" and have exhibited their business savvy by growing the business substantially over the years, including rewarding investors with many shareholder friendly transactions.
Orascom is a compelling value if investors can look past the transitory risks of owning it. To those contrarian and bold investors: "Fortune favors the bold."
Disclosure: I have no positions in any stocks mentioned, but may initiate a long position in OTCPK:ORSCY over the next 72 hours. I wrote this article myself, and it expresses my own opinions. I am not receiving compensation for it (other than from Seeking Alpha). I have no business relationship with any company whose stock is mentioned in this article.