Looking at the markets this morning, we see little movement among the commodities. The big news is that Russia did not want to pay for Cyprus' bailout. We thought it was a done deal after all the stories we were hearing regarding a possible deal with natural gas reserves being involved yesterday afternoon and last night. It would have been a wise move on Russia's part to lock up these reserves and future production so close to Europe, and thus enabling them to keep the gas prices on the continent high. This will be a story that develops over the weekend, and we have until Tuesday based on what Cyprus has put in place as its deadline (with the bank closings).
Commodity prices this morning are as follows:
Gold: $1610.80/ounce, down by $3.00/ounce
Silver: $29.075/ounce, down by $0.137/ounce
Oil: $92.92/barrel, up by $0.47/barrel
RBOB Gas: $3.0641/gallon, down by $0.0065/gallon
Natural Gas: $3.957/MMbtu, up by $0.022/MMbtu
Chart of the Day
Could this latest sideways movement simply be another one-and-a-half- to two-year pause before another move higher? It has been a bit longer than we expected, but one must remember that the European and American debt issues have dragged on over this time period and have played with economic growth and such. We believe, so long as the $1600/ounce level is within reach, that a bull market is still in place, but a move down to $1500/ounce or even $1400/ounce and we would heading elsewhere with our capital.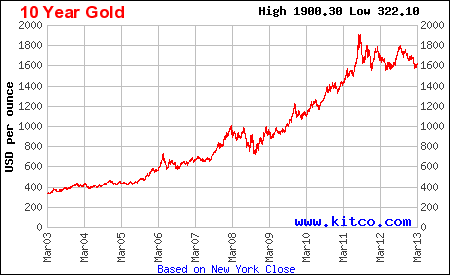 Oil and Natural Gas
We tend to focus on the more exciting names in the industry here in our article each morning, but as readers know we do know and respect the bigger names. They may appear to be boring, or even be boring -- however, these are the names that over time create the true wealth in one's portfolio and allows for the risk taking that we do. Focusing on a name which we believe should be a pillar of any energy portfolio is EOG Resources (NYSE:EOG), which we have been bullish on for some time, a company's whose shares we think should be accumulated and purchased on pullbacks. The current pullback to the $124/share level presents an attractive entry point for readers who are long-term investors and even those looking for a trade for their speculation capital. If we were to see shares continue downward for another point or two, we would have to close the trade and re-enter later due to support. We like the Bakken and think that over the next year or two we will see an increase in the price the producers in the region are able to get for their crude production, as more is shipped via freight and more midstream and pipeline capacity comes online.
EOG is now around support, and this appears to be an attractive entry point for both long-term and short-term investors. A fall to $121 or $120 and we would be hesitant about holding on to the trade much longer, though.
Click to enlarge images.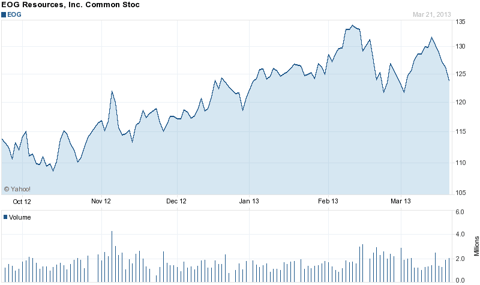 Source: Yahoo Finance.
Yesterday saw a bit of a relief rally in shares of Harvest Natural Resources (NYSE:HNR) as shares rose $0.54 (15.98%) to close at $3.92/share on volume of 2 million. As we stated already this week, we are never keen to rush in and purchase companies with accounting issues, especially those with accounting issues dating back over a year. We have done audit work and having something come up like that is troublesome, and generally a mis-classification or misrepresentation of facts and can have serious consequences, especially when looking at debt covenants and other contracts with tie-ins to the balance sheet, liquidity and ratios. It may turn out to be a great buy here, and probably will; however, the risk is to great when one could buy other plays out there with the same types of valuation while not sporting anywhere near the risk (i.e., much more attractive risk/reward ratios).
One story to continue to watch over the next few months will be SandRidge Energy (NYSE:SD) and the new slate of directors that they added to its board of directors recently. Our guess is that the investigation into Ward and his family's dealings with respect to front-running the company will turn up enough issues to either force him out immediately or at least set up a timeline for his exit with a successor in place by his exit date. It is difficult to tell when someone is taking advantage of their partners (shareholders, in this case) by front-running, especially when there is the issue of landmen and the need to lock up leases before others move in. That said, though, if it smells funny and looks funny, there probably was some funny business going on. As the CEO of a large publicly traded company, that cannot ever be the case. Any announcement of an impending exit is worth 20% to shares at these levels.
The Trusts
It was another rough day for unit holders of various trusts, notably Chesapeake's with the Granite Wash assets. However, we do like to report good news as well as we are not bears and hate to be considered and/or labeled "Debbie Downers." So after a few days of simply getting clobbered, the ECA Marcellus Trust I (NYSE:ECT) finally saw a relief rally. The units rallied $1.38 (13.40%) to close at $11.68 on volume of 896.7k. This does not mark an end to the troubles there, but it does indicate where buyers are interested in entering with current natural gas prices and the state of the assets within the trust. Readers should remember that these trusts are essentially natural gas bonds with their prices being based on overall reserves (used to predict production), and the estimate of cash flows from the production and any hedges that the trust may have in place for expected production.
Beware Chinese Offering to Fund Your Projects
It used to be that one had to beware of Greeks offering gifts of wooden horses, and even buyers had to beware of what they were buying, but today one must always beware of Chinese offering cheap and easy financing for funding commodity projects. We have seen too often recently the Chinese partners walking away from deals, no matter how iron-clad they appeared, or getting into trouble at home and not being able to follow through. The latest victim is General Moly (NYSEMKT:GMO), which saw its Chinese partner have their head honcho arrested/detained in China and unable to sign off on the guarantor papers. It is a mess, but was not altogether unexpected as this type of thing has happened numerous times before. No need to worry about whether this deal will get done -- it will not. Although we will say that General Moly has a better chance of getting financing for this project than its former financier does of getting off of whatever charges he is accused of by Chinese officials. That you can take to the bank.
At support, but two-year lows. One would hope that the company can find financing sooner rather than later, but equity financing now appears to be the No. 1 option.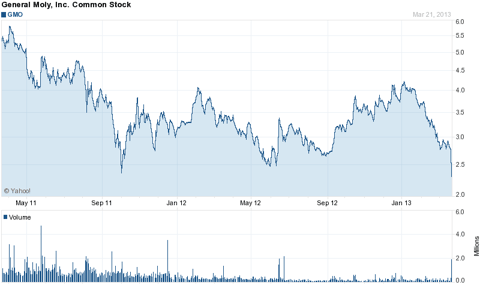 Source: Yahoo Finance.
Disclosure: I have no positions in any stocks mentioned, and no plans to initiate any positions within the next 72 hours. I wrote this article myself, and it expresses my own opinions. I am not receiving compensation for it (other than from Seeking Alpha). I have no business relationship with any company whose stock is mentioned in this article.