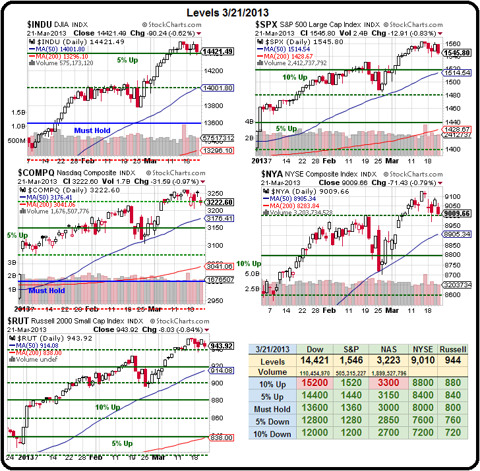 Click to enlarge
Slip sliding away, slip sliding away
You know the nearer your destination, the more you slip sliding away - Simon and Garfunkle
So close but yet so far is another song lyric that would apply to this market.
Consolidations can be frustrating things but, if you look closely at our Big Chart, you can see that this "consolidation" is tipping a bit more bearish than the one we were determined to ride out in February.
All is well as long as we hold those lines on our chart as we neatly finished right on our expected levels in each index but the S&P, which is just under the 12.5% line at 1,560 and well above the 10% line at 1,520 - so we'll be watching them closely for clues but I'm not expecting any major sell-off until after the quarter ends. Next Thursday is our last trading day of the Q as Friday is a big holiday (my Birthday), so the markets will be closed, of course, in observance.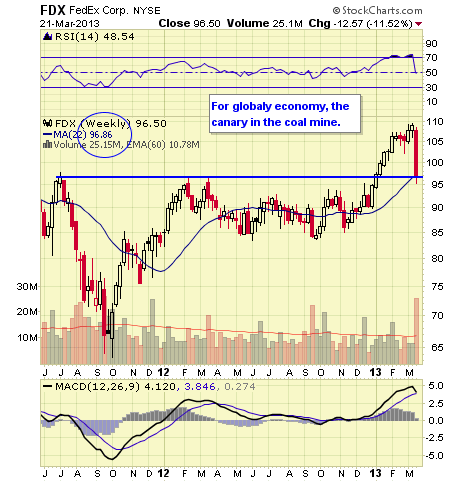 Markets are still generally very bullish - even FedEx (NYSE:FDX) couldn't do much damage but it is an indicator that corporate spending remains tight and Oracle (NASDAQ:ORCL) didn't disagree with that premise and that does NOT indicate that we should be expecting the markets to continue going like gangbusters without better earnings evidence.
While I don't agree with Dave Fry's comment on the FDX chart, that FDX is our canary (because volume was fine, customers simply opted for cheaper shipping methods) of the moment, it would still be foolish not to put it at least in the "maybe" pile of bearish signals.
If you want a REAL bearish signal, check out yesterday's census report on Debt in America, which points out that the median net worth of American households dropped to $69,000 in 2011 from $82,000 in 2000 and $107,000 in 2005, a census report shows. Meanwhile, debt in households headed by older people more than doubled during the decade to a median $26,000 from $12,000, largely because of mortgage loans. The trend increases worries about the financial well-being of older Americans, whose retirement funds have been hit by the recession and rock-bottom interest rates.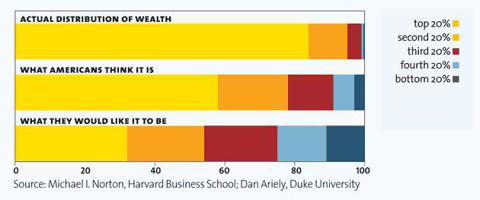 Click to enlargeThe burden of more debt isn't limited to just seniors. People ages 55 to 64 saw their typical or median household debt rise 64% to $70,000. Younger people, meanwhile, are borrowing more to pay for college, even as they cut credit-card use. Those under 35 saw their typical debt rise 13%. Overall, the typical U.S. household's debt rose 37% between 2000 and 2011 to $70,000.
As you can see from the chart - all these FACTS regarding Income Inequality come as a shock to most Americans, who are under the illusion that they live in some sort of capitalist democracy when, in fact, it's the World's foremost Corporate Kleporcacy. There's a great video on Wealth Distribution in America that I tweeted out from our Member Chat this morning (thanks Denlundy) well worth watching if you have the time (6 mins). The debate on the issue rages on at Seeking Alpha as well.
I also tweeted out my comment from Member Chat this morning suggesting we were set up for a good short oil off the $93 line (/CL in the Futures), that's down to $92.85 already for a very quick $150 per contract gain and we're THRILLED to make small money like that on a Friday - especially as we caught the long off $92.50 earlier for even better gains going up.
We caught the same ride yesterday at 10:32, right after the Natural Gas Inventory Report and then we benefited from the drop back to $92 in the afternoon. One day we'll hopefully catch a nice collapse but, meanwhile, at $10 per penny per contract, we're more than happy to amuse ourselves with this range-bound futures trading.
Whether or not the broader markets are doing a range-bound consolidation remains to be seen. We have the 5% lines (and 2.5% lines) to watch on our big chart and they are practically perfect so far and next week is the end of the quarter so we expect "THEM" to at least prop us up until next Thursday - to paint a pretty picture. It's what happens the first week of April that's totally up for grabs.
We do have Feb Durable goods next Tuesday, along with Case-Shiller for January, March Consumer Confidence and Feb New Home Sales. Wednesday we have Pending Home Sales (Feb) and Oil Inventories (through tomorrow night) while Thursday finishes the short week of with a bang as we get the 3rd estimate of Q4 GDP along with the Chicago PMI (March), Nat Gas Inventories, Personal Income and Spending (Feb), PCE Prices (Feb) and Michigan Sentiment (NYSE:MAR).
That's how we'll close out the month and Cyprus remains a wild-card so we're still going to take a few precautions over the weekend - let's all be careful out there.
Have a great weekend,
- Phil
Disclosure: I am long AAPL, GDX, TZA, GLD, ALU, DBA, GLW. I wrote this article myself, and it expresses my own opinions. I am not receiving compensation for it (other than from Seeking Alpha). I have no business relationship with any company whose stock is mentioned in this article.
Additional disclosure: Positions as indicated but subject to change (fairly neutral mix of long and short positions - see previous posts for other trade ideas). Commodity positions are very short-term and not tradeable by the time you read this.