Gambling has always been viewed as a sin in Western society. Slowly but surely, new casino projects are being approved throughout the United States. In the east coast of the United States in particular, there have been two new casinos opened in Maryland, four being constructed in Ohio, and recently in Pennsylvania (Sands Bethlehem), and New York City (Worlds Resort). The Revel in Atlantic City has also opened, competing against the top-end luxury of The Borgata.
The gaming market is currently shifting to online at a steady pace throughout the world. Although legislature has been opposed to gambling in general throughout history, there is significant tax revenue that will ultimately be generated. That tax revenue will climb to several billion dollars, considering the international online gaming revenue is currently over 30 billion dollars and is in its infant stages.
"If all 50 states were to follow Nevada's example, that the U.S. could theoretically see an additional $80 billion a year in tax revenues - enough to wipe out California's state debt three times over," Mr Casey, PR director at casino.org stated. "That money could be used to do a lot of good in America." This reveals the overwhelming potential that politicians will gradually legalize this industry to the online space, and the virtual world that we have become accustom to.
The legalization will surely happen at a slow pace, resulting in a steady increase in tax revenue. Politicians likely will give into the lobbyists' who end up paying off our politicians to get their vote. Ultimately, I speculate that it is inevitable that online gambling will be prevalent in the United States. Whether or not you support gambling or online poker, it is an industry that is extremely lucrative and will benefit our government that is always in desperate need to increase tax revenue to keep up with its frivolous spending.
This industry is comparative to the tobacco industry. The government very well knows that supporting the tobacco industry kills millions of Americans and impairs their quality of living. Yet, the government continues to allow large tobacco companies to operate while collecting billions of dollars in tax revenue. When it boils down to it, our government cares the most about the money it will generate rather several million lives.
The online gambling industry will swiftly be able to steal market share from casinos for several reasons, which is why many smaller casinos in particular will take a nose dive and struggle to remain in business.
Advantages of Online Gaming
Casinos are usually in far traveling distance from customers' homes
Access is at consumer finger tips (literally) with computers/tablets
Underage gambling will occur at higher rates, thus increasing its customer base
Mobile devices are becoming more wide spread with smartphones on the rise
Betting is faster in general and in online poker more rake is taken in (no shuffling)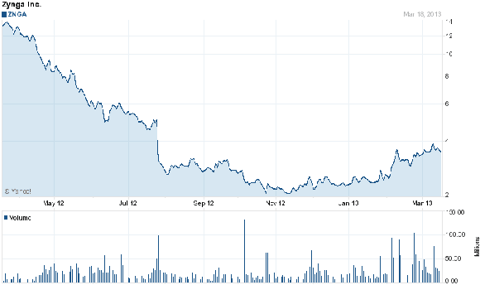 Companies to prosper from the potential online gaming boom
The dominant technology companies, Zynga (NASDAQ: ZNGA), and Facebook (NASDAQ: FB) are already planning software developments for monetizing the legalization of online gambling. Soon, we will be challenging our Facebook friends or strangers to a game with "Words with Friends" for various amounts of money. Facebook has already begun campaigning and presenting its proposal internationally to begin its gold rush venture. As the chart above from Yahoo! Finance indicates, Zynga has had a 52-week range of $2.09 to $14.48 with a beta of 3.86. It has come off the lows and is poised to climb higher as Zynga obtains more patents and legalization with its new online gambling venture. The giant social networking technology companies are in the infant stages for incredible online gambling growth.
Casinos such as MGM Resorts (NYSE: MGM) and Wynn Resorts (NYSE: WYNN) have begun trying to partner up with big poker sites such as Full Tilt Poker and Poker Stars. The casinos understand that they will lose a large percentage of their customers if online gambling becomes legal, and are taking action the best way they can to prepare for a transition that is inevitable.
Just as the lottery is a form of legalized gambling and generates significant tax revenue, online gambling will slowly be approved throughout the United States.
The big winners of this potential online gaming boom will be the technology social media giants such as Facebook and Zynga that will be able to expand their business even further by delving into an extremely lucrative industry. The potential is enormous to capture billions in market share of the gambling industry, and the first investors to step in will reap tremendous benefits.
Disclosure: I have no positions in any stocks mentioned, and no plans to initiate any positions within the next 72 hours. I wrote this article myself, and it expresses my own opinions. I am not receiving compensation for it (other than from Seeking Alpha). I have no business relationship with any company whose stock is mentioned in this article.