The U.S. dollar has benefited from being the best house in a bad neighborhood in recent months. Since the first week of February, the greenback has appreciated 5%, low to high, lifting prices to fresh six-month highs.
But this party is over, in my opinion. At least for now… I'm calling an interim top at last week's high of 83.42, just 1% above current levels.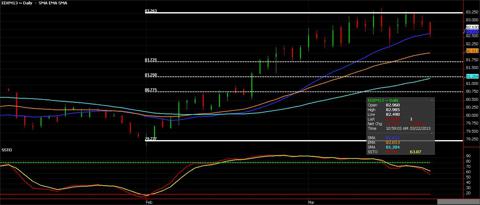 As I write, futures are penetrating the 20-day MA (dark blue line above). Over the years, I've identified the 20-day MA as a key pivot level in the FX market. On confirmation of this downside break, with a settlement under 82.62, I suggest switching sides -- fade rallies instead of buying dips. I'm not interested in trading the dollar directly, but will obviously monitor its moves to guide clients in trading other FX crosses. Plus, a number of commodities trade inverse to the almighty buck, so it can't be ignored.
If the 20-day MA gives way, the next significant support comes in just under the 34-day EMA (orange line) at the 38.2% Fibonacci level. That should be your first target in bearish trades. I suggest positioning yourself to capitalize on a trade back to roughly 81.25 in June futures. This level shows confluence between the 50% Fib and the 50-day MA (light blue line).
We could see a flight to quality (read: dollar buying) if the stuff really hits the fan in Europe over the weekend. But if progress is made on that front, I think the path of least resistance is a falling dollar in the short run.
Traders who are with me and choose not to buy foreign currencies against the dollar should be looking for long entry points in metals and energies. Expect more precise trading strategies in these complexes next week… stay tuned.
As always, I'm here to discuss specifics and give guidance. Give me a call.
Risk Disclaimer: The opinions contained herein are for general information only and not tailored to any specific investor's needs or investment goals. Any opinions expressed in this article are as of the date indicated. Trading futures, options, and Forex involves substantial risk of loss and is not suitable for all investors. Past performance is not necessarily indicative of future results.
Disclosure: I have no positions in any stocks mentioned, and no plans to initiate any positions within the next 72 hours. I wrote this article myself, and it expresses my own opinions. I am not receiving compensation for it. I have no business relationship with any company whose stock is mentioned in this article.