Shares of Lululemon (NASDAQ:LULU) actually rose today in spite of lowered expectations for FY13. Most recently, shares of LULU have come under pressure due to a huge recall by the company for its Yoga-Luon pants due to concerns over sheer material that when worn, are transparent to some degree. The episode, the second quality issue disclosed in less than a year, could undermine Lululemon's reputation, said analysts who noted that competition from lower-priced brands is heating up. Last July, the company acknowledged problems with dye-bleeding in some of its apparel. "Those are two black eyes for a brand that is supposed to stand for quality in the marketplace," said Brian Sozzi, chief equities analyst at NBG Productions. "It's a window of opportunity for Lululemon's competitors."
See-through pants aside, let's dive into the quarterly recap, so investors have a clear understanding of where the company is heading and what they are doing in 2013.
Net income for the quarter was $109.4 million, or $0.75 per diluted share.
Total net revenue rose 30.7% to $485.5 million, from $371.5 million in the fourth quarter of 2011.
Revenues from direct-to-consumer channel totaled $78.3 million, or 16.1% of total revenues.
Other revenue, which includes wholesale, showrooms, and outlets, totaled $29.2 million, or 6% of revenue.
Capital expenditures were $21.2 million for the quarter.
Ended the year with $590.2 million in cash and cash equivalents, an increase of $180.7 million over fiscal 2012 year-end.
Inventory at the end of the fourth quarter was $155.2 million, or 49.1% higher, than at the end of the fourth quarter 2011.
Now let's take a look at Q1 2013 and FY13 guidance offered by the company.
Q1: Revenue in the range of $333 million to $343 million.
Comparable store sales percentage increase between 5% and 8%.
Q1: Gross margin to be approximately 48% to 49%.
Q1: Diluted earnings per share in the first quarter to be in the range of $0.28 to $0.30 per share.
FY13 diluted earnings per share to be approximately $1.95 to $1.99.
FY13 capital expenditures to be between $90 million and $95 million.
FY13 net revenue to be in the range of $1.615 billion to $1.64 billion.
During the quarter, the company opened eight corporate owned lululemon stores in the U.S., one in Canada, and one in Australia. For the year ended December 31, 2012 the company finished with 211 total stores versus 174 in the prior year. During Q1 2013, the company has planned eight new store openings, six in the U.S., one in Canada, and one in Australia. For the full fiscal year 2013, LULU is targeting to open up to 43 stores, including Australian stores and ivivva locations. They also plan on opening 10 to 15 showrooms in international markets and are actively searching for a site for a first store in Hong Kong. This regional store sight for Hong Kong may take up to another 12 months and has been in the works for some 6 months now as the company has found it difficult to negotiate lease terms.
Turning our attention to the product side, the company continues to roll out more and more pods as demand increases for its highly specialized and functional line of athletic apparel. The company plans to return to some of its original core sportswear such as for cycling and swim in the spring as well as initiate new product lines such as tennis and golf. For men's, Lulu will be introducing their largest polo offering to date in response to feedback from guests. The polos will be functional for both tennis and golf.
Naturally, 90% of the post-earnings conference call was focused on the Luon recall issue. The company has baked into its FY13 guidance the impact from this operational misstep, but I would argue that the attachment rate is very unclear presently and, therefore, the total loss of sales and gross margin pressure impact could be more or less than the initial guidance offered by the company. When asked specifically about add-on/attachments rate sales on the conference call, the following is what management had to say:
Question: Are you able to tell us what the tie ratio, or the add-on purchase historically has been when a customer buys a pair of pants? What else do they buy in that basket?
Answer: That would be a little bit more precise than the information that we have. The average number of units per transaction is between 1.5 and 2, but couldn't break that down to when there's black Luon pants, what's the add on. We don't have that detailed information at this point.
Limbo is no place for investing and this uncertainty could ignite further downside risks in shares of LULU. Shares of LULU recently broke a long-term support level of $65 a share and only briefly rose above this key support level on March 21, 2013.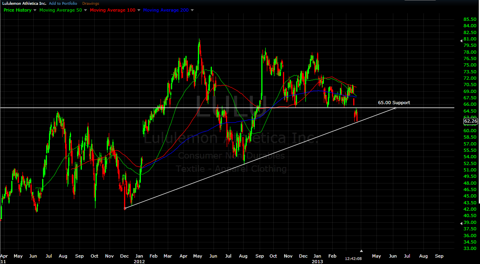 What concerns me most about LULU over the course of 2013 is the consistent slowing of same-store sales growth which was in the high 20% growth range in 2011, moderated to the low 20% growth range in early 2012, moderated further to the high teens percentage growth rate in late 2012 and is now in the mid-to-upper single digit percentage growth rate in 2013. Some believe this may be a function of their e-commerce enhancements and accelerated growth within that sales channel, but I'm not yet convinced that this is either likely or that if this is true, the totality of sales quality and therefore earnings quality is otherwise sustainable. Something is inherently askew with the business model if same-store sales are showing dramatic growth rate deceleration and if there is a reasonable possibility of sales channel cannibalization. We plan to pay closer attention to the major sales channels over the course of the next few quarters.
The following are just some of the many concerns we have going forward with LULU:
Gross margin contraction due to increased SG&A and total brand spend necessitated by increased competition from the likes of Nike (NYSE:NKE) Under Armour (NYSE:UA) and The Gap via Athleta (NYSE:GPS). In many regions, Athleta stores are encroaching upon lululemon store fronts. As the company adds new lines to its product mix, which have yet to prove themselves in the marketplace, cost of goods sold as a portion of gross margins could negatively impact overall net profitability.
The business model, while successful in North America and to a lesser degree in Australia, has yet to prove itself to any significant degree on the international level. The company's 6 month+ presence in both London and Hong Kong have yet to materialize into store fronts, possibly signaling the limited growth potential overseas.
Same-store sales growth remains a high concern as the North American markets are the biggest contributor to the company's net revenues. In Canada, where the marketplace is near saturation with lululemon stores (not necessarily ivivva stores) the company is seeing some negative comps come out of the region. In 2011, the company opened 37 new stores and in 2012, the company opened another 37 stores. With the company slated to open 43 new stores this year, we believe our concerns about SSS growth are also shared by the company as it needs to accelerate new store openings to offset SSS growth deceleration.
FY13 calendar is not favorable for the company as it will not see a 53rd week in 2013 as it did benefit from this calendar shift during 2012. The company benefited from the additional 53rd week of fiscal 2012 which contributed $26.2 million in total sales.
While we view the recent quality control/Luon product recall incident as a major hiccup in an otherwise sound operational company, the technology and multi-layered manufacturing and sourcing necessary to produce the lululemon products suggest that these operational risks add to the negative sentiment surrounding shares of LULU near-to-mid term.
The company currently has a limited number of suppliers, which puts it at a disadvantage when addressing changes regarding sourcing materials. Should one of its current suppliers fail to procure necessary materials for the production of LULU garments, the company is not equipped to rapidly address this issue in a manner which meets the demands of the marketplace. We are of the opinion, that the root cause of the current recall is founded in this key concern which I originally raised in the following article.
Here are the latest research notes offered by Oppenheimer to their respective clients:
We remain cautious on LULU. Its 4Q EPS of $0.75 topped the Street by a penny as sales were modestly better than planned. Near term, 1H13 for LULU looks very muddy. Gross margins in 1H are expected to compress by ~1,000 bps, and comps are expected to trend flattish in 2Q. We remain concerned that the FY13 outlook may not be "conservative enough" as it doesn't include potential lost add-in sales from the Luon shortage. Encouragingly, the company is moving to address its quality issues and guided to a normalized selling environment by the fall. However, given the lack of visibility near term, we prefer to wait it out. Reiterate Perform. 12-18 month price target of $63.88 with a Perform rating.
In closing, it's a tough call to make here for investors. It may not be prudent to short a company with an elevated cash position as the threat of a buyback is always looming. Additionally, there are more than 20 million shares held short and at a 12-month high which could, under a short squeeze, prove to propel the stock higher. At present, I believe the shorts may be rewarded in the near term, but only time will tell.
Disclosure: I have no positions in any stocks mentioned, and no plans to initiate any positions within the next 72 hours. I wrote this article myself, and it expresses my own opinions. I am not receiving compensation for it (other than from Seeking Alpha). I have no business relationship with any company whose stock is mentioned in this article.