In my previous article, I stated I had sold off my position in Zynga (NASDAQ:ZNGA) and was looking for a new entry point. I have been spot on with my Zynga articles, including my latest, in which I stated, "My planned entry point is around 2.95-3.00." On February 21st, Zynga hit 2.90 and I added a large position with an average price of 2.98. In this article, I will provide some updates on Zynga's fundamentals, my latest thoughts and a current technical analysis.
General Zynga updates, gambling related updates and fundamentals
Nevada's online poker bill has passed. It has a provision stating that companies who illegally participated in the online gaming market between 2006 and 2011 will be banned for five years. This bodes well for Zynga, as Pokerstars, as well as other current top poker sites will have to wait 5 years before entering the gambling space.
New Jersey has passed their online gambling bill recently, which will now be the second state besides Nevada to offer Online Gambling legally in the USA
Massachusetts lawmakers are now looking to pass an online gambling bill.
Delaware is moving forward with online gambling; tomorrow, applications are due for potential service providers. I see Delaware as being the 3rd state to get online gambling going behind Nevada and New Jersey.
Illinois gambling bill is in the works as well. It will allow for games of skill and chance, so not just poker like in Nevada.
Pennsylvania has announced it is working on a bill for online gambling.
Zynga's Draw Something 2 sequel is in the works, as was leaked today. Zynga bought OMGPOP the creator of Draw Something for $180 million last year. It has since lost the huge hype it had when Zynga first bought it, when it topped the App Store's paid, free, and top grossing games chart in the first two months.
Zynga still has a huge cash pile equivalent to $1.69 a share and with ZNGA trading at $3.36 down over 75% from its 52-week highs it is a great growth and value play.
Zynga's CEO Mark Pincus spoke at the Morgan Stanley Technology Conference. He said "I definitely think that making the real money gambling experience social will make a difference when you bring the social and the identity in, things like reputation and bragging rights get a lot more exciting than if you're in an anonymous poker room."
Zynga CEO feels its social gambling experience will provide them an edge and with the company on track to release its online gambling products Zynga Poker & Zynga Casino in the next 1-2 months the future is starting to look bright.
Technical Analysis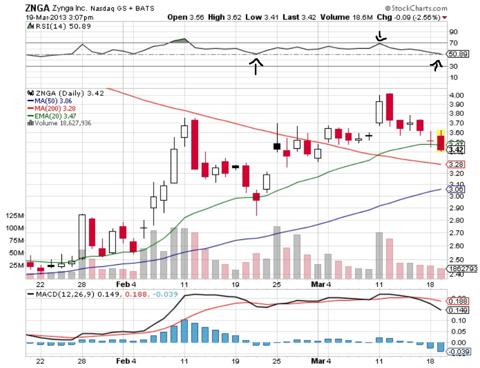 As I stated in my last article, my planned entry was 2.95-3.00. As you can see on February 21st, my entry target was hit.
I sold off my shares at $3.90 for yet another 30% gain on Zynga. I did not have time to write an article at that time but I hope many of you pulled the trigger and sold when Zynga hit $4 on March 11th.
As you can see from my arrows on the chart the RSI has been a very accurate indicator for ZNGA these past few months.
I am currently looking for a new entry point, and with the RSI getting down to 50 now, Wednesday looks to be a good entry point.
The 200 Moving Average should act as support at 3.28 and I expect Zynga to not dip below this level. This is the area I am targeting for re-entry and feel is a strong buy at this price.
My Stance & Conclusions
I believe in the long-term growth in Zynga and because of this it has allowed me to buy Zynga at lows and sell at highs.
Selling Zynga at highs and buying the dips remains a solid strategy.
Buying as close to $3.28 as possible will be a very strong buy as this level should hold and allow for long- term growth in the stock.
With almost every state now trying to jump on the gambling bandwagon, this is looking good for Zynga's future. Buying on pullbacks is great because of the future prospects. Even if it does go past my targets, or yours, it should not be drastic and the future upside will greatly outweigh the downside.
The market is in the midst of a modest pullback, with 3 red days so far this week. It is bringing stock prices down which in turn is providing us a new opportunity for entry into. With Zynga expected to release their real money gambling products in the next few months this is a great time to buy.
Disclosure: I am long ZNGA. I wrote this article myself, and it expresses my own opinions. I am not receiving compensation for it (other than from Seeking Alpha). I have no business relationship with any company whose stock is mentioned in this article.