Today we're rolling out four signficant upgrades to our website:
1. Followers/Following
Until recently, our readers were able to follow their favorite authors via watchlists. Adding a Seeking Alpha contributor to your watchlist meant that you could track new articles by your favorite authors on the home page and in a daily email alert. But watchlists were limited: contributors couldn't see who was following them, readers couldn't see which contributors other contributors thought worth reading, and readers weren't able to track comments by other readers.
We've changed that by introducing Followers and Following. You can now "follow" contributors or other readers, and view your own "followers" and those of others.
To take advantage of this feature, you don't have to do a thing: your watchlist will automatically be converted into Following.
2. My Portfolio and Real-Time Quotes
Until now, readers followed stocks via their watchlists. Just as author watchlists have been replaced with the Followers/Following lists, stock watchlists have been replaced with "My Portfolio". Through My Portfolio you will be able to better follow stocks you are tracking with real-time quotes and cleaner presentation of articles related to your portfolio. The choice of stocks in your portfolio cannot be viewed by anyone other than you.
3. StockTalk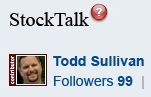 StockTalk is a new way to follow other people and communicate with your Followers.
First, StockTalk automatically notifies your Followers of your activity on Seeking Alpha. Your Followers will be able to instantly see when you leave a comment, post a new article or Instablog (more on Instablogs below).
Second, StockTalk allows you to write brief comments or thoughts that can be seen by your Followers. Whether you have only a handful of Followers or thousands, StockTalk empowers you to communicate with them directly. You can publish intraday commentary, updates to your articles (if you are a contributor), and brief thoughts on the market or on individual stocks. You can also use it to let your Followers know more about yourself and your business. Recently published a new book? Speaking at a conference? Have a new product to sell? Instantly tell all of your Followers and share the news.
Think of StockTalk as an activity feed plus a micro-blogging platform. It lets you share thoughts with those who are following you, and allows you to follow the activity and thoughts of others.
StockTalk appears on the home page and your portfolio page once you are logged in.
4. Instablogs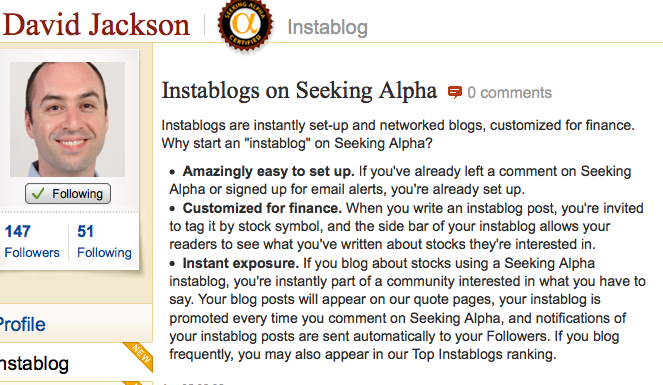 Instablogs are instantly set-up and networked blogs, customized for finance. Why start an "instablog" on Seeking Alpha?
Amazingly easy to set up. If you've already left a comment on Seeking Alpha or signed up for email alerts, you're already set up.
Customized for finance. When you write an instablog post, you're invited to tag it by stock symbol, and the side bar of your instablog allows your readers to see what you've written about stocks they're interested in.
Instant exposure. If you blog about stocks using a Seeking Alpha instablog, you're instantly part of a community interested in what you have to say. Your blog posts will appear on our quote pages, your instablog is promoted every time you comment on Seeking Alpha, and notifications of your instablog posts are sent automatically to your Followers. If you blog frequently, you may also appear in our Top Instablogs ranking.
Future Features
Our tech team has done a remarkable job rolling out these features, and we've already begun planning further enhancements to StockTalk and Instablogs, such as integration of StockTalk with Twitter and further user control over Instablogs.
In the meantime, please try the new features and let us know what you think by emailing: