From the moment that hoodie-clad Facebook (NASDAQ:FB) CEO, Mark Zuckerberg stepped out of his chauffeured SUV in New York's financial district to launch the company's IPO, the message was clear: Facebook is different than the established multi-national corporate structure that is largely represented on Wall Street.
The battle lines were drawn between many of the old-guard titans and what appeared to be an enigma to many financial professionals. This article attempts to examine in macro-scope the cultural, financial and societal shifts that appear to be underway, which could propel Facebook into a new kind of market-place model that could become more far-reaching and powerful than the currently entrenched multi-national corporate model.
Some Background:
The mighty multi-national corporate structure currently stands at the peak of its power with record profits and affects the lives of nearly every human being on the planet.
"Corpus" is the Latin root word of "corporate", "meaning body of people." Corporations have been recognized in Roman civilization since about 500 AD. They have been able to own property, sue and be sued in courts of law, perpetuate legacies and generally conduct business through representatives for well over one thousand years.
Since the industrial revolution (early to mid 1800s), there has been a huge shift of power from mom and pop businesses to corporate entities. Much of this shift was necessitated by the advance of technology itself. It would be quite inefficient to have mom and pop businesses each own a tiny portion of the intercontinental railroad--thus the need for corporate structure.
Corporate power has largely paralleled the rapid advances in technology to the point where efficiency and competition has largely shut out the mom and pop business from whole sectors of the economy. Wal-Mart (NYSE:WMT), the largest retailer in the U.S. has been able to bring incredible efficiency to the marketplace through the use of automatic ordering technology and almost fully automated warehousing and transport systems.
The Shift:
Looking past the powerful exterior, there are significant cracks starting to show in the super-efficient, split second-timing modern multi-national corporate model.
One of the most significant vulnerabilities to the current multi-national corporate structure is the fact that international market and financial technology has made it possible for capital to be moved easily and almost instantly to the friendliest and most profitable places for that capital on the globe. Meanwhile, the average citizen (in whatever country they may reside) is largely stuck with whatever tax and regulatory structure is currently in place without the luxury of instantly moving to the friendliest environment in the world at a moment's notice.
This disparity between the flexibility of multi-national corporations and average citizens has largely contributed to an enormous and growing wealth gap. It is easy to see that while many individuals and small companies are taxed at very high rates in most of the developed world, the multi-nationals can simply move their capital to the most friendly environment and stash it there, borrowing against it if need be, without having to repatriate it to a high tax environment.
The result is that many multi-nationals have a significantly reduced tax (or non-existent in the case of GE in 2010) liability, compared with average citizens and smaller companies. It is not difficult to see how this disparity in tax liability contributes to a rather unfair playing field and may well be significantly adding to the unemployment rate.
This disparity between global financial markets and lack of corresponding taxation in equal weight with smaller players is a large factor that has allowed the multi-national corporations to amass such a large share of wealth and may also turn out to be their greatest vulnerability.
In other words, the multi-national corporate structure is currently in a far-from-equilibrium situation, as they have captured such a large market share that they are now vulnerable to the fact that the average consumer can no longer keep up the pace of consumption based on the current model.
As this disparity is recognized by more and more average citizens (voters), around the world, it is likely that laws will be adjusted to reduce the disparity.
As this process of more effectively taxing corporate profits ramps up over the next years and decades, the relative power of multi-national corporations is likely to decline relative to the smaller players (who are by now very hungry).
Another point of vulnerability of the large corporate structure, is the faceless nature that it expresses to the average person. Many average consumers and voters do not really believe that there is a single human or group of human beings that can be effectively held to account for the actions of the corporation. While there may be token prosecutions of corporate players from time to time, there is a feeling that those punishments are not commensurate with the overall power of the corporate institution itself. This perception has been reinforced as the public has watched the outworking of the financial crisis and the fall and/or bailout of large corporations such as:
Enron
Lehman Brothers
Bear Stearns
AIG
The Money Center Banks
Adding injury to insult is the fact that the average person understands that they will have to foot the tax bill for decades to come, thus paying for the enormous expenses and government debt that was amassed by bailing out these massive corporations.
Facebook could become a new kind of marketplace that quantifies the value of the individual and business in ways that allow those individuals and businesses to efficiently offer their products and services to the global economy. In other words, Facebook could be the beneficiary of a new individual revolution.
It would not surprise me to see Facebook , especially the business side of Facebook, become the global marketplace for self-employed individuals and small to medium size businesses, that may in time bear some resemblance to an equity style market.
In 1792 twenty-four stock brokers gathered at 68 Wall Street in New York City, under a buttonwood tree, and signed an agreement that marked the beginning of the New York Stock Exchange.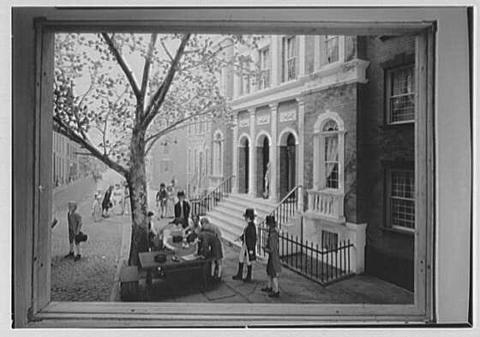 Source: Buttonwood diorama. NYSE. Museum of the City of New York
from the Gottscho-Schleisner Collection (Library of Congress)
Reproduction number: LC-G612-T-47539-A
Facebook appears to be well on its way to becoming a convenient and relatively safe gathering point where information about goods and services and those individuals that provide them can be made known to others. This is the basic element that makes a market. In my view, Facebook already shows significant promise of becoming the global buttonwood tree. So long as a multi-generational, forward view is maintained in growing Facebook, the long-term potential for growth could be far beyond famous growth stories, such as Apple (NASDAQ:AAPL), which may just be a flash-in-the-pan in comparison to the potential in store for Facebook's future.
With all the hoodie-wearing, left-coast, anti-establishment persona, Facebook appears to be well positioned to benefit from the anti-multi-national-corporate mindset that seems to be growing around the world by leaps and bounds. Facebook should be looked at as a multi-decade investment, as it is currently positioned at a major societal and cultural inflection point, as described above.
As most of us are aware, Facebook's IPO almost a year ago was less than spectacular. The stock is still trading at a significant discount to its IPO price. This is even after Facebook has made significant advances in the mobile space, which is essential to Facebook becoming a global buttonwood-style gathering point.
While valuation measurements show that Facebook is currently a relatively high priced stock, the price action since the IPO appears to have put in a fairly solid base. My view is that Facebook should be given a very serious look by investors, as it shows more potential for growth over the long term (decades) than any other company on the horizon.
My strategy with regards to investing in Facebook would be to watch for signs of the development of the type of global marketplace as described above and to scale in long positions over time that correspond with that long-term global marketplace growth framework. Basically, a classic buy and hold strategy, so long as the company maintains its vision and development of that vision.
Disclosure: I have no positions in any stocks mentioned, and no plans to initiate any positions within the next 72 hours. I wrote this article myself, and it expresses my own opinions. I am not receiving compensation for it (other than from Seeking Alpha). I have no business relationship with any company whose stock is mentioned in this article.