On April 2, 2009, Thursday afternoon, RIMM posted higher 4Q profits and gave very encouraging forecasts. "The company said it earned $518.3 million, or 90 cents per share, for the quarter ended Feb. 28… Analysts polled by Thomson Reuters had expected a profit of 84 cents per share," said AP. RIMM shares jumped more than +20% the next day, from a $49 close on Thursday to a $60 open on Friday.
I entered a call position (April 45 calls at $3.75) on RIMM on Wednesday, April 1:

In our Trading Room, I mentioned:
April 1, 2009 7:13 AM
RIMM
high volume buying this morning…
April 1, 2009 9:45 AM
RIMM
above $46, $50 is the next resistance… could jump to $55-$60 if earnings are good…
On Thursday, before the earnings, RIMM gapped-up at market open. I proceeded to lock in some profits, at $5.3 and $5.5.
These were already at +42% and +47% gains! But, RIMM's charts look so strong, I was pretty convinced that RIMM was going to delivered a fantastic quarterly report:
April 2, 2009 11:39 AM
RIMM
back to $49. seems to be getting toppy on intradays; but, daily chart reads like a big breakout coming…
I already took enough profits off the table. So, I decided to let the rest of my position ride on house money. Sure enough, RIMM did not disappoint. Immediately after the report, RIMM shares jumped above $55. It ended Thursday evening's after-hours trading at just above $60, hitting my estimated target.
On Friday, April 3, I did not even wake up with the market that morning. I issued a "limit" order to sell those Apr 45 calls at $16 the night before. It got executed while I was still asleep, giving me a +327% gain on the rest of my position.
Since RIMM was trading at above $60 the night before,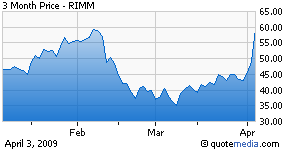 I was pretty certain that $16 would get filled for those Apr 45 calls. Those calls traded up to $16.95 on Friday.
So, what did I see that made this trade look so easy? Let's take a look at RIMM's daily chart to the right.
1) On March 31, even though, RIMM ended slightly lower, we already saw a new "bullish formation" (10-day MA above the 20-day MA, above the 30-day MA) in its daily chart.
2) On April 1, the daily MAs curved up, as RIMM traded $2.5 higher on a volume spike.
The volume spike indicated to me that big buyers were expecting a very good earnings report by RIMM.
3) On April 3, the gap-up open on even higher volume pretty much "sealed the deal"! I still played it safe and took enough profits off the table and only play with the house money, on a very high-probability trade!
Earning reports often draw a lot of attention. You have to pick the high-probability ones to play. RIMM showed a "prefect" setup:
1) A new "bullish formation" just ahead of a quarterly report often says that big buyers either already know the report is going to be good, or, they have decided to drive the stock higher regardless.
2) The successive increase in the buying volumes ahead of the earnings day was hard to ignore.
3) RIMM also has had a history of big movements after a quarterly report. The chart showed that RIMM had the room to jump to $60.
All of the above made the risk/reward ratio very favorable for the trade. In addition, my taking profits off the table early, made the trade fairly stress and risk free.

Disclosure: No positions