Gold and silver, as wells as the stocks that mine these metals have seen a sell-off in 2013. The most popular gold and silver ETFs, the SPDR Gold Trust (NYSEARCA:GLD) and the iShares Silver Trust (NYSEARCA:SLV) are down 3.6% and 4.1% year to date, respectively. The ETFs that track the miners of these metals such as the Market Vectors Gold Miners ETF (NYSEARCA:GDX) and the Market Vectors Junior Gold Miners ETF (NYSEARCA:GDXJ), are down even further in the last three months compared to the metals they produce, losing 17.2% and 13.5%, respectively, while the Global X Silver Miners ETF (NYSEARCA:SIL) is down slightly less, losing 19.5% year to date. Given this sell-off and the long term-tailwinds that gold and silver prices have due to central bank stimulus, I have opined that a buying opportunity has arisen for the long-term investor in silver and silver companies, as well as the best of breed gold stocks.
In the present article I highlight and review Almaden Minerals (NYSEMKT:AAU), a speculative gold stock, which I think could deliver outsized returns if gold and the GLD begins to rebound. In just one month, the stock has had a major sell-off from 3.17 to 2.17 or about a 31.5% year to date. Given the sell-off and after reviewing its 2012 summary and presentation, I think the stock will rebound sharply if gold continues to rebound. I think it is likely to rebound given the actions of the Federal Reserve and the trouble in Cyprus. Unlike recent opinion, I do not believe gold is in a bubble. I agree with some that the selling is likely over. Thus, AAU is a candidate for a large and fast rebound.
Who is AAU and what do they do?
AAU is a mineral and precious metal exploration company working primarilty in North America. The company has several highly interesting exploration projects. Most notably AAU has the Tuligtic and El Cobre projects in North America (figure 1). These properties are largely at early stages of development but they represent significant opportunities for the discovery of large gold, silver, copper, lead and zinc deposits. One such example is at its site at Ixtaca, Mexico where significant discoveries were made in 2010.
I like AAU's two-fold business plan. It is simple. First, AAU wants to find and acquire mineral properties that may contain significant reserves, and second develop them by seeking option agreements with others who can acquire an interest in a project by making payments and exploration expenditures. The risk involved is that paying to acquire properties that may have reserves means they could come up empty. However, this approach led to the discovery of the Ixtaca gold-silver zone on its 100% owned Tuligtic project, Mexico. This past year the bulk of the AAU's efforts have been focused on the on-going Tuligtic project drill program. Nevertheless new exploration has continued. Using this approach the company has been able to expose its shareholders to discovery and capital gain without the funding and consequent share dilution that would be required if the company were to have developed these projects without a partner. The company intends to expand this business model by more aggressively exploring several of its projects including the Ixtaca Zone.
Figure 1. Overview of North America Showing Locations of Almaden's Projects.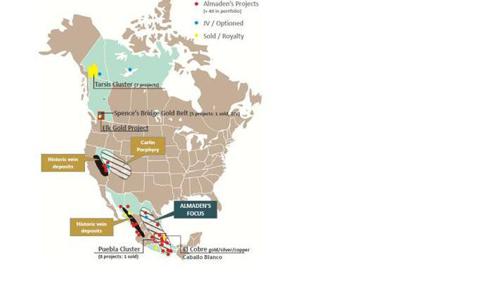 Click to enlarge
Development of the Tuligitic Property in 2012
In 2012, AAU drilled about 53,000 meters of core in 152 separate holes on the Ixtaca Zone of Mexico. In November 2012 resource estimation work was initiated on the 225 holes (81,971 meters drilled) that had already been completed at the time. After this, AAU's on-going drill program had encountered significant gold-silver intersections outside the main resource area including 134.20 meters of 3.76 grams per ton (g/t) gold equivalents and 18.1 g/t silver. Also in 2012, further preliminary metallurgical studies were initiated and are currently under way for 2013. AAU also started drilling other targets on the Tuligtic property with 5 drill holes on the Tano Zone, located about 2.4 km southwest of the Ixtaca Zone. One drilling endeavor in the Tano zone intersected 7 meters of 0.7 g/t gold. The area in-between the Tano and Ixtaca Zones is covered with barren alteration or volcanic ash deposits, which complicates the process of drilling. In general the Tuligtic project area is partially covered by post mineral volcanic ash deposits which can hide underlying potential vein zones and associated soil responses. In areas devoid of covering ash, soil sampling has defined several areas of elevated gold and silver values.
In 2013, AAU will continue drilling these soil anomalies on the Tuligtic project. Other target areas AAU wants to explore further include the Casa Azul and Sol Zones. The Casa Azul Zone is located 2.3 km north of the Ixtaca zone. Of 171 sample areas at Casa Azul, gold values ranged from below detection to 620 parts per billion gold and 30.6 g/t silver. A single grab of quartz-carbonate vein float found in the Casa Azul zone returned 2 g/t gold and 37.8 g/t silver. The Sol Zone is located 2.5 km northeast of the Ixtaca zone. Of the 36 sample areas at the Sol zone, gold values ranged from below detection to 130 parts per billion gold and 4.5 g/t silver. These represent significant potential reserves.
El Cobre Property Developments in 2012
Toward the end of 2012, AAU secured and transported a drill to its 100% owned El Cobre copper and gold project. AAU began drilling to test Titan 24 (a deep earth imaging tool) high chargeability anomalies that resulted from a survey conducted in 2011 and early 2012. Drilling will recommence when crews return in late January. Past drilling at El Cobre is interpreted to have only tested shallow and largely peripheral portions of the high chargeability zones resulting from the Titan 24 survey. The drill program has been designed to test these anomalies and areas of alteration and mineralization throughout the property.
Other exploration work
AAU also continued its regional exploration programs in 2012, particularly in Eastern Mexico. Currently AAU is acquiring claims in areas where mineralization has been identified as part of this ongoing program. Further AAU completed exploration surface mapping, sampling and geophysical work programs on the Yago, San Pedro, Mezquites and El Chato projects in Mexico. Results are being compiled from these programs and will be reported early this year.
Recent Deal with Tarsis Resources (OTC:TARSF)
Announced on March 4, 2013, AAU entered and agreement with TARSF.PK under which TARSF.PK will acquire a 100% interest in the Yago, Gallo de Oro, Mezquites and San Pedro projects, Mexico and the BP and BJS projects, Nevada. TARSF.PK will pay AAU four million common shares of TARSF.PK and grant AAU an undivided 2% net smelter royalty on any production from the projects. In addition, areas of influence will be outlined in Nevada and Mexico, where AAU has developed proprietary exploration concepts. TARSF.PK will then grant AAU a 2% NSR royalty on any property acquired by TARSF.PK within either of the two areas of interest. In addition TARSF.PK will issue 200,000 shares to AAU for each new property acquired within the area of influence at the time of acquisition. TARSF.PK will issue a further 800,000 shares to AAU upon the first disclosure of a mineral resource on each and any of the new properties. Each of the properties located in Mexico feature epithermal style gold-silver alteration and mineralization, and is prospective for both gold and silver deposits. The Nevada properties are prospective for gold as well, which means AAU stands to benefit from this transaction without investing heavily upfront.
Conclusion
AAU had major finds in 2012, primarily at the Tuligitic property. In 2013, progress and further development at the site will be made. 2013 work at the El Cobre project is setting AAU up nicely for a massive find at this 100% owned site. Regional development at other projects are also under way, and any good news from these areas will be a tailwind for the stock. Further the deal with TARSF.PK generates some income and could set the company up for future royalties. Although AAU is an exploration stage company, it has had success finding areas with decent gold and silver grades at its properties. Given the huge rapid sell-off in the stock, I think it's a god buy if you believe in a rebound in gold prices. Given the nature of the stock, a leveraged return will be provided if gold is bought up. I believe the stock will run back up in 2013, especially if AAU keeps reporting successful finds from its drilling endeavors and continues to make wise business decisions such as that with TARSF.PK.
Disclosure: I have no positions in any stocks mentioned, but may initiate a long position in AAU over the next 72 hours. I wrote this article myself, and it expresses my own opinions. I am not receiving compensation for it (other than from Seeking Alpha). I have no business relationship with any company whose stock is mentioned in this article.