Village Super Market (NASDAQ:VLGEA) is a sound chain of 29 supermarkets, mostly concentrated in New Jersey, along with Maryland, and eastern Pennsylvania, going under the name of ShopRite. It has an ex-date coming up on March 28, 2013, with a twenty-five cent ($0.25) dividend being paid on the 25th of April. This stock seems to be one that's pretty reliable and a safe-haven to glean a modest dividend.
Over 54% of the stock's 13.8 million shares outstanding are held by institutional investors, including such names as the Vanguard and Barclays. This indicates it's a stable investment that can be relied upon.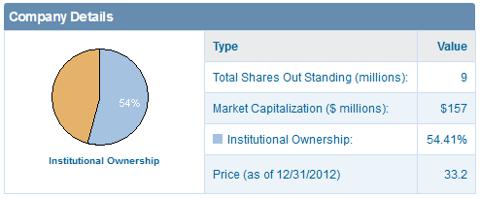 (image courtesy of nasdaq.com)
Village Super Market seems to have settled into a nice groove of dividend payments of chipping out a quarter every quarter, and then add in a dollar at year's end. This trend started in 2010, was suspended in 2011, yet was subsequently restarted in 2012 and is being carried over into 2013.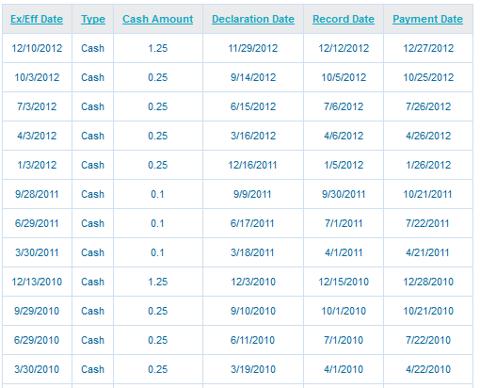 (VLGEA's dividends since 2010; image from nasdaq.com)
There really shouldn't be any worries going forward about this stock being able to make its dividend payments, nor its traditional schedule. Despite the effects of Hurricane Sandy upon New Jersey's economy, the bottom line has remained relatively steady. The net income in 2Q2012 was $9.1 million and its net income in 2Q2013 was again $9.1 million. Overall sales were actually up 5.4% from the same quarter last year.
There is a trading hazard involved in this company. It is very lightly traded on NASDAQ, with roughly a bit over ten thousand shares traded a day on average. There may also be some slight downward pressure and expectations of a lower price in the coming days, as short interest increased about 6% from February 15 to February 28. Although, if you're looking at this for its dividend, you can't really let a decline in the stock's price dissuade you, particularly since the stock is up $2 from this time a year ago.
Overall, if you're looking for a reasonably sized dividend that is counted upon by some of the largest mutual funds and institutional investors, you would do well to consider Village Super Market. It's weathered the financial storms of the past few years and seems set to continue paying a sound dividend for some time to come.
Disclosure: I have no positions in any stocks mentioned, and no plans to initiate any positions within the next 72 hours. I wrote this article myself, and it expresses my own opinions. I am not receiving compensation for it (other than from Seeking Alpha). I have no business relationship with any company whose stock is mentioned in this article.