General Electric's (NYSE:GE) stock price surged a whopping 140% in the last 2 years! That in itself is huge news for the investors. Congrats to the people who entered the trade in the right time, but the real question is where the price is heading from here onward.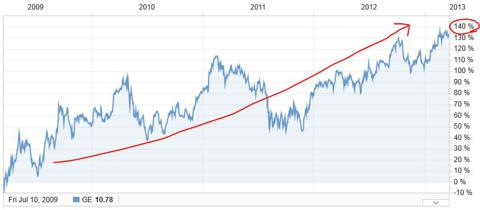 Click to enlarge
If you are curious what the analysts have to say, let us look at the table below. While most analysts out there tout GE as a strong buy, the corresponding earnings growth estimates for the next five years are expected to grow exponentially in the next two years.
| | | | | | |
| --- | --- | --- | --- | --- | --- |
| DESCRIPTION | LAST 5 YRS | FY 2013 | FY 2014 | NEXT 5 YRS | 11 P/E |
| Company | -5.30% | +9.60% | +10.30% | +9.70% | 14.10 |
| Industry | 0.00% | +4.30% | +18.00% | +10.20% | 14.90 |
| S&P 500 | +3.20% | +5.80% | +5.50% | NA | 15.30 |
In the last five years, earnings have actually gone down while the S&P 500 index has gone up. In the next couple of years, the earnings growth rate will likely make up for that (or, that is what the analysts expect).
To verify the analysts' recommendation, let us dig deeper into the company financials.
Qualitative Analysis
Let us look at the last five years' EPS summary below. It is good to see that EPS has shown continuous growth in the last five years, which means that the company is doing well when it comes to the bottom line.
DATE

SALES

EBIT

DEPRECIATION

TOTAL NET
INCOME

EPS

12/12

147.36 billion

17.41 billion

10.96 billion

14.68 billion

1.39

12/11

147.29 billion

20.26 billion

10.93 billion

14.23 billion

1.24

12/10

149.57 billion

14.19 billion

11.54 billion

12.61 billion

1.15

12/09

154.44 billion

9.86 billion

12.70 billion

10.81 billion

0.99
However, the problem is that the net margin always closely depends and should follow the graph of gross margin and EBITDA margin. If you are not making enough money from just selling your products and services, you cannot sustain your bottom line. If you are not efficient in your operations, you cannot sustain your bottom line. And that seems to be the case with GE at the moment. Take a look at the graph below.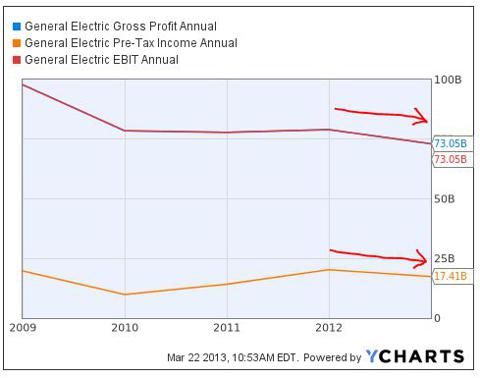 Click to enlarge
And this is in contrast with the increasing capex being incurred by the company. When the focus is more on the energy and aviation side, it is natural that the company has to incur capex regularly. But the effect on the profitability margins has not been satisfactory to be honest.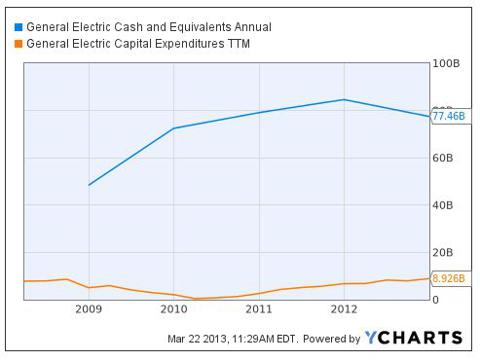 Click to enlarge
GE's long-term debt has gone down over the last couple of years, resulting in decrease in the interest expense nonetheless. And the strain on the working capital has been cushioned with higher retained earnings since 2010. But the question is whether the high capex ratio, with tightened capital availability and declining margins, will be able to sustain and not negatively affect the shareholder's equity. In other words, we need to see a better asset utilization factor, not to bother about the high capital expenditures and falling debt.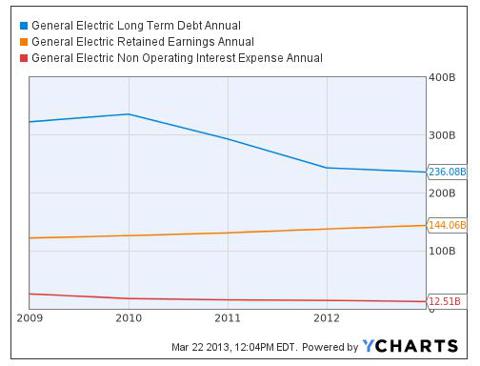 Click to enlarge
In addition to that, the tax rate is expected to rise sharply in the next couple of years. That might put additional burden on the bottom line as well.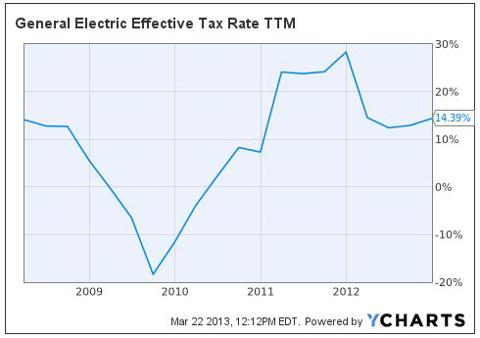 Click to enlarge
Moreover, if you look at the dividend yield graph below, it seems it has fallen over the last couple of years, even when the dividend payout ratio has gone up. That is just the effect of declining EPS over time. The question is what happens if the EPS further falls or stays stagnant at the current level for the next one year or so. I am apprehensive about a fall in stock price if that happens.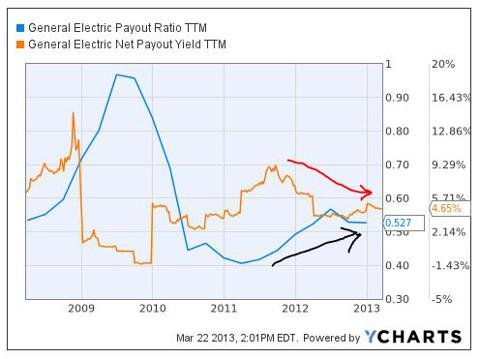 Click to enlarge
In other words, we cannot say that the company is going to crumble down, but more focus to asset utilization should be given.
Competitive Analysis
| | | | | | | | | |
| --- | --- | --- | --- | --- | --- | --- | --- | --- |
| Companies | P/E ((NYSE:TTM)) | P/S | PEG | Debt/Equity | Quick Ratio | ROA % | Operating Margin % | Net Margin % |
| General Electric | 18.08 | 1.65 | 1.23 | 1.84 | 2.85 | 2.31 | 10.9 | 9.26 |
| United Technologies | 16.5 | 1.47 | 1.12 | 0.8 | 0.84 | 6.57 | 9.04 | 8.89 |
| Siemens ADR | 17.75 | 0.93 | 0.23 | 0.55 | 0.83 | 4.58 | 6.29 | 5.41 |
| Koninklijke Philips Electronics | 95.9 | 0.86 | 16.24 | 0.33 | 0.91 | 3.96 | 4.82 | 0.96 |
| Citigroup | 18.53 | 2.32 | 0.82 | 1.27 | 1.01 | 0.62 | 15.01 | 9.51 |
| The Boeing Co. | 16.61 | 0.78 | 0.98 | 1.5 | 0.43 | 4.57 | 4.68 | 4.77 |
Valuation - While Philips' (NYSE:PHG) PE ratio is too high to even consider, GE's P/E ratio is in line with the other competitors such as Siemens (SI) and Citigroup (NYSE:C). Although GE investors seem to be putting higher value on GE's revenues, when compared with that of Boeing (NYSE:BA), I would not say it is 'off the limits'. It must be noted though that with the current P/E valuation, a lower PEG would have been better.
Leverage - Although GE's debt/equity ratio at 1.84 is pretty higher than 0.8 of United Technologies (NYSE:UTX), 0.55 of Siemens and 0.33 of Philips, the high quick ratio of 2.85 more than compensates for it. I would say that the company is still in a strong financial position.
Performance - Asset utilization looks pretty weak with ROA at 2.31%. Even though the profitability margins look good when compared to the rest, except Citigroup, the couple of quarters ahead would be highly crucial in deciding whether the company is still profitable or not.
Technical Analysis
If you look at the graph below, it is pretty clear that the stock has shown indecisive moments in the last two months. Volume has gone down, while the Chaikin MF indicator indicates equal volume for both positive and negative closes. Additionally, the exponential moving average is below the actual price line. Having said that, the RSI level of 52-ish is what is making me rethink. It is still not overbought. There is still room to grow. I believe the upcoming financial report in April this year will help the stock price make any decisive movement.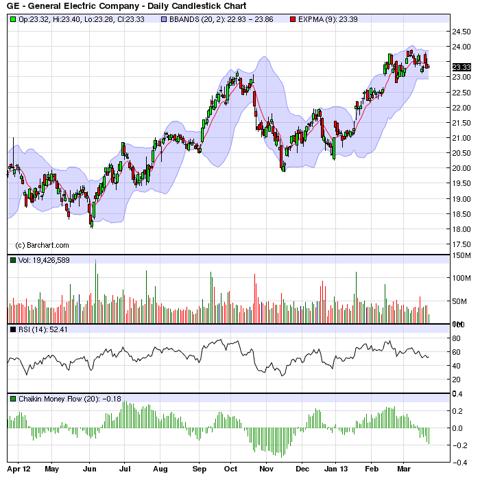 Click to enlarge
Conclusion
GE shows growth potential. I would definitely not reject the popular analysts' estimates. The strong fundamentals, the competitive edge and the global expansion of the company definitely promise future growth. Having said that, there is a strong need for the company to justify its capital expenditures. In other words, asset utilization is still an important yet undermined factor for GE. The next couple of quarters ahead will hopefully prove me wrong. For now, I am neutral about the company.
Disclosure: I have no positions in any stocks mentioned, and no plans to initiate any positions within the next 72 hours. I wrote this article myself, and it expresses my own opinions. I am not receiving compensation for it (other than from Seeking Alpha). I have no business relationship with any company whose stock is mentioned in this article.
Disclaimer: Numerical data vary according to sources, and are for relative (and NOT exact measurement).