The first quarter of 2013 seems to be going fairly well for Annaly Capital (NYSE:NLY). The company recently announced its Q1 2013 dividend of $0.45 per share, which is unchanged from the Q4 2012 dividend. This marks the first time in three quarters that Annaly has not lowered the dividend.
Also encouraging is news that Annaly appears to be near completion with regard to its merger with Crexus (NYSE:CXS) and has commenced an offer to purchase all the shares of that company. Annaly's share price has recently seen an increase, and is now trading at a very slight discount to its Q4 2012 book value of $15.85. At current prices, Annaly yields about 11.4%.
Click to enlarge images.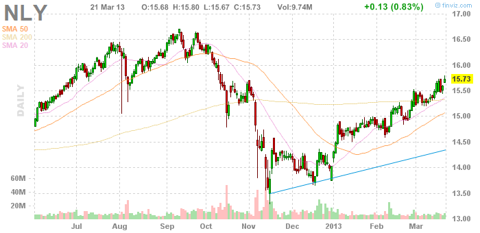 With its quarterly dividend unchanged, Annaly must have experienced some form of increase to its net interest margin (NIM) in the quarter. During Q4 2012, Annaly only had a NIM of 0.95%, a leverage ratio of 6.5X, and a yield on unlevered assets of 2.45%. I have written previously about Annaly's NIM, and felt that Q4 2012 marked the low point for Annaly's NIM.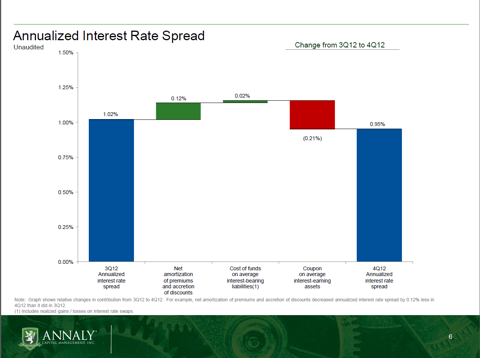 While we won't know for sure until the Q1 2013 earnings release, I think it is safe to assume that the NIM increased during the quarter for Annaly. One way to estimate this margin increase is by looking at the 10-2 year treasury spreads. Since mid-December 2012, this spread has increased by over 20%.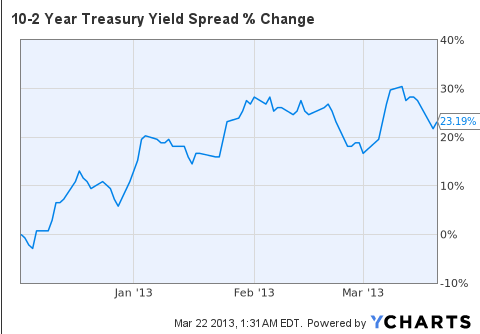 Another factor that may improve Annaly's NIM is its soon to be complete purchase of Crexus. Crexus should help diversify Annaly somewhat, since its assets are mainly subordinated and mezzanine debt. Crexus average yield on assets is near 10%, and therefore does not need to be as highly levered as Annaly.

One issue I do have with this acquisition is that it moves Annaly away from being a pure-play agency mREIT. Crexus's portfolio of assets is not even close to being as high quality or as liquid as MBS. While this may seem like a minor gripe, it is worth mentioning.
Another interesting twist for Annaly is that it is proposing that it be managed by a separate firm that would employ its current executives. Annaly states that there would be an "immediate financial benefit." However, another reason for this proposal may be for Annaly to no longer be required to disclose individual executive compensation. The management fee under this proposal would be 1.05% of stockholder equity.
Conclusion
The market seems to be warming up to Annaly, as its stock is now trading very close to book value. Since its last dividend payment in December 2012, Annaly stock has increased 12%. Annaly may start trading at a slight increase to book value as its ex-dividend date (March 27) approaches. Note that due to its high leverage, mREITs like Annaly are inherently risky investments. But the high yield should offer investors a decent risk-adjusted return.
Disclosure: I am long AGNC, CYS. I wrote this article myself, and it expresses my own opinions. I am not receiving compensation for it (other than from Seeking Alpha). I have no business relationship with any company whose stock is mentioned in this article.