It is the goal of every savvy investor to find the "next big thing," the small-cap stock that comes cheap and will one day become the five-bagger that we can look back on with pride. Spotting the winners can be difficult, but I think I've found one worth your time.
Let's take a look at Himax Technologies (NASDAQ:HIMX), whose shares have seen sharp increases amidst speculation that it won the contract to supply the microdisplays that will be used for Google's (NASDAQ:GOOG) next big thing: Glass.
If you haven't heard of Google Glass yet, you really should check them out here; they could be something of a game changer in the designer tech industry.
Himax Technologies hasn't been considered a big player in the semiconductor industry, but it has been carving its niche out over the past several years, and saw its market-cap increase by about 550 million in 2012. With all the signs pointing towards a partnership with Google, Himax appears poised to enter a new phase of their development.
Currently trading cheaply around a P/E of 13.5, with a demonstrated consistent growth pattern over the past 12 months, Himax demands a closer look as an option for your portfolio. It has significant earnings potential and delivers on a 1.5% dividend.
As you can see by the company's financials below, they experienced nice revenue growth in 2012 after 3 years of moving towards that goal. Analyst estimates show this trend continuing on double digit pace over the next fiscal year. One of the things I really like about this company is their free cash flow, because the ability to fund projects without increasing debt is a big plus for any firm. They have been able to minimize capital expenditures and it shows in their Cash-to-Debt ratio, which sits just slightly above 2:1.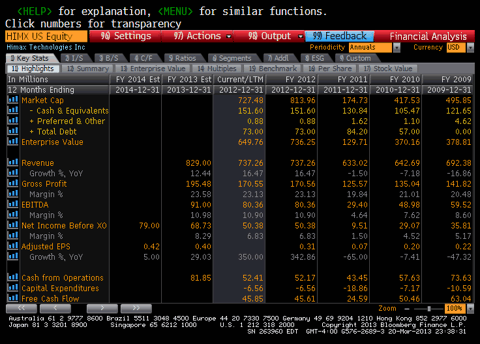 Below I have also included Himax's Income Statement. Note the 14% increase in revenue between 2011 and 2012, as well as the projected 11% increase for FY 2013.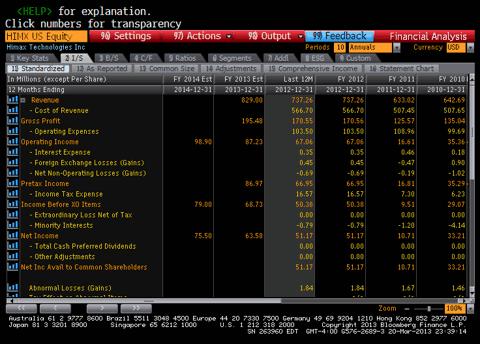 Himax shares have risen in price about 46% since January 1st. This hidden gem is gaining exposure, and once the firm's partnership with Google is officially confirmed, we can expect investor demand to substantially increase. Depending on what you consider to be a small-cap (personally I see it as a market-cap below 1B), the indicators show that this stock probably won't be one for long.
Some may say that the price action on this stock has already made its move, and the time to buy-in has passed. I strongly disagree, because Himax is a company that has not yet even begun to realize its full potential. With a world-class management team, a major contract with Google, and an undervalued share price, buy this stock and forget about it until it hits double digits.
And for more information on the Google-Himax connection, take a look at the excellent work that Mark Gomes has done in his article.
Disclosure: I am long HIMX. I wrote this article myself, and it expresses my own opinions. I am not receiving compensation for it (other than from Seeking Alpha). I have no business relationship with any company whose stock is mentioned in this article.