Well, today is THE big day. The one we've all been anxiously awaiting here in the States. The anticipation at the breakfast table this morning was positively palpable. Finally, my daughter could contain her enthusiasm no longer: "Isn't it exciting, Dad?" she gushed. "I've been waiting for this since Christmas!"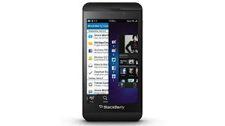 But when I told her I was excited too, and I'd let her check out my new BlackBerry (NASDAQ:BBRY) Z10 when she got home from school, she looked confused. "I don't know what you are talking about Dad," she said, "but I'm talking about Les Miserables, which is being released on DVD today."

Kids… what do they know?
Well, apparently they know quite a lot. When I went to pick up my pre-ordered Z10 at around noon today, I found no queue of anxiously waiting faithful BlackBerry customers clamoring for their new phone. In fact, including myself, there were only seven people in the store and six of them were salespeople.
When I inquired about my order, I was told that while my phone was in, the device that ports the contact and other information from my old 8500 series BB Curve to the new Z10 wasn't set up yet. So while I could have my phone, I'd have no useful information on it.
Needless to say, I was a bit… nonplussed. With all the buildup coming out of Waterloo, one would think that the folks at AT&T (NYSE:T) would be ready to hit the ground running. I asked if this wasn't a problem with other customers, and was told that I was the first customer to come into the store looking to buy the new BlackBerry. Mind you, this was two hours after the store opened. Not sure that I'd heard correctly, I asked for clarification:
Me: "So, exactly how many BlackBerry Z10 phones have you sold so far?"
Salesperson: "Well, none yet. You are the first."
Me: "None?... As in Zero?"
Salesperson: "Correct, but we have had some calls about it."
Me: "Help me out here. Have you had a lot of calls? I mean, something like you'd expect for a rollout debut of a new phone?"
Salesperson: "We've had a few calls. It's a little lighter than what we'd expect from say, the first day for the iPhone or a Galaxy."
Me: "A little lighter? How much lighter? What was it like with the iPhone 5 or the Galaxy IV?"
Salesperson: (laughs) "We were packed."
Disappointed, I left the store, without my new BB Z10, but with a promise that if I came back over the weekend I'd be able to get the information ported from my old BB Curve.
I wondered if my experience was unique, so I did a quick search of the authorized AT&T stores in the area, and I actually went and visited seven of those stores and called three others asking the same questions about Z10. I was shocked at the response.
Two.
The answer was two phones. Ten stores. Two BB Z10 phones sold.
In total.
At 3:30 in the afternoon.
On the way home, I stopped at Barnes and Noble (NYSE:BKS) and picked up a copy of Les Miserables for my daughter. I asked the salesman how many copies of the DVD they had sold today, and he laughed
"More than I can count," he said.
Disclosure: I have no positions in any stocks mentioned, and no plans to initiate any positions within the next 72 hours. I wrote this article myself, and it expresses my own opinions. I am not receiving compensation for it (other than from Seeking Alpha). I have no business relationship with any company whose stock is mentioned in this article.