I'm not as excited as a lot of people about Glu Mobile (NASDAQ:GLUU), and I do not understand the general enthusiasm about this stock as well. Everybody is only focusing on the potential acquisition of the company, and people are forgetting the essential (according to me, Zynga (NASDAQ:ZNGA) hasn't enough money to buy Glu). But don't forget to look at the numbers in the income statement, cash flow statement and balance sheet before dreaming. You will see awful numbers in the last annual report, and numbers are the strongest indicators about how a company is going at the moment. I will try to prove you Glu is not the company you really imagine by analyzing the income statement of the company.
Income statement analysis
Here is the income statement of the company computed with percentages in order to make numbers more understandable.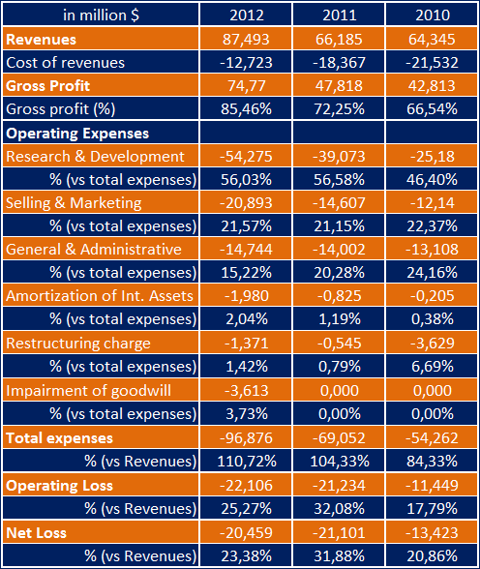 There are only two good points in this table: the gross profit margin and the large increase in the revenues between 2011 and 2012. The gross profit margin is very high at 85% in 2012 and increasing year-over-year. This can be attributed to the fact that mobile gaming is not a competitive market and still represents great opportunities of growth. Or, Glu has a strong competitive advantage at the moment. The large increase in the revenues between 2011 and 2012 is also a good point for the company.
There are also worrying numbers like the expenses that are totally out of control. Total expenses were at 84% of the total revenues in 2010, at 104% in 2011 and they rose to 110% in 2012. It is an increasing trend showing a big problem for Glu in the near term: the level of expenses increases faster than the revenues (the main reason is the large increase in the research and development expenses). Therefore, it is impossible for Glu Mobile to become profitable in the mid term and this situation will impact the cash position over the next quarters. The management really needs to optimize its cost structure if it wants to make a profit. Moreover, everybody will agree with me; a loss of $20.459 million compared with revenues of $87.493 million isn't sustainable in the long run even for a growth stock like Glu Mobile.
Real-money gambling
Despite these awful numbers Glu has penetrated an interesting new market area with real-money gambling. In a press release some days ago, the company stated:
"We are pleased to expand our mobile portfolio to include real-money gambling. We anticipate that real-money gambling will continue to gain momentum globally and believe that with this offering, Glu is well positioned to capitalize to the extent that additional markets adjust regulations," said Niccolo de Masi, Chief Executive Officer of Glu Mobile. "We plan to leverage Probability's extensive partner network to further extend Glu's successful original IP to new demographics."
I agree that it is an important opportunity for Glu Mobile to generate more revenues, but it won't be enough to make a profit in the short run.
Conclusion
Glu is certainly a great company in a growing market with great opportunities, but the company is not fairly priced; it is substantially overpriced. According to Google Finance, Glu has a price to book ratio around 5.5 and a price to sales ratio around 2.5. To put things in perspective, we can compare with Zynga (price to book ratio around 1.5 and price to sales ratio around 2) and we can see that at $3.3, Glu is expensive. Moreover, do not forget to remember that the total expenses of the company are higher than the revenues, and the operating loss has been huge since the three last years.
Disclosure: I have no positions in any stocks mentioned, and no plans to initiate any positions within the next 72 hours. I wrote this article myself, and it expresses my own opinions. I am not receiving compensation for it (other than from Seeking Alpha). I have no business relationship with any company whose stock is mentioned in this article.