"…the difficulty, which we believe most EM managers are currently experiencing, is finding stocks with a combination of low valuations AND improving fundamentals." - Deutsche Bank Markets Research
Many smart and successful investors have favored emerging market ("EM") equities (EEM, VWO) for the better part of the last decade. In the early 2000's equities in the emerging world were unloved and unnoticed. Following a series of economic and financial crises, a positive shift was underway towards freer capital markets and less state control over corporate governance. In addition, China (FXI, MCHI, GXC) was in the early stages of an incredible infrastructure build out and urbanization transition. Stocks were cheap and fundamentals were improving - a perfect scenario for any equity investor. This set the stage for emerging markets' equities to return over five times that of US equities over the ensuing five years leading up to the first signs of the debt crisis in late 2007.
Since the financial crisis the reasons for favoring EM have changed. In a world where most developed countries are struggling under the weight of excessive debt and lackluster economic growth, emerging economies stand out as a diamond in the rough. The embedded chart from JP Morgan plots debt-to-GDP on the horizontal axis and real GDP growth on the vertical axis.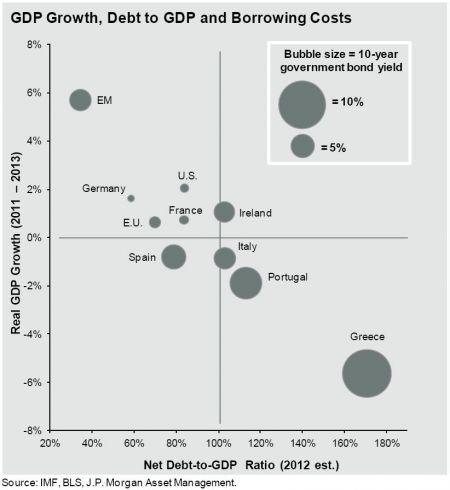 The further left on the chart a country is the less debt they have, and the higher on the chart they are the more economic growth they have. Thus, the preferred location on the chart is the upper left quadrant. In contrast to Greece and some other European countries, EM is the clear winner on this chart exhibiting very low levels of debt and high growth. This thesis, along with relatively attractive valuations, has been our primary reason for overweighting EM in our equity allocation.
But relatively attractive economic fundamentals have not translated to consistent outperformance from EM equities. The chart below breaks the last five and a half years up into three distinct regimes, comparing the performance of the iShares MSCI Emerging Markets ETF (NYSEARCA:EEM) to the SPDR S&P 500 Trust (NYSEARCA:SPY). The first regime, from 10/26/07 through 3/9/09, represents the collapse in stocks that occurred during the global financial crisis. During this period of time the two markets tracked each other relatively closely with EM finishing a little lower than the US. The second regime, from 3/9/09 through 11/4/10, represents the strong rebound in global equities from extremely washed out levels. Over this period EM outperformed the US by over 55% as capital flooded back into the markets with the strongest fundamentals. The third regime, from 11/4/10 through present, has seen US equities vastly outperform EM despite economic fundamentals that continue to appear much weaker than those in the emerging economies. This third regime has been a source of great frustration for us as the persistent relative weakness of EM equities has been a definite drag on performance within the equity portion of our portfolios.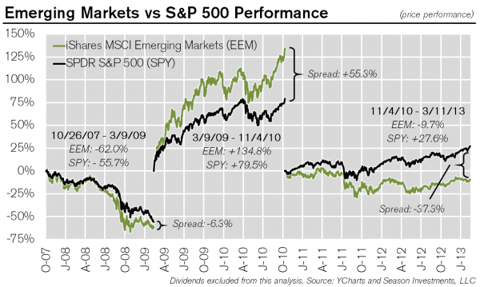 So what did we get wrong, and why has this relative weakness persisted? The embedded table compares the change in price, earnings and P/E multiple for EM vs. US equities for each of the three regimes listed above.

During the first two regimes we see that EM's underperformance and subsequent outperformance stemmed primarily from divergences in earnings growth between the two regions. For instance, during the second regime EM's P/E multiple expanded only 42% vs. 49% for the US, yet earnings growth was over three times higher.
That said, our main focus is on the third and present regime where the data shows that EM's recent underperformance is stemming from both slower earnings growth and a declining P/E multiple. One conclusion we draw from this data is that attractive economic fundamentals do not always translate into superior earnings growth for local companies, and vice-versa. This is evidenced by earnings growth in EM of only 7% vs. US growth of 25%. While emerging markets' economic growth has slowed it has still been quite strong, yet local companies have had a difficult time growing the bottom line over the past two and half years after the strong rebound from the financial crisis bottom. Meanwhile, US companies have done a better job expanding margins and consistently increasing earnings despite tepid revenues. In an ironic twist, the extension into emerging markets by US-based multinationals has been one of the factors driving strong earnings in S&P 500 companies to the detriment of smaller, local competitors. Not anticipating this dynamic was our first mistake in maintaining an overweight to EM equities throughout this period.
Also interesting is the fact that the earnings multiple in the US has been bid up (see Can the Stock Market Repeat?) while the multiple on EM stocks has declined by 16% during the third regime. This divergence has been especially noticeable over the past twelve months.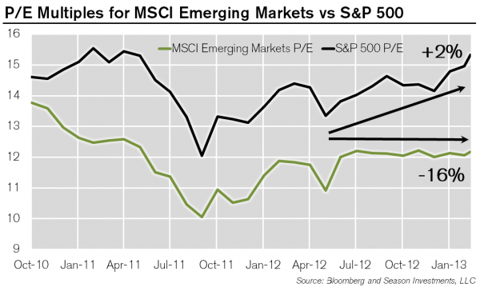 This is a clear mandate from the market, and reflects relatively positive sentiment towards the US vs. EM. As a result, a second conclusion we draw from this data is that our outlook on China was dislocated from the broader markets. Its sheer size notwithstanding, China is integral to the emerging world in that its immense demand for natural resources is a key driver of economic growth in many emerging economies. One of our key themes a year and a half ago was that China would successfully engineer a soft landing and the worries over a more serious economic downturn were far overblown. This conviction is one of the reasons for our exposure to Chinese equities, coal stocks (WLT, CLF) and broader emerging market plays (EEM, IHD). While the recent data seems to confirm that we were correct in calling for a soft landing in China, there is still a lot of uncertainty over China's real estate market and shadow banking activities that we believe is causing investors to opt for the "safer" play of blue-chip equities in a US economy that is slowly showing signs of life. We were obviously too bullish on Chinese growth beneficiaries, our second mistake in maintaining an overweight to EM.
In recent weeks, we have become increasingly concerned that the relative weakness from these holdings will persist. Our bullish conviction is now almost exclusively one of valuation - these stocks are simply cheaper than the rest of the world and their own historical norms. However, the fundamental arguments in favor of EM equities are becoming weaker in our view. Local companies are clearly not always the best way to benefit from economic growth, and the data out of China is becoming more concerning despite the recent uptick in growth. An overheated housing market and increasingly leveraged financial system are beginning to remind us of the US in the mid-2000's when the signs of the coming collapse were relatively clear to those who were looking for them. Not only could this uncertainty cause the gap in valuation between EM and the US to continue, but it also creates a more negative skew in the potential outcomes leveraged to the Chinese growth theme. Despite being incredibly late to make this adjustment, we're just not sure the cheapness of these stocks justifies the risk and are therefore looking to reduce our exposure to EM at some point soon.
Disclosure: I am long EEM, FXI, WLT, CLF. I wrote this article myself, and it expresses my own opinions. I am not receiving compensation for it. I have no business relationship with any company whose stock is mentioned in this article.
Additional disclosure: Transparency is one of the defining characteristics of our firm. As such, it is our goal to communicate with our clients frequently and in a straightforward way about what we are doing in their portfolios and why. This information is not to be construed as an offer to sell or the solicitation of an offer to buy any securities. It represents only the opinions of Season Investments. Any views expressed are provided for informational purposes only and should not be construed as an offer, an endorsement, or inducement to invest.