Athletic apparel giant Nike (NYSE:NKE) announced fantastic third quarter results Thursday afternoon. Revenue from continuing operations grew 9% year-over-year to $6.2 billion, just a touch short of consensus expectations. Earnings from continuing operations jumped 20% year-over-year to $0.73 per share, easily exceeding consensus estimates as the company rid itself of the less profitable Umbro and Cole Haan units.
On the cost side, Nike's gross margins grew 30 basis points year-over-year to 44.2%, as the firm lapped higher input costs and benefited from higher pricing. Gross margins would have been even stronger if it wasn't for high discounting in China and continued weakness in Europe. SG&A remained relatively flat year-over-year at 30.1% of sales as increases in operating overhead jumped 11% year-over-year. Because of the brand's strong momentum, demand creation (marketing) expenses increased just 5% compared to the year prior.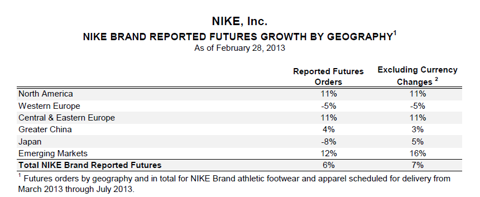 Click to enlarge
On a geographic basis, North American results continue to be robust. Total revenue in Nike's most mature market jumped 18% year-over-year to $2.5 billion, driven by a 15% increase in footwear sales, 22% surge in apparel sales, and a 49% growth rate in equipment sales. EBIT (earnings before interest and taxes) swelled 24% year-over-year to $625 million. Some market participants worried about Dick's Sporting Goods (NYSE:DKS) weak quarter, but it clearly had minimal impact on Nike. Basketball remains among the firm's hottest category, and we believe it will result in stronger sales momentum at Finish Line (NASDAQ:FINL), which has been working to get more exposure to the product category. Nike's momentum in running and apparel also remains evident. Future orders (shown above for all geographies) were up 11% in the region, and we believe Nike could leverage its NFL license in various ways in the coming years.
Western Europe remains a modest challenge, but we saw results recover nicely in the third quarter, driven by a 14% increase in footwear sales. Total revenue in the region increased 8% year-over-year to $1 billion, and management singled out the UK and Germany as pockets of strength in an otherwise weak retail environment. EBIT increased 19%, suggesting the company's margins are improving. Nike Brand President Charlie Denson noted that footwear strength was mostly a performance story, saying:
"…but we have a great performance story in running. We are even starting to see some interest in basketball in Western Europe. But it's really being driven by the running business. Then we had a very nice response to some of the new introductions of our sportswear footwear business as well. Those are the two things that are driving most of the Western European success right now."
Results in Central & Eastern Europe were also strong, growing 16% year-over-year to $318 million (up 13% constant currencies). Apparel drove terrific growth, with sales jumping 24% to $119 million. Russia and Turkey were particularly strong, and we think the region represents a long-term growth opportunity for Nike-especially as the retail infrastructure develops.
Nike's management team noted that they are "laser focused" on China, but results in the region failed to improve. Sales declined 9% year-over-year to $635 million, and EBIT tumbled 20% year-over-year. We also noticed that management tried to talk down results in China, going as far as to say a 3% increase in constant currency future orders may not be indicative of performance. Our big worry here is that China's economy is in worse shape than it seems because a slowdown in China could hit several pockets of global growth. We think Nike's brand remains a category leader in China, and as we said, macro concerns are more pertinent at this time.
Emerging markets have slowed considerably over the past few years, as revenue increased just 6% (8% ex-currency) in emerging markets. EBIT grew just 3% year-over-year, suggesting margins at least slightly contracted in the third quarter. However, we feel bullish about the firm's long-term opportunity-particularly in Brazil, where we see two major catalysts ready to surface in the World Cup and the Olympics. CEO Mark Parker agrees, saying:
"…let's look at Brazil, a place we have been doing business in for the past 20 years. I was there just last week in Rio and Sao Paulo and the excitement is obvious. Incredible pride and anticipation ahead of World Cup next year and the Olympics in 2016. I am really looking forward to working with those athletes, teams and federations. These events are special in the world, and they serve as inspiration points to push the boundaries of what's possible in innovation. They bring out the best of us at Nike. They always have and they always will."
Storytelling is a big part of what Nike sells, and both events could provide various opportunities to tell athletic stories. We see a huge opportunity sitting just on the horizon.
Overall, we thought Nike's third quarter was fantastic, even though the firm sees some hiccups from China in the near term. Looking ahead, the company sees fourth quarter revenue growth in the mid-single digits with 50 basis points of gross margin expansion. Year-to-date, free cash flow has been strong, more than doubling to $1.25 billion. As much as we love the company and believe it is one of the best run in the world, we think shares look fairly valued at this time.
Disclosure: I have no positions in any stocks mentioned, and no plans to initiate any positions within the next 72 hours. I wrote this article myself, and it expresses my own opinions. I am not receiving compensation for it (other than from Seeking Alpha). I have no business relationship with any company whose stock is mentioned in this article.