As far as victims of the banking crisis go, there are few better exhibits than Bank of Ireland (NYSE:IRE). The equity alone tells a story of severity, declining by over 99.5% over a four year period. Yet the bank is still alive and may be beginning to climb out of a "Zombie State," which has characterized the institution since global equity markets began to rebound in 2009.
The catalyst for this potential new line of thinking stems from a variety of sources beginning with the recent announcement of full year 2012 results. A steadily increasing net interest margin throughout the year rising to 134bps in H2 from the 120bps recorded in H1 shows that there is a tangible reward for efforts of management to stem loan losses, cut costs and increase profitability.
Furthermore, it was announced on 26th February that the deposit guarantee scheme introduced by the Irish government would be disbanded at the end of March 2013. This has been a significant drag on net margins as Irish banks have had to pay for this deposit protection. Bank of Ireland alone paid out almost €500M in 2012 to the government, equating to 10% of market capitalisation.
From a domestic funding standpoint, Ireland as a sovereign state has managed to attract international capital in 2013, raising €7.5B out of a target for the year of €10B, the majority of which (60% on the most recent issue) has been by "real money" investors such as pension and insurance funds and most recently issuing a 10-year at an impressive 4.15% yield. Bank of Ireland appears to have followed suit raising €250M in Tier 2 Capital in December 2012 (this issue was oversubscribed by 3-4 times) together with a subscription at above par for €1B of contingent convertible notes in January. This return to the capital markets is a significant step on the road to recovery and bodes well for further parts of restructuring. Once more, the government has now disposed of 79% of their initial funds committed. A full detachment will be a huge milestone for the bank and this looks to be well ahead of schedule.
From a bottom-up analysis, the spread between deposits and new mortgages has been trending higher without significantly hampering growth of the deposit base. In fact, the spread between mortgages and deposits has been widening, while the loan-to-deposit ratio has been trending lower meaning that the bank has been able to increase margins while still improving the fundamentals of the business.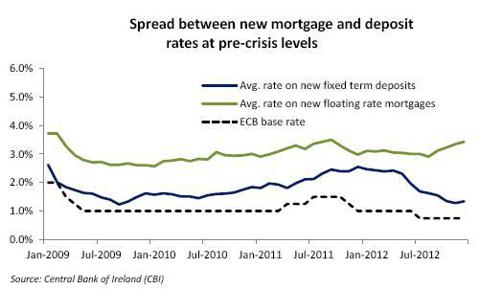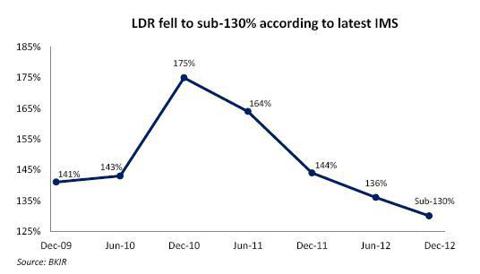 Although the bank is based out of Ireland, the loan book has a significant 51% exposure to the UK. Although this may bring additional risks, it can also be viewed as good diversification given that although it is a peripheral name, it may be the case that the market has failed to recognize that it can be brought into similar comparisons with the likes of Barclays and Lloyds. With respect to impairments in the loan book, it appears that these peaked in 2009;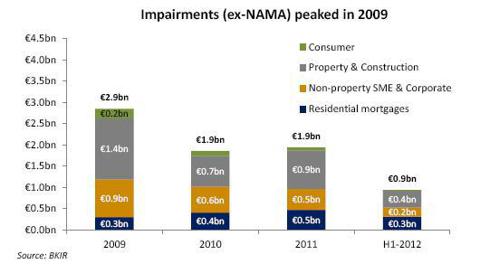 Further to this, house prices in Ireland have somewhat leveled off in what may be interpreted as a bottom. After more than four straight years of significant decline, 2012 saw a relatively flat period;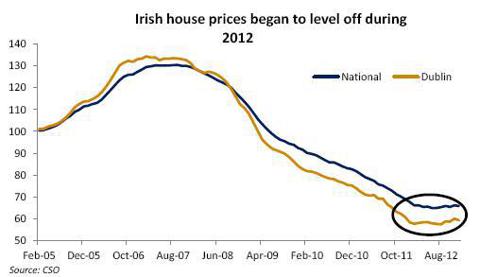 Tier one Capital ratios have also been steadily improving since the beginning of the crisis and now stand at 14%, far higher than competitors. However, this can be misleading as a significant part of this is made up of preference shares (€1.8bn outstanding) owned by the Irish government. If not paid back by the end of March next year, there will be a step up in principal of 25%, meaning an additional payment of €450M to the government.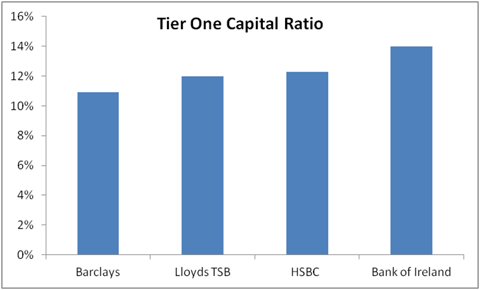 The above would suggest that Bank of Ireland is on the road to recovery and could be a great long-term purchase. The question is how best to get involved? What part of the capital structure is most attractive? Sadly, this is an unknown given the uncertainty over a significant capital raising needed to redeem the pref shares. This will likely involve a rights issue which, depending on the amount raised with equity, could put significant downside pressure on the shares. Too much weighted towards debt together with a drop in capital ratios may shock the bond markets. It is likely management will aim to strike a balance depending on the appetite in the market. The Tier Two Capital and Contingent Convertible Notes (which trigger into equity after tier one capital ratios fall below 8.25%) both offer a yield of approximately 10%, a significant premium over Irish sovereigns and perhaps more significantly, a significant premium over Lloyds TSB Enhanced Capital Notes which are similar to the contingent convertibles and are currently yielding c. 6%. Given that a decision is likely to be announced on capital raising intentions any week now, the best thing is to have your finger on the trigger for equity and debt alike. This appears to be one of the biggest and remaining hurdles and given a semi-stable macroeconomic environment, could be the start of a return to normality.
Disclosure: I have no positions in any stocks mentioned, and no plans to initiate any positions within the next 72 hours. I wrote this article myself, and it expresses my own opinions. I am not receiving compensation for it. I have no business relationship with any company whose stock is mentioned in this article.