Warren Buffett, chairman and CEO of Berkshire Hathaway (NYSE:BRK.B), widely considered to be the greatest long-term investor in recent history, has said:
It's far better to buy a wonderful company at a fair price than a fair company at a wonderful price.
General Mills Inc (NYSE:GIS) fits this criteria and belongs in any long-term investors portfolio.
Brands
Some notable GIS brands include Cheerios, Wheaties, Pillsbury, Haagen Daz, and many others. The strength of these brands is what makes GIS a wonderful company. Over time, consumers have developed fierce loyalty to many GIS products.
Recession Resistant
In addition to GIS's high quality brands, another reason why GIS is a great company is its lack of sensitivity to economic conditions. Simply put, people need to eat no matter how the economy is. Of course, like any other company, GIS will benefit somewhat from a stronger economy as consumers will be able to spend more at the grocery store. However, if the economy takes a turn for the worse, GIS will not be greatly affected.
Dividend History
As shown by the chart below, GIS has continuously raised its dividend over time. It is also worth pointing out that GIS has not cut the dividend, this speaks to the strength of the company.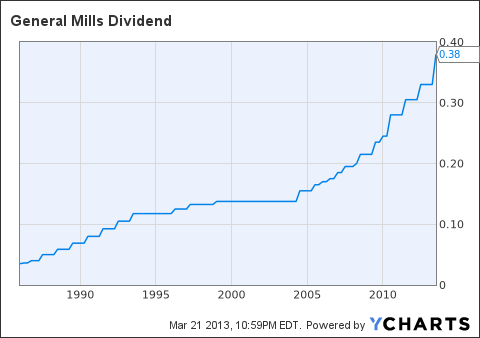 GIS Dividend data by YCharts
Valuation
As shown by the chart below, GIS is trading at a relatively high valuation. Due to this, I am not sure GIS is a good buy for short-term traders. I do not believe there is any reason why GIS will breakout of its historic valuation range.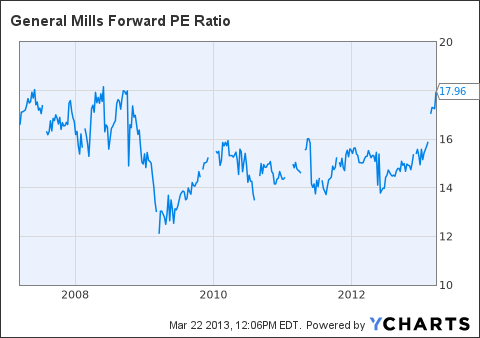 GIS Forward PE Ratio data by YCharts
Potential Berkshire Target?
Despite Berkshire's recent deal to acquire part of Heinz (HNZ) with Brazil based 3G, Warren Buffett has said that he remains ready to do a larger deal. Based on most accounts, GIS would be a good fit. The company has strong brands and is engaged in an easy to understand business. However, given Berkshire's recent Heinz deal, GIS may be too large a deal for Berkshire. Right now, GIS's equity is valued at nearly $31 billion and the company has debt of about $8 billion. Given a reasonable premium, any deal would likely cost more than $40 billion, which right now, is more cash than Berkshire has to make a deal. That being said, a deal is not impossible. If so desired, Berkshire could issue stock to fund a portion of the deal as it did to buy Burlington Northern Santa Fe a few years ago. It must be noted that Berkshire has actually been buying back its own shares of late. Warren Buffett has said that buying back shares is attractive so long as Berkshire stock is trading below 1.2 times book value. However, as shown by the chart below, due mostly to the rise in Berkshire stock price, Berkshire is now trading well above 1.2 times book value, or the stated buyback valuation. I would be somewhat surprised to see Berkshire make a play for GIS, but it is certainly possible.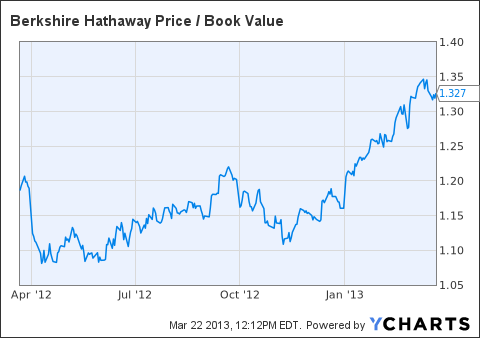 BRK.B Price / Book Value data by YCharts
Conclusion
GIS is, in my opinion, one of the few that investors should buy and hold. GIS has a strong brand portfolio, a recession resistant business, and a track record of rewarding shareholders. I would, however, given the current valuation, wait for a pullback before committing new money to GIS.
Disclosure: I have no positions in any stocks mentioned, and no plans to initiate any positions within the next 72 hours. I wrote this article myself, and it expresses my own opinions. I am not receiving compensation for it (other than from Seeking Alpha). I have no business relationship with any company whose stock is mentioned in this article.