Actionable Items:
Highest Positive Spread: Invesco Insured Municipal Income Trust (NYSE:IIM)
Focus Stock: Cohen & Steers Infrastructure Fund
Last Week's Focus Stock: BlackRock MuniAssets Fund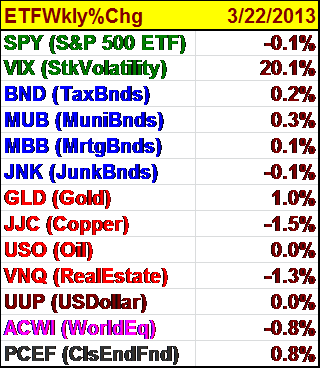 Cyprus Banks: The European Central Bank said if the banks are not recapitalized, it would cut off emergency aid in Cyprus if a bailout deal isn't reached by Monday. While the U.S. government may not feel any pressure from 800,000 Cypriots "bankrupting" themselves, this is a "systemic" problem.
Systemic: If Cyprus decides to go on its own (which shouldn't be the case) Cypriots (and wealthy Russians) will in fact lose part of their money in an effort to recapitalize the banks. Portugal, Ireland and Greece all share with its taxpayers its bank lending problems. Cyprus is a problem which the Eurozone may not be ready to resolve. "Riots in the streets" will go a long way for those in Ireland, Portugal and Greece not to do the same.
The ETFs: The ETF sectors are arranged in order on 3/22/13. Mid-Cap, Health Care and Consumer were leaders. Emerging Markets, Asia/Pacific and Commodities were laggards.
If Commodities suffer, I'm not sure we're going to grow in the second half of the year.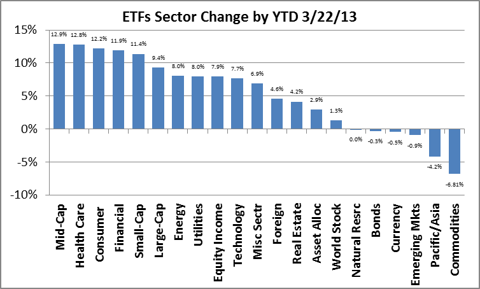 CEF Weekly Fund Type Performance: This week's price rise for CEFs was for NatlMuniBndFnds, SingleStMuniFnds and HiYldBndFnds that skyrocketed 2.9%, 2.5% and 2.2%, respectively. WrldEqFnds, GenEqFnds and ConvtSecFnds were on the laggard size with -0.9%, +0.2% and +0.5%, respectively. The WrldEqFnds may have worsened with the Cyprus banking crisis. The WrldEqFnds price was a negative 0.9% and a negative 1.4% for NAV values with positive PrcNAVSprd 0.5% (positive may decline on price values.) However, most of the PrcNAVSprd were up.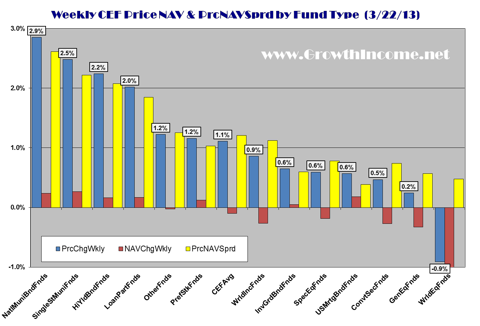 Highest Focus Stock for the Week: Invesco Insured Municipal Income Trust was ahead by a price increase of +7.3% and NAV per share increase of +0.2%. The PrcNAVSprd was +7.0%. (A positive number may be a decline for share price CEFs). There is a big buyer in the stock. Stock volume was an average of 431,240 for the 5 days. The number of 185,353 was for a 3 month daily average. The stock "gap-up" on Wednesday with over 1,074,000 volumes traded in the day.
The stock got down to a 52 week low. The net assets are $921 million and structural leverage is 15.1% and non-structural leverage is 14.7%: an average of 29.8%. California represents 2.7% of its bonds. The distributions' yield is an annualized monthly 5.7% (taxable equivalent yield of 8.6%) that will likely be in the beginning of the month.
Lowest Spread and Focus Stock for the Week: Cohen & Steers Infrastructure (NYSE:UTF) share price declined -3.5% with a negative -0.5% from its NAV per share. Its PrcNAVSprd decline was -3.0%. Net Assets are $2,587 million and common equity is $1,887 million. There is structural leverage of $800 million. The discount is 8.9%. Aggregated annualized quarterly yield is 7.1% of which approximately 2.3 is a return of capital. The ex-date is 3/18/13. The other distribution would be sometime in June. Approximately 9.0% of the portfolio is cell phone towers.
Focus Stock & High Price for Last Week: Last week's focus stock for the week was BlackRock MuniAssets Fund (NYSE:MUA) which was up 4.1% for the week-ending in 3/22/13. The highest spread (stock that is likely to go down) was BlackRock MuniHoldings Fund II (NYSE:MUE) down slightly -0.1%.
Disclosure: I am long UTF, MUA. I wrote this article myself, and it expresses my own opinions. I am not receiving compensation for it. I have no business relationship with any company whose stock is mentioned in this article.