Timothy Geithner is asleep in his bed. A loud noise is heard. The rattling of a long and heavy chain. He is startled into consciousness. There is an apparition in his chamber.

TIMMY:
Who are you? Are you security? You do not look like security. You look dead!

LORD K:
I am dead. I am Lord Maynard Keynes. Do not be frightened. I mean you no harm.

TIMMY:
What are you doing here? It's three in the morning. I have to testify today!

LORD K:
You testify every day. This is important. Do you know who I am?

TIMMY:
Yeah sure. I had an economics class in Dartmouth once. You are the guy that said, "In the long run we will all be dead."

LORD K:
Interesting that you should remember those words and so little else of my work. You have been taking my name, work and reputation in vain. There are penalties for that.

TIMMY:
I did that? Why are you here and what is that chain you are carrying around? And what do you mean about penalties?

LORD K:
The penalties will come to bear in the court you will face one day. As to the chains, they are my onus. For each $100 billion that the public sector has borrowed in my name a new link is formed. It is getting longer by the week. I am here to warn you that you are pursuing the wrong policies. These steps that you have taken may not succeed.

TIMMY:
Why not? We are doing everything you told us we should be doing!

LORD K:
That is not true. You and the other financial advisers to the President know that.

TIMMY:
Well, Goolsbee and Summers say that we have to follow your economic principals. We have established an "interventionist" approach. The goal of our economic policies will be to offset the drop in the economy with fiscal and monetary stimulus. We are spending a bundle on this! We are going to be building roads and schools and getting people back to work just like you said. What is wrong with that?

LORD K:
Re-read my work. My rules are simple. An economy is a living thing. At times it has energy to grow and at times it ebbs. It can spiral up too fast and it can spiral down. If either extreme is not met with intervention then the cycle will get out of control.

To stabilize the economy in 2009 I would have advocated that you meet the anticipated drop in private sector demand with an equal increase in public sector consumption. If you don't, the downward spiral will continue. The economy will suffer a drop in GDP of at least 6% over twelve months. That means a drop in demand of $1 trillion. Your stimulus is for only $800 billion over two years. You are spending less than half of what is needed.

In addition, I argued against infrastructure projects as a mechanism to provide short term stimulus. They take too long to implement and the spending is stretched over too long a period of time. Your policies create the risk that in twenty-four months the economy has not recovered and the downward spiral I described will continue. The negative pressure is self perpetuating.

TIMMY:
Gee wizz! We had a heck of a time selling the $800 billion deal. No way we could have asked for more. And if you are thinking that tax cuts are the answer you can forget about that. We are boxed into a corner on that issue.

LORD K:
Without tax cuts your plan will fail in the short run. Remember that President Roosevelt resisted my policies until 1938. Nine years after the start of the depression. You are at best eighteen months into this one. By '38 the economy's downward spiral had ended. My stimulus measures were well timed. Roosevelt only adopted my ideas because he was looking to Europe and the coming need for the the Lend - Lease program to support England. It was the build up to war that ended the depression. My policy merely created the mechanism to finance it.

My theories on economics worked in 1938 for special reasons. Economic intervention has worked well in all of the post-war economic cycles because the swings in GDP were much smaller in size than what you face today. You are almost out of policy options.

TIMMY:
Now you have me worried. What can we do?

LORD K:
America needs to re-think it's long term economic goals. The United States is a mature economy. An annual growth rate of 1% is a more reasonable expectation. You are attempting to re-establish the old average rates of 3%. That number is no longer the 'optimal' growth rate. You are attempting to sustain something that was not sustainable. The end result will be that you will have created a debt load that will sink the economy for decades.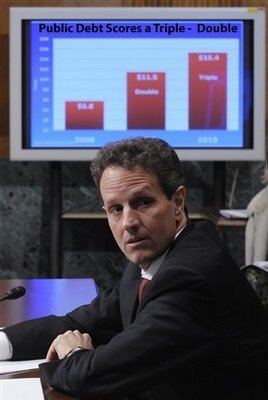 TIMMY:
Holy smokes! A long term growth rate of 1% would kill the Social Security System and the other entitlement programs.

LORD K:
I never advocated these programs. Blame Roosevelt and Johnson for that. You can't achieve the necessary long term growth rate to pay for these programs. You will go broke in the next four years trying. If these social promises can't be met, you must address it now. These legacy costs must be reconfigured to reflect the reality that long term economic growth of 3% is unsustainable without a crushing debt load.

TIMMY:
Man, this is bad news. Have you talked to Ben Bernanke yet?

LORD K:
No. His sins are beyond my intervention. He is monetizing the debt. This will weigh heavily against him when he is judged.

TIMMY:
Whoa! That does sound bad. What about me? How am I going to be judged?

LORD K:
It is too soon to tell. You have already made many mistakes. Take this warning to heart and you may be able to save your future. However if your plan does not work and you blame the failure on Keynesian economics then your fate will be set. I must go now.

TIMMY:
Wait! Don't go! I have another question. What is it like where you are?

LORD K:
We want for nothing. We have little.

In my youth I led a gay lifestyle. Later I married a prima ballerina. Much of my life was driven by social standing and appearances. There is none of that here. There is a peace to that.

TIMMY:
Huh. That is not what I thought Heaven would be like.

LORD K:
Hah! My judgment day lasted only a few minutes. They sent me straight to Hell. After all, I invented deficit spending. 'They' thought that was a terrible idea. It will ultimately cause much suffering. I must go!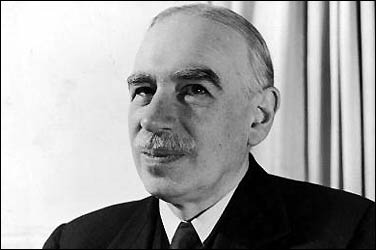 The room is now empty of the Spirit.

TIMMY: (to himself)
I think I drank too much wine last night. I am going to pretend that visit did not happen. No one would believe me if I told them anyway. Maybe we will get lucky and this will all work out.

He turns the Lights Out.