Last week, I focused upon Jim Sinclair's latest absolute call for a bottom in gold. Well, one day, he may get it right, especially after making the same bottom call every week for the last year, an assuming he will continue to do so for the upcoming year. But, I think that his latest market bottom call may be just as consistent as all the others for the last year.
What I have also noticed of late is that many of the analysts that are known gold bulls have been interestingly silent over the last week. When I do my usual weekly search for their articles claiming that the parabolic rise has begun, I have a hard time finding authors who are extremely confident the rally has begun. So, yes, it really seems as though the most bullish of the gold bulls may be getting quite frustrated with the yellow metal. And, as those that have read my articles know, this is one manner in which I search for anecdotal evidence of market sentiment, which is what I believe moves the metals market.
This lack of extremely bullish articles does lead me to believe that we are clearly approaching a bottom in gold. But, does it mean we are quite there yet? Based upon the action over the last week, I would say that gold still has lower levels to be seen before a bottom is truly made. But, one thing is for certain: this rubber band is getting stretch so far that the snap back will likely be a thing to behold.
As further anecdotal evidence, recently, Dennis Gartman, has become bullish on gold, yet again. And, as we have noted in the past, there has been no analyst that has a more perfect track record of being whipsawed by gold than Dennis. In fact, when he claimed several weeks ago that he was bearish gold, I noted that gold was nearing a bottom, and we saw the recent rise in gold. Now, that Mr. Gartman has become bullish yet again, it seems we are approaching a top of some sort, assuming Mr. Gartman's near perfect record is to remain intact.
Another anecdotal source of sentiment to which we look is the latest COT report, which shows that the commercial traders have become much more bearish on gold over the last week. This makes perfect sense based upon the pattern we are seeing in the metal, with the potential to see a sizeable decline over the next month.
As for our Elliott Wave analysis, well, it seems as like an almost textbook 4th wave developing. With the pathetic volume rise, terrible wave structure, and negative divergences relative to the prior a-wave high, this seems to be turning into a textbook 4th wave, with one more lower low to come. So, I am expecting to see a 5th wave decline begin in the very near term.
Therefore, as you can see from the attached chart, the 157-158.25 region (with a potential extensions as high as 159) remains very strong resistance for GLD at this time, and the inability to move through it with strong buying volume has the potential to see the price of GLD reverse to as low as the 142/144 region. And, again, the main support levels to watch on the way down are the 148/149 and 146 support regions, with a break down below 146 confirming that the bottom will most likely be seen within the 142/144 region, which has been our ideal target for this correction since we topped over a year ago.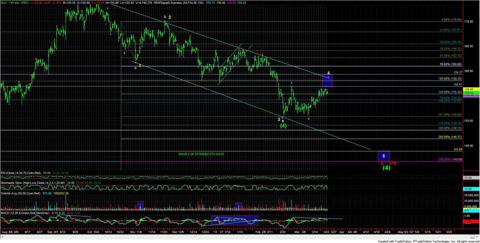 Click to enlarge
Disclosure: I have no positions in any stocks mentioned, but may initiate a short position in GLD over the next 72 hours. I wrote this article myself, and it expresses my own opinions. I am not receiving compensation for it (other than from Seeking Alpha). I have no business relationship with any company whose stock is mentioned in this article.