Last month, President Obama called for a revival in U.S. manufacturing.
With more competitive labor costs, natural gas prices, and a lower U.S. dollar, the country is well positioned to carry out his vision. This signals a commensurate revival of fortune for QAD (NASDAQ:QADA). QAD is a leading provider of software that assists a global base of tier-1 customers in their manufacturing operations. Its greatest stronghold is in strengthening industries (automotive, industrial, and technology), right here in the U.S.A.
The timing seems ideal. QAD is in the midst of monetizing several years of R&D it invested into its new Enterprise Edition. This new version of its core offering is sparking an upgrade cycle in its installed base.
Performance Rebounding
Earlier this month, QAD demonstrated that a revival may indeed be underway. The company reported that its fiscal 2013 fourth quarter revenue came in at $65.8 million, including $9.5 million of license revenue. On the surface, these results seemed unimpressive relative to last year's figures ($65.2 million and $11.1 million, respectively). However, a closer look revealed some impressive strength.
First and foremost, QADA closed over $4 million worth of business that had to be deferred for accounting purposes. Including those bookings, revenue growth would have been up, not down. Further, we estimate that EPS would have handily topped estimates.
Also, despite several deals getting delayed until next quarter, the company booked a record 14 orders in excess of $1 million. Among them, four orders were in excess of $2 million, including one of over $4 million. This explains why management provided Q1 revenue guidance of $65 million, exceeding Wall Street estimates by $1 million.
Recurring revenue also showed continued strength. Maintenance and other revenue was $35.4 million, up 4.4% from $33.9 million. Subscription revenue, which includes QAD's On Demand offering, grew 36.7% to $4.1 million, up from $3.0 million in the year ago period. These line items are among QAD's hidden gems. They are recurring revenue streams which generate extraordinarily high operating margins and renew at a rate in excess of 90%.
This gives the company great visibility into future income.
This can be seen in QAD's deferred revenue balance of $101 million (up 7.8% over last year). However, deferred revenue is actually a liability on the balance sheet. Basically, the company has been paid in advance (usually in cash, an asset on the balance sheet) for products or services it must deliver over time. For QAD, the cost to provide those products and services (primarily software maintenance) is much lower than the amount listed on its deferred revenue line. Because of this, we estimate that QAD's true liability is only $70 million, not the $100 million stated on the balance sheet.
Thus, it can be said that this one item is undervalued on QAD's balance sheet to the tune of $30 million or almost $2 per share.
Undervalued Property
Speaking of hidden gems, the company-owned headquarters sits atop a cliff in Santa Barbara, CA. It's unquestionably lavish for a public company, but QAD doesn't have a history of excessive spending. Further, with this one exception, the company has done quite well by its shareholders. As you can see below, the property dominates the area and is surrounded by multi-million dollar homes.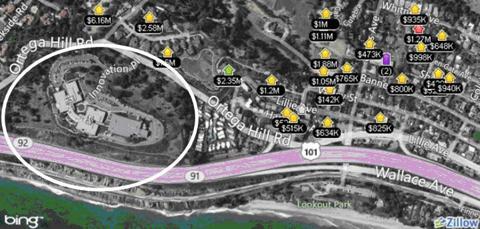 Click to enlarge
In the preparation of a 2009 Seeking Alpha article, Value Investor Insight "hired an independent appraiser to study what they could do with the property and how much it could be worth under different scenarios. The range of values is wide, but we think a conservative value of the real estate is around $50 million."
Since that time, home and land price indexes in the area have risen in the range of 6-8%. QAD's carrying value is significantly lower. By digging into its IPO filing and 2005 10-K, we estimated the understatement to be in the range of $20.9-$25 million. If we add the lower figure to the $30 million in deferred revenue undervaluation argued above, we derive a total balance sheet understatement of $50.9 million or $3.50 per share.
Strong Balance Sheet and Cash Flow
QAD ended the quarter with $65 million in cash and $15.8 million of debt, yielding a net-cash balance of $49.2 million. Adding the $50.9 million of balance sheet understatement takes that number up to $100.1 million. Subtracting these figures from QAD's market cap, we derive an enterprise value of $150 million and an "adjusted enterprise value" of $100 million.
Either number compares favorably to free cash flow, which was $13 million for the year. More importantly, the company generates similar levels of free cash flow every year. This is thanks to QAD's large and captive base of customers. Because QAD's software enables mission-critical manufacturing processes, large organizations rarely shift their loyalty to another vendor. The cost of switching is another significant deterrent to switching vendors. This is why QAD's lucrative maintenance contracts renew at a 90%+ clip.
Over time, as QAD has added new customers and expanded existing ones, its maintenance stream and deferred revenue balance has grown, providing investors with ever greater confidence in its ability to continue delivering strong cash flow. In a world desperate for yield, I believe these are the sorts of companies that investors will discover and flock to. The fact that its macro-dynamics are beginning to experience a positive secular shift serves as a powerful bonus.
Yield and Shareholder Value
In this case, investors are yielding 13% on QAD's adjusted enterprise value. In addition, the real estate market is rebounding and QAD's ocean-view headquarters enables investors to participate. This is precisely the type of company that vendors like Oracle (NASDAQ:ORCL) scooped up when interest rates started reaching new lows. We discuss this in another Seeking Alpha article entitled "Oracle Sparks The Next Wave Of M&A - Who Will Be Acquired?"
This may explain why the company has been quickly working through its share repurchase program. Last year, QAD repurchased $7.5 million of its Class A and Class B (NASDAQ:QADB) shares. This represented over 50% of its free cash flow. The other 50% was given back to investors via dividends. Considering the valuation metrics we have presented, this seems like a perfect balance between providing income, while simultaneously maximizing shareholder value.
Looking at valuation, we believe QAD's shares should fetch at least 1x revenue plus net-cash or $20+ for either QADA or QADB. Looking at its long-term chart, you can see that the company is completing a multi-year consolidation pattern. A break above $14 will provide a clear technical path to $20. As manufacturing continues its march back to the U.S., QAD could begin to experience reaccelerated growth, enabling it to break out and challenge levels last achieved in 2004.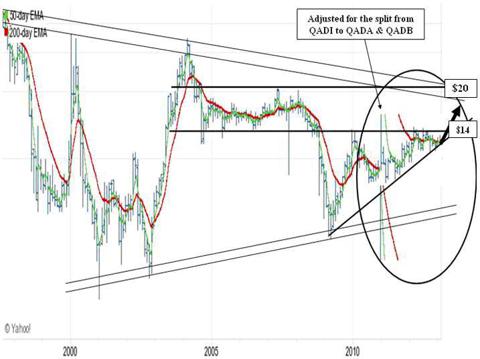 Click to enlarge
Zooming in to view the most recent two years, we find that QAD has performed admirably versus the S&P. However, both QADA and QADB have recently lagged the market.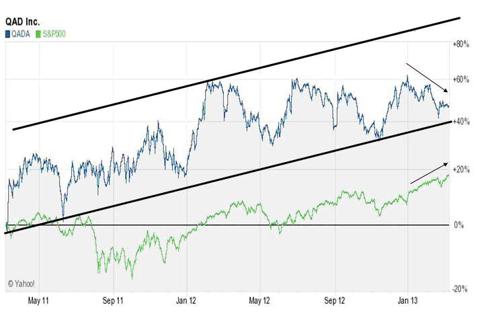 Click to enlarge
Thus, for investors who are concerned about frothiness in the market, QADA and QADB offer a rare combination of value (protection) and a growth story (U.S. manufacturing). In a market of investors desperate for yield, we don't expect QAD to go unnoticed for much longer.
Disclosure: I am long QADA, QADB. I wrote this article myself, and it expresses my own opinions. I am not receiving compensation for it (other than from Seeking Alpha). I have no business relationship with any company whose stock is mentioned in this article.